Northeastern Nevada RVing stories
Check out the RVing opportunities in Northeastern Nevada
Northeastern Nevada is a region well worth exploring in your RV. You can hike the Ruby Mountains, visit fascinating museums or be invigorated at a local spa. Snowbirders will be thrilled to know that there are plenty of recreational activities to be pursued during the winter months, and heli-skiing is a favourite in this region.
Las Vegas
Take a dinosaur journey in Nevada.
Submitted by Travel Nevada

Eureka
Grab a guide and take a stroll through Eureka, Nevada's fascinating landscape.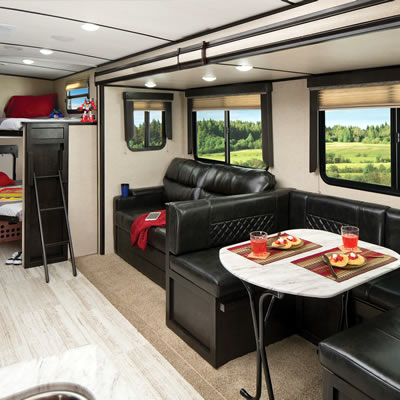 Eureka
The Eureka Sentinel Museum offers a glimpse into the past of this small Nevada town.
by Kirsten Cook

Eureka
It doesn't take a lot of searching to find the heart of Eureka. The small rural town in Nevada is full of life, with an opera house, a museum, a courthouse and a booming arts community.
by Karen Kornelsen

Eureka
Nearly 121 kilometres lie between Eureka, Nevada, and the next town, but there's plenty to see providing you know where to look and what to look for.
by Maureen McEwan

Eureka
Take a step back in time when you visit historical Eureka, located on The Loneliest Road in America.
by Maureen McEwan

Eureka
Explore the buildings constructed during the boom days in the late 1880s when going through Eureka.
by Trevor Crawley

Eureka
The Eureka Opera House, built in 1880, is an important part of Eureka's interesting history.
by Lisa Crane

Eureka
Knowing some basic snake etiquette can prevent accidents with snakes.
by Glynis Fediuk

Eureka
Car buffs can admire more than 100 classic, vintage and custom automobiles that roll into town over a two-day car show.
by Trevor Crawley

Eureka
Sometimes, the best way to take in a town is on foot.
by Glynis Fediuk

Las Vegas
Whether you've got a craving for Creole or want a little taste of Italy, you'll find something enjoyable at a Las Vegas buffet
by Glynis Fediuk
Eureka
Visitors to Eureka, Nevada, will marvel at the mountain scenery and leisure activities here.
by Kali Love
RV-friendly businesses near Northeastern Nevada