Test your skill
Experience an American pastime: take a shot at sport shooting
by Kali Love —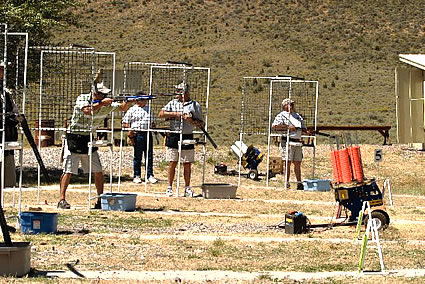 Visitors to Eureka, Nevada, will marvel at the mountain scenery and leisure activities here. Eureka is very well known for its restored Opera House, which hosts a variety of performances throughout the year.
For entertainment that offers a little more action, head to the Perdiz Sport Shooting course. This shooting range provides a stimulating experience for those looking for a friendly competition or to try something new.
The Perdiz Sport Shooting course is located just five minutes south of Eureka, in Windfall Canyon below Prospect Peak.
Safety is of the highest concern; the Perdiz Sport Shooting course is affiliated with the National Rifle Association and the National Sporting Clays Association.
Visitors who want to learn how to shoot can come to this gun range to shoot at clays; these clays simulate different species of game. Competition-style shooting is available, but the facility is also open to anyone wanting just a casual afternoon of target shooting with their buddies.
Sporting clays is the closest thing to field shooting there is and anyone who is mentally and physically able to shoot a gun is welcome to give it a try—people in wheelchairs are able to utilize the course as well.
The facility also has two trap houses, a regulation skeet field, a rifle and pistol range, and an archery range.
Resources: