Pride in the ride
Car buffs can admire more than 100 classic, vintage and custom automobiles that roll into town over a two-day car show
by Trevor Crawley —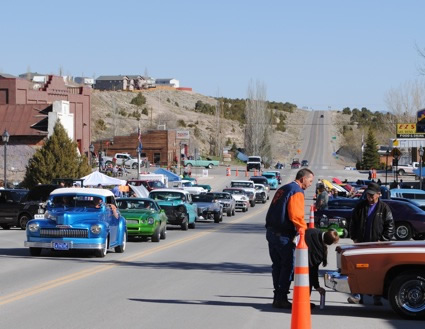 Bask in the adoration of your pride and joy by taking your classic car to the Show What Ya Brung car show in Eureka.
The two-day event on May 13 and 14, 2011, brings people from all over the county and even participants from neighbouring states.
Vehicles roll on in down Main Street Friday evening and there is entertainment and music for spectators wandering through the lineup of classic muscle and vintage automobiles.
The smell of hotcakes will waft down the street on Saturday morning as the Lions Club hosts a pancake breakfast, and people can peruse local businesses in a poker walk. Each business participating in the poker walk hands out a card; the person with the best hand at the end of the day will win a cash prize.
This is the fourth year for the Show What Ya Brung event. The community has embraced the car show, as it draws in tourists and visitors who appreciate Eureka's heritage, which is evident in the preserved buildings that line the roads.
Cars are grouped into a number of categories, including classic, vintage and daily.
One popular aspect of the show is the Most Likely to Get Pulled Over category; for this, the local sheriff makes a spectacle of showing up behind the chosen vehicle with lights and siren blazing.
From trash to treasure
The car show weekend lands on the same dates as the National Yard Sale—an unofficial event in which people gather their unwanted and neglected wares and sell them along Highway 50. Tables are set up in communities between Ocean City, Maryland, and Sacramento, California, so that people can lay out all the goods along the roadside.
"As they say, one man's junk is another man's treasure," said Trish Reynolds, a program assistant with the Eureka County economic development program.
The National Yard Sale is organized by volunteers across the country as a means to recycle old material possessions and raise money for charity organizations.