Gold mining and ghost towns
Digging for treasure in this desert town requires flipping pages in local history books
by Maureen McEwan —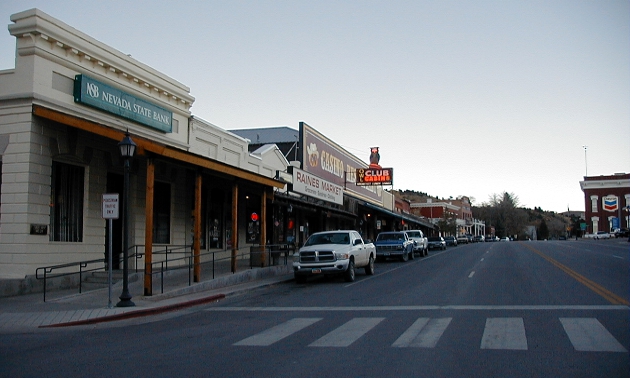 The locals recommend that you stop in Eureka and take some time to read up on the area before heading out on the road known as the loneliest highway in America.
Eureka is home to approximately 600 people, but it boasts a history that is rich in gold mining and ghost towns. Several local history books tell the tales of the early pioneers, the gold seekers and how Eureka came to be, which is why a visit to Raine's Market, the local book and grocery store, is well worth a visit.
Scott Raine, owner of Raine's Market, knows the town well—his family has resided in Eureka County for six generations. He's willing to talk about Eureka's history and will share some stories if you ask. He can also recommend some interesting books from the ample collection in his store. Take a look; you're sure to find a book that will make your drive down Highway 50 that much more interesting.
"We carry the regular paperbacks and popular magazines, but the books we have are mostly Nevada-type books, like how to find gold in the desert," said Raine.
Choose from several books written by various Nevada authors, as well as atlases and maps such as the Nevada Ghost Towns and Mining Camps Atlas by Stanley Paher.
"This is one of a whole series of atlases and can help you locate some of the old ghost towns," said Raine. "There are lots around. Some of them are hard to find, as there might just be the foundations left, but some still have buildings that are intact."
Several books on mining are also available, as historically Eureka has been a mining district. In fact the Barrick-Ruby Hill Mine, located on the outskirts of town, is still a fully-functioning gold mine and one of the oldest mines in Nevada.
Two books by local author Dale Woolley will also be of interest to those with a penchant for history—and horses. The Waltis and Other Early Settlers of Eureka and Lander County, Nevada tells the true-life tales of the Walti family and other pioneers. Many of their descendants still live in the area and provided much of the information for the book. Other details came from the Sentinel newspaper, in operation from 1879 until 1960. The newspaper building is now a museum featuring an antique press room and all the equipment, as well as Eureka artifacts dating back to the early 1800s.
Woolley's second book, The Dameles and the American Curly Horse, tells the story of the Damele family and how they introduced the curly horse breed to the area. It's a fascinating look at the hardy curly horse, with some interesting Eureka history mixed in.
Armed with a variety of books, maps and atlases, you'll be ready to find a quiet place where you can sit and read. Raine suggests the beautiful town park, located not far behind his store.
"It's the perfect place to read," he said. "Or head out to one of the ghost towns. It will be really quiet out there."