Canadian compact RV manufacturers to keep your eye on
These Canadian companies specialize in lightweight, compact RV units.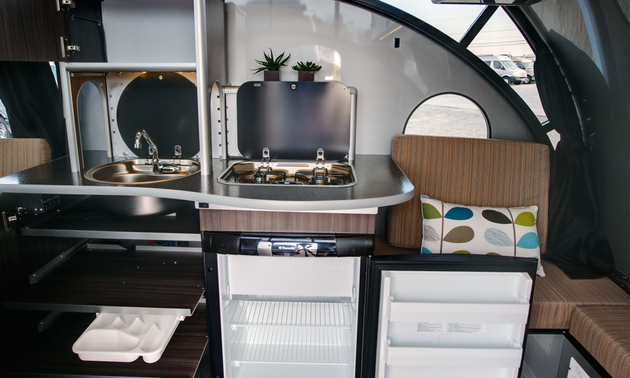 We're seeing the RV industry produce a lot of interesting compact RV units right now, with a focus on quality. It's reasonable to believe that the increased quality is due to the demanding shift towards minimalistic living (read more about the pros and cons of owning a compact RV in this article).
Each individual buyer can benefit from specific features, so which model or manufacturer is "best" depends on what might be best for you and your family.
These are some of the top names in Canadian compact RV manufacturing:
Safari Condo
The Safari Condo Alto's aerodynamic teardrop shape is lightweight and durable. Alto owners can feel good about going green: most of the materials used to build the Alto are recyclable, and the aerodynamics increase towing efficiency, minimize drag, and minimize fuel use on the road. The retractable roof expands when parked for heightened living space.
Roulottes Prolite
Quebec-made, small-scale production means Prolite values quality over quantity. They only make 600 units a year. If that doesn't seem like a lot, keep in mind that the founder built the first trailer in his garage. Six out of the twelve models they create clock in under 15 feet.
Taylor Coach
Taylor Coach trailers have been built in Ontario since 1967, eco-friendly, and lightweight. They make models as small as 18 feet, and love custom orders.
Car-go Trailers
These tiny teardrops give campers just the basics to sleep off the ground, without sacrificing the outdoor lifestyle we love. The Car-go Liberty1 main compartment holds a convertible sofa bed and cabinets. The back door opens to kitchen storage with spaces to place your camping stove and cooler.
The Teardrop Trailer
These units are constructed in Ontario and highly customizable in terms of size, features, and materials used. The Teardrop Trailer makers make your tiny trailer dreams to reality.
Escape Trailer Industries
Escape Trailers are manufactured in Chilliwack, British Columbia. If you're from out of province, they work through a referral program: nearby current owners are available to show potential buyers their own models. The molded fiberglass body of the 17-foot Escape is durable and lightweight. Owners say they love the interior storage space in Escape trailers.
Lees-ure Lite
Specializing in pop-ups, Lees-ure Lite obviously knows how to build compact. This British Columbia brand starts as a raised bed in a hard case. When parked, it opens into a full-height tent with the bed as it's centre. It's the smallest of the small trailers, but perfect for campers who tow with motorcycles.
Trillium Trailers
The average dry weight of an Outback Trillium is 1,450 pounds, making it easier for owners to travel farther. They offer customizations and quotes on their website, so potential buyers see an idea of what their budget can buy.
Northern Teardrop Trailer
Northern Teardrop Trailer is based out of Salmo, B.C., and you can find some intriguing little units here. The company manufactures ultra-light RVs, each one crafted with individual care and attention.