Snowbird RV Show & Sale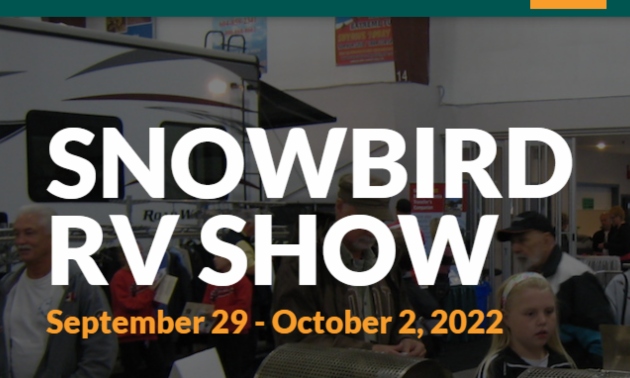 When: September 29 - October 2, 2022
Where: Abbotsford, B.C.
The
Snowbird RV Show and Sale
is BC's only fall recreational vehicle show. If you enjoy the RV lifestyle, or think you might like to try it, then this is the show for you.
Over 120,000 square feet of display space, both indoors and outdoors. All kinds of new recreation vehicles on show and for sale. Plus over 50 booth exhibitors including parts and service exhibitors, resorts, accessories, truck customizing, diesel engines, hitches and more. There is also an area for Private Sales of RVs by the public.
"The Seminar Stage" has daily seminars, including "how to" demonstrations on maintenance; RV travel tips; and many other topics.
Event times:
Thursday, September 29 10:00am-9:00pm
Friday, September 30 10:00am-9:00pm
Saturday, October 1 10:00am-9:00pm
Sunday, October 2 10:00am-5:00pm
Event Location:
Tradex Trade & Exhibition Center
1190 Cornell Street,
Abbotsford, B.C.
General Admission Cost
$9.00 Adult Admission (19 – 59)
$7.00 Senior Admission (60+)
$6.00 Youth Admission (13 – 18)
FREE Child Admission (12 and Under)
Admission Packages & Discounts
$24.00 Family Pack (2 Adults and Up To 4 Youths One-Day Pass)
$12.00 Multi-day Pass (Single Adult or Youth)
$5.00 Adult & Seniors Admission
Thursday, September 19th from 5:00pm – 9:00pm
(Cannot be combined with other offers.)
Accepted methods of payment
Cash, Interac Debit, Visa, MasterCard