Advice for first-time RV buyers
Purchasing your first RV? Here are some tips to help you make the right choice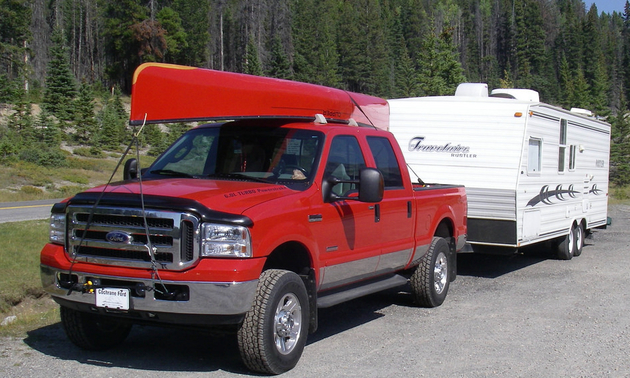 Tired of sleeping on the ground yet?
That first year we decided to check out trailers, we rented a bunk model. Twice. And loved it. What we didn't like was having to pack everything in to set it up before we could pull away and then pack everything out when we got home. The next year we bought a Jack-and-Jill-bunk model that was perfect for our two rambunctious boys. Everyone had a permanent bed. I had room for cast iron pots and all the gear for a comfortable camp. Too bad our Irish Setter wasn't around then; he would have loved it.
From pop-ups and pull-outs, and diesel pushers to pull-behinds, there is an RV platform to satisfy anyone with the hankering for wheels under a comfortable bed. Fall is a great time to make a deal on an RV, but where do you start in getting the most of what you want?
What is important to you in an RV?
That first trailer served our family well for 15 years. Now friends of my oldest son own it. When their families recently camped together, my granddaughter said, "Hey, is this my grandma's trailer?"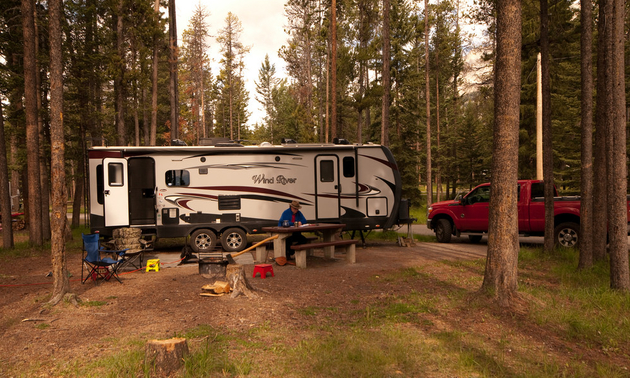 Last year we bought a new trailer, one suited to folks who might head south for the winter, with leather furniture and two slides. I reached out to the dealer to ask his take on first-time owners and for a bit of advice.
"Most new purchasers of RVs are focused on price and weight," said Jason Thompson of Parkview RV in Wetaskiwin, Alberta. "They really should be focused on quality from the wheels up."
What will you do from your camping rig?
Are you kayakers or cyclists, fishers or quadders? We canoe and quad. We prefer the prettier and more private campsites that often don't have power, so we want a big fresh water tank and sewer tanks to match.
My solar panel charges double six-volt batteries to camp nearly indefinitely in the summer. And my little Honda generator hides in my truck box to charge batteries and to light up a curling iron or hair dryer if needed.
How many are you hosting?
Are you a family of four or of two retirees? Will you have regular guests, and how many?
We used to have permanent beds for four, now it's just two. But we can accommodate four additional guests if required—short term.
Where will you camp: Lake lot or a private or public campground?
Are you putting on the kilometres with multiple travel trips or hanging at your favourite spot for the summer?
Last year we put 11,000 kilometres on our rig. I love to travel and a trailer is a great platform from which to check out this great country we get to call home. Somewhere between your camping desire and your financial reality lies the opportunity for an RV.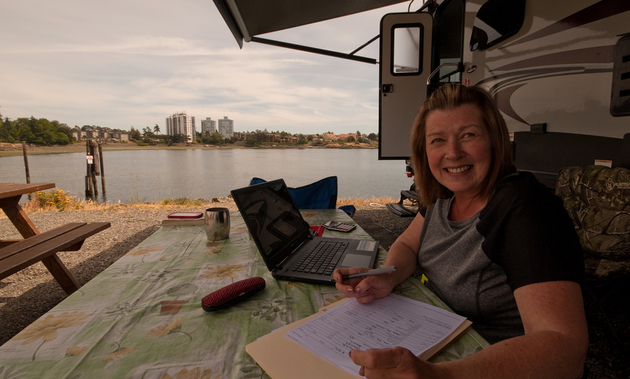 What is the best bathroom layout for your needs?
What do you need from your bathroom? Can you access the toilet comfortably? If you are considering a slide option, can you get the door open when the slide is retracted? Do you want a shower? Option for a bath? How about an outdoor shower to wash sandy feet or smelly dogs?
What is the best living area set up?
How many people will you seat at meal time inside? (There are some camping days when we never sit at the inside table.) Does the layout accommodate comfortable conversation?
What about seating—benches or chairs? Will you be doing some remote work? Need space for a laptop and temporary office set up? What about entertainment? There are 12-volt entertainment systems for music and video. Want one? Do not laugh, you can even get a rig with an indoor fireplace and a washer and dryer set up. I write . . . every day. This means that I need a comfortable space for my fountain pens, monstrous leather bag and laptop to file stories. Usually I write outside on the wood table, but there is room at the big kitchen table for me to spread out my stuff and write.
What do you need from the kitchen?
What kind of workspace do you need for meal prep? Can you access the fridge with your slide retracted? Some RVers never open the oven door other than to remove what is stored in there. Others cook Thanksgiving turkey.
What is important to you? You can get RVs with just a cooktop; others have a full range and oven combination. I cook too, mostly outside on live fire. We need some space to do prep in the kitchen and use the fold-out counter extender every time we are out.
What about bedrooms?
How many people will you regularly sleep? How many do you want in permanently made-up beds? Is there easy access to make the bed? Is there a cubby to keep your evening reading material and earplugs? (Even my black and tan Gordon setter snores.)
Most RVs have temporary surge capacity for guest sleepers: the kitchen table makes up into a double bed, the couch pulls out and sometimes there is a fold-down bunk. One of the things we wanted in our new trailer was easier access to make the bed. Now we have what is called a north-south bed placement. I prefer this. And we still have room for grandkids.
What options are important to you?
Outside there are awning options. Want a remote-controlled power jack to ease set up? How about a barbeque attached to the exterior? Or outdoor kitchen including range top or even an outdoor accessible fridge? Our first trailer was fully manual. It feels luxurious to step into the new trailer, grab the remote and extend the feet, slides and awning with the push of a button. Even the tongue jack is powered.
Compare quality, then make a choice
Thompson suggests buyers examine products for quality construction, starting from the ground up: tires, wheels, axles, suspension, chassis, floor decking, walls, insulation and roof. And you should, but first you need to decide how you will use your RV and what amenities are critical and which options you prefer.
Our new trailer has heated water and sewer tanks, upgraded insulation and duct heating in the floor. This lets us maximize our camping season by tolerating a bit of frost in April or October.
Once you have identified what your priorities are, compare models that meet your needs and examine the quality of various rigs. What format suits your needs best? Fifth wheel or trailer? Pop up or motorhome? Your RV dealer can help you narrow your choices to a suitable rig.
We had young boys at the time we decided to stop sleeping directly on the ground. We were a family experienced at camping with the square canvas tent a couple of weeks over summer vacation, and two or three additional weekends early and late in the season. We wanted enough permanently set-up beds for everyone so we were not kicking kids out of bed to make morning coffee nor keeping anyone out of bed because it was pouring rain outside and we were still playing cards.
The trailer gives me the option to haul my quad in the back of my truck. My brother prefers a fifth wheel because he pulls a boat when camping in Alberta and Saskatchewan.
There are multiple trade-offs and myriad solutions for every scenario. Call a family meeting and bring everyone into the conversation. If it is a good experience, the kids will stay longer than you think they will. A bit of reflection and discussion will help you clear the field to your best options for your camping needs. The end of the season is a great time to make a deal and catch the last of the good weather and get a jump on 2018.
I write this from the picnic table in our campsite on Banff's Tunnel Mountain. My trailer is in the background, and Rigby—the Gordon setter—in the sunlit camp chair is losing his mind over the squirrels. The whole family including the in-laws (my sons married sisters—another story completely) are coming for the weekend.