Take a steamboat tour and immerse yourself in Alaskan heritage
Alaska is quickly becoming one of the most beloved destinations for RVers to travel in the summer season, and it isn't difficult to see why. This tourism-friendly state has natural, cultural and historical sites that you can't see anywhere else in the world, and the people who live there are happy to share knowledge and welcome visitors warmly.
The Binkley family has been part of Fairbank's history for five generations and counting. They operate the Riverboat Discovery tour, an attraction steadily growing in popularity as more people take an interest in history and cultural traditions.
Guests will take a three-hour tour along scenic riverways, stopping to visit key points such as a living history museum, and to see demonstrations by bush pilots and dogsled operators.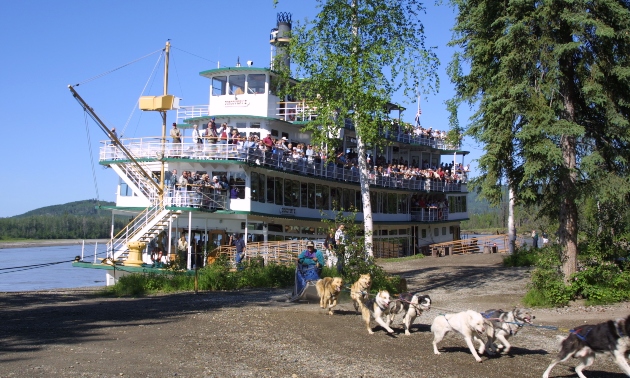 - Photo courtesy Riverboat Discovery
What makes this an ideal place for RVers to come and visit?
To begin with, RVers can arrive with no fear of parking stress. There are ample spaces available to accommodate even large motorhomes.
There are plenty of things to see and do during your visit. For example:
Check out Gold Dredge 8 to learn more about Fairbanks in the frontier days.
See an Alaskan bush pilot demonstrate a take-off and landing right next to the boat, and hear stories about life in the village.
Visit the home and kennel of the late four-time Iditarod champion Susan Butcher as we pass Trail Breaker Kennel along the Chena River. Susan's husband and daughter (Dave and Tekla Monson) can tell you all about what goes into making a champion dogsled team. Be sure to bring a camera, you won't want to miss the dog mushing demonstration!
Stop at the Chena Village Living Museum and take a guided walking tour of an Athabascan village, where you can learn more about frontier living.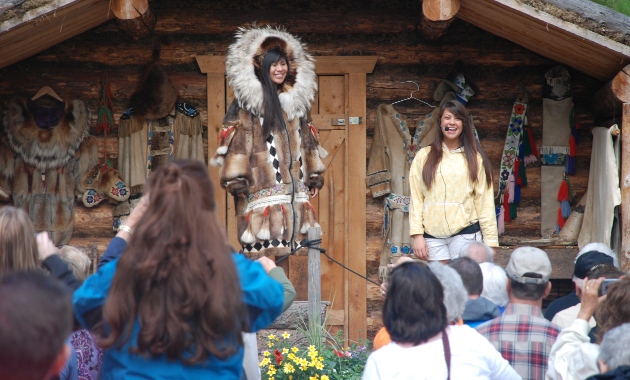 - Photo courtesy Riverboat Discovery
Are there gift shops where I can buy Alaskan souvenirs?
Trading posts were all the rage back in the frontier days. There is a gift store called the Discovery Trading Post on board the steamboat, and the Steamboat Landing shop is located onshore. Both offer unique Alaskan gifts and souvenirs (the largest selection in Fairbanks!)
What restaurants are available in the area?
If you want to grab something to eat, you can find the Captain's Corner located inside Steamboat Landing. Choose from a mouthwatering menu of freshly made sandwiches, wraps and salads, and then enjoy lunch on the outdoor deck while you take in views of the Chena River. Beer, wine and snacks are also available for sale aboard the Discovery III.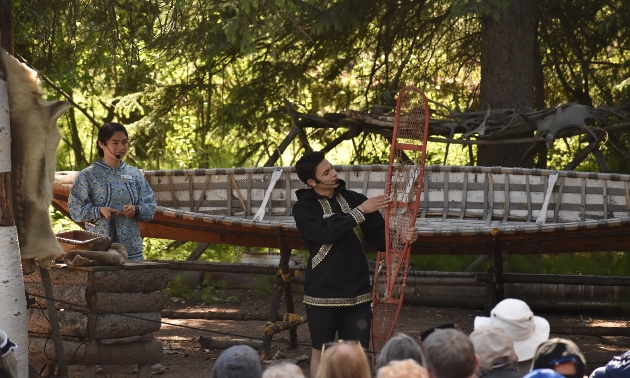 - Photo courtesy Riverboat Discovery
What is the history of the Riverboat Discovery?
The Binkley family has been involved in the steamboating tradition for over 100 years, spanning five generations. When Charles M. Binkley hiked over the Chilkoot Pass in 1898, he was not so much in search of gold as he was seeking the chance to build and operate boats on the Yukon and its tributaries. He became a respected pilot and boat builder in the North. His son, Captain Jim Binkley, Sr., followed in his father's footsteps and piloted freight vessels on the Yukon and Tanana Rivers during the 1940s.
After seeing changes in the freighting industry in 1950, Captain Jim and his wife, Mary, began a river excursion business to share their love of Alaska and its culture with visitors. Over the coming years, Captain Jim and Mary B's business grew from the Godspeed, a 25-passenger vessel, to the Discovery III, a 900-passenger vessel. Today, Captain Jim's grandchildren run the company and Mary B. continues to be active in the business.
In addition to growing their sternwheeler company, the Binkley's have added a gold mining attraction: Gold Dredge 8. The family has developed this tour in the heart of the gold fields where the first gold strikes attracted miners from the Klondike.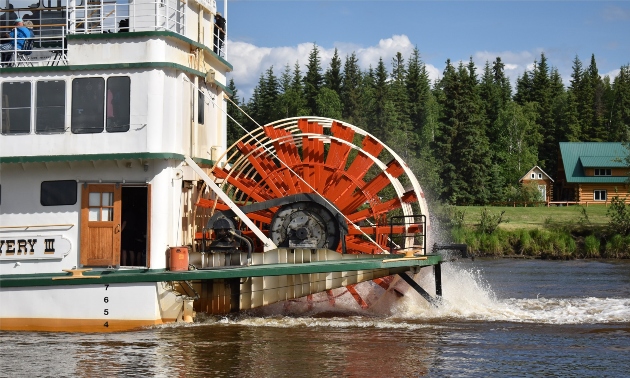 - Photo courtesy Riverboat Discovery
Five-star customer reviews of the Riverboat Discovery Tour
"What a fun thing to do while visiting Fairbanks. Everybody is so busy and all of the staff are very helpful, they have no problem answering your questions with knowledgeable answers. The captain was so friendly. Thank you guys for a great experience. Loved learning about the early settlers in Fairbanks and even further back in history."
~ Emily, Google reviewer
"Riverboat Discovery is a pretty amazing experience. Make sure you bring coats in case of cool winds. Be prepared for a large crowd as this boat has four decks and plenty of seating to view the surroundings. It's close to town and tour buses and shuttles run to the site regularly. It's a collection of businesses and families who have put together a presentation of various parts of the river, life on the river, the history of the area, dog trainers, and a preserved fishing village where some native residents provide the history and practices of the natives who have spent generations living there. The riverboat is large, spacious and comfortable. They serve food and drink while you're on board and besides the views, they have plenty of stories to tell, and keep everyone engaged with live commentary and storytelling, which is lively and original."
~ Matthew, Google reviewer
"Great family-owned riverboat with the crew giving the history as you ride along. Along the way they showed a plane take off and land on the water. At the end of the river you get off the boat to visit a native village and learn a bit more about them. A great experience all the way around. The free coffee and fresh blueberry donuts were a treat on board."
~ Ann, Google reviewer
- Photo courtesy Riverboat Discovery
Plan your unforgettable Alaskan experience
Book the Riverboat Discovery Tour and prepare to immerse yourself in fascinating history.
Take a steamboat tour and immerse yourself in Alaskan heritage Information