Important things to know before buying a compact travel trailer
Learn the pros and cons of these cozy RV units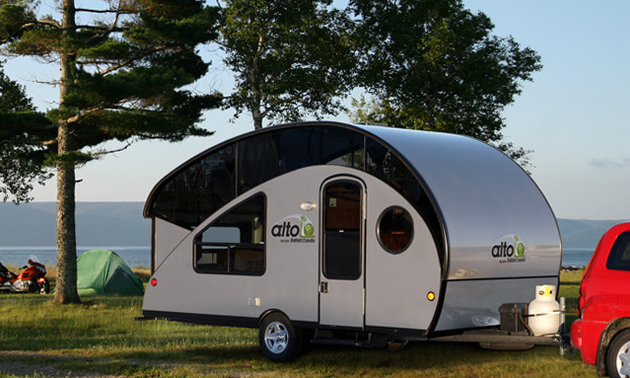 So, you want to buy a trailer?
Before buying something as big as a travel trailer—even if it's a small-sized model—it's important to educate yourself on what's out there, and determine which model will fit your lifestyle. Don't worry about the size too much. These tiny-sized trailers still offer a lot of the same features as larger rigs, with a few extra pros.
We asked Pat Bremer, compact travel trailer owner, advocate and voice of The Small Trailer Enthusiast blog, to help us narrow down the pros and cons of compact camping. He shared some insider info for our readers looking to downsize or joining the RV life for the first time.
The Bremers currently own two trailers: a 2016 Shasta Oasis 18BH and a 2017 Riverside Retro teardrop.
"When we had grandson number two come on board a couple years ago, we realized that camping in our 2010 Serro Scotty reproduction would be tight with me, my wife, and the two boys," he said. They sold the Scotty for the Shasta, which has two bunks plus an RV queen-sized bed.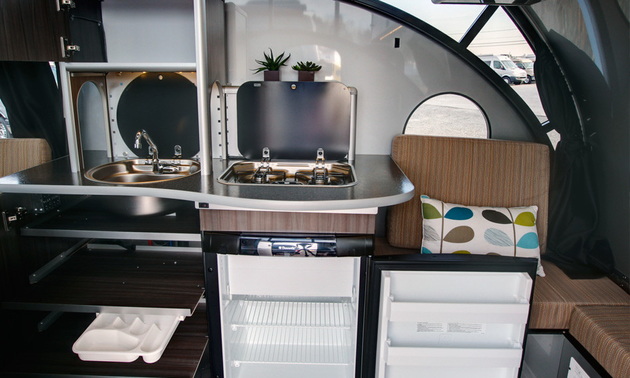 While Pat describes his Shasta as "like any other trailer you see on the road these days," his Riverside Retro turns heads. He and his wife, Jennifer, choose the teardrop whenever it's the two of them camping.
Pros of compact travel trailers
Say goodbye to glamping, and hello to the outdoors
First things first, compact trailers feel more like camping, and less like RVing. While it can still be considered glamping if you have a shower and television inside your trailer, the smaller indoor space forces owners to spend more time outside. That's why you fell in love with RVing in the first place, right? To spend more time outdoors? Right.
Towing is a breeze if you choose the right truck
The Bremers tow both of their travel trailers with a GMC Yukon XL. "It's more than enough for either trailer, but also gives us good towing capacity if we move up to something a little bigger someday," Pat said.
However, small trailer owners can get away with a slightly smaller truck if they need to. Just keep in mind the size of your vehicle when choosing a trailer to tow. "Often times I get emails from readers who are looking for a trailer with feature that would weigh in at 2500 pounds or higher, but their tow vehicle is only rated for 2000 pounds," Bremer said. He advises first timers to pay attention to the features they want, and the capacity of their vehicle. Weigh the importance of specific features to your satisfaction versus the cost of buying a new truck.
Increased manoeuverability
"I love the simplicity of small trailers," Pat said. Four of the five trailers we've owned have been 21 feet or less in length."
Obviously, small trailers are easier to tow, but they are also easier to manoeuver onto campsites, and set up once you've parked for the night.
Pat draws attention to the perks of a compact trailer that most of us don't immediately think of.
"The trickiest places where small trailers have an advantage over a large trailer are gas stations and parking lots," he said.
As a previous owner of a 29-foot trailer, he's been stuck before. Imagine the nightmare of being low on fuel, without adequate space to drive your big rig through. "With a small trailer, it's a non-issue in most instances."
Why buy a compact trailer versus a compact motorhome?
Same idea, but increased livability. Buy removing the engine, driver, and passenger seats, towables offer a little more space for your dollars. Plus, if your engine breaks down, your home on the road isn't out of commission.
Cons of compact travel trailers
Limited storage space
It's hard to say anything bad about our favourite pint-sized towables, but if we have to name a downside, the first would be storage. For obvious reasons, smaller trailers offer less storage space than their larger counterparts. However, some newer models are getting creative with maximized storage space.
Pat Bremer says that staying organized helps him and Jennifer combat minimal storage options. Bins, bags—anything that will help you keep track of what goes where, and keep items packed in tight.
The small size might not fit your lifestyle
Realistically consider your lifestyle when deciding what type of rig to buy. How many people will be with you? How many toys do you have or hope to buy? Will a small trailer do the trick, or should you shop bigger? Ultimately, what is best for one person doesn't work for the next.
Canadian compact travel trailer manufacturers to keep your eye on
We're seeing the industry produce a lot of interesting units right now, with a focus on quality. It's reasonable to believe that the increased quality is due to the ample options being produced to meet the demanding shift towards minimalistic living.
Different buyers benefit from the varying features offered by all the top manufacturers. Which model or manufacturer is "best" depends on what might be best for you and your family.
"It's an excellent time to be in the market because there are so many choices flooding the market right now," Pat said. When determining which manufacturer is best, he looks at build quality. "Some are just built better than others, be it through the materials or the construction methods," he said.
The Safari Condo Alto's aerodynamic teardrop shape is lightweight and durable. Alto owners can feel good about going green: most of the materials used to build the Alto are recyclable, and the aerodynamics increase towing efficiency, minimize drag, and minimize fuel use on the road. The retractable roof expands when parked for heightened living space.
Quebec-made, small-scale production means Prolite values quality over quantity. They only make 600 units a year. If that doesn't seem like a lot, keep in mind that the founder built the first trailer in his garage. Six out of the twelve models they create clock in under 15 feet.
Taylor Coach trailers have been built in Ontario since 1967, eco-friendly, and lightweight. They make models as small as 18 feet, and love custom orders.
These tiny teardrops give campers just the basics to sleep off the ground, without sacrificing the outdoor lifestyle we love. The Car-go Liberty1 main compartment holds a convertible sofa bed and cabinets. The back door opens to kitchen storage with spaces to place your camping stove and cooler.
Constructed in Ontario and highly customizable in terms of size, features, and materials used. The Teardrop Trailer makers make your tiny trailer dreams to reality.
Escape Trailers are manufactured in Chilliwack, British Columbia. If you're from out of province, they work through a referral program: nearby current owners are available to show potential buyers their own models. The molded fiberglass body of the 17-foot Escape is durable and lightweight. Owners say they love the interior storage space in Escape trailers.
Specializing in pop-ups, Lees-ure Lite obviously knows how to build compact. This British Columbia brand starts as a raised bed in a hard case. When parked, it opens into a full-height tent with the bed as it's centre. It's the smallest of the small trailers, but perfect for campers who tow with motorcycles.
The average dry weight of an Outback Trillium is 1450 pounds, making it easier for owners to travel farther. They offer customizations and quotes on their website, so potential buyers see an idea of what their budget can buy.
So, you want to buy a tiny travel trailer?
Regardless of which make and model you choose, all travel trailers require regular maintenance.
"An RV goes through the equivalent of a 4.0 earthquake every time the wheels start rolling on the pavement," Pat said. "Regardless of how solid it leaves the factory, it's going to eventually need service. Whether it's a $120 000 Airstream Classic, or a $8000 Riverside Retro teardrop—it's just part of being an RV owner."
Are you in the market for a compact travel trailer? Let us know which makes, models, and features are your favourite!