Snowbirding In Canada
When the weather gets cold, consider taking your RV to these Canadian destinations for your next snowbirding excursion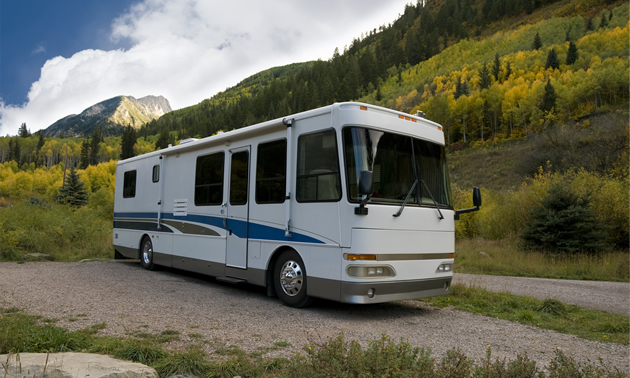 We all want to escape the harsh weather of winter, especially those of us who relish the RV camping experience. Many snowbirds head south so that they can continue their travels throughout all 12 months of the year. But, did you know that you can still take a snowbirding vacation without all the hassle and expense of heading south? The British Columbia landscape lends itself to all-season camping. While some parts of the province might be cold in winter, there are places you can go to enjoy a more temperate climate. Bring your own motorhome or camper, or rent an RV and set off on your own personalized adventure.
Are you excited yet? Start planning your trip now. Check out these businesses from the aforementioned regions, which cater specifically to snowbirds.
Vancouver Coast and Mountains
The Vancouver area is bustling with activity. The climate is mild, so you can avoid the biting cold of winter while experiencing all the excitement of this region. You can find a pleasant RV park in a rural area, venture out to enjoy a range of outdoor recreation options, and then take a trip into the city for all the vibrant attractions that Vancouver has to offer.
Dogwood Campgrounds & RV Park
Vancouver, B.C. area
Winter special: Stay two months and get the third month free (some restrictions apply).
Phone: 1-604-583-5585 or 1-866-496-9484
www.dogwoodcampgrounds.com/
Brae Island Regional Park (Fort Camping)
Fort Langley, B.C.
Winter special: Stay up to six months and pay only $350 plus tax per month.
Fort Camping in Brae Island Regional Park is within walking distance of Historic Fort Langley and close to everything that metro Vancouver has to offer.
Location: 9451 Glover Road, Fort Langley, B.C.
Phone: 1-866-267-3678
www.braeisland.com
Vancouver Island
Every RVer should experience the pleasures of Vancouver Island. The friendly disposition of the locals combines with the serene ambience of waterfront parks and attractions for an all-round enjoyable vacation no matter what time of year you visit. Dine on freshly caught seafood, go out on an oceanside tour, or just kick back at the resort and take in the views. Winter has never been so relaxing.
Riverbend Cottage & RV Resort
Parksville, B.C.
Riverbend Cottage & RV Resort is situated on 16 acres of wooded parkland on the banks of the beautiful Englishman River. Enjoy the mild winter of Vancouver Island while exploring local attractions.
Location: 1-924 East Island Highway, Parksville, B.C.
Phone: 1-800-701-3033 or 250-248-3134
Email: [email protected]
www.riverbendresort.bc.ca
Thunderbird RV Park
Campbell River, B.C.
This oceanfront RV park offers an entire world of relaxation and adventure. Amenities include showers, firepits, Internet, sewage disposal, coin laundry, handicapped facilities, pay phone, boat launch, electrical hookups and nearby shopping. Reservations are accepted.
Location: 2660 Spit Road, Campbell River, B.C.
Phone: 250-286-3344
Email: [email protected]
www.thunderbirdrvpark.com
Weir's Beach RV Resort
Victoria, B.C.
This beachfront resort is just minutes from town, and offers winter rates from $495 per month including utilities.
Location: 5191 William Head Road, Victoria, B.C.
Phone: 1-866-478-6888
www.weirsbeachrvresort.com
Oceanside RV Resort
Sannichton, B.C.
Discover this beautiful, award-winning, full-service RV resort on the Saanich Peninsula.
Location: 3000 Stautw Road, Sannichton, B.C.
Phone: 250-544-0508
Email:[email protected]
www.oceansideresortrv.com
Westbay Marine Village
Victoria, B.C.
Westbay offers a marine and yacht club, marine homes, and waterfront RV park. The spectacular cityscape of Victoria, B.C., is at your RV doorstep. Winter snowbird rates are available.
Location: 453 Head Street
Book online: www.westbay.bc.ca
Phone: 1-866-937-8229
The Okanagan
With vivacious communities like Merritt, Kelowna and Osoyoos, the Okanagan region is always a delight. You can take in some lively entertainment, visit the local shops, head off for a day of outdoor recreation, or tour the communities and see what makes them popular gathering places in any season. There are nearby areas where you can get in some skiing, snowshoeing and other winter sports, all while enjoying the pleasantly mild climate.
Nk' Mip RV Park
Osoyoos, B.C.
Experience one of the Okanagan Valley's finest RV destinations. Enjoy this scenic, 400-site lakeside facility.
Location: 8000 - 45th Street, Osoyoos, B.C.
Phone: 250-495-7279
www.campingosoyoos.com
Claybanks RV Park
Merritt, B.C.
This park offers large, grassy, treed sites, picnic tables, sewage disposal, electrical hookups, showers and bathrooms, wireless Internet, handicapped facilities and a recreation building for group gatherings. Reservations are accepted, and the park is close by to shopping, attractions and hiking trails.
Phone: 250.378.6441
Email: [email protected]
www.claybanksrv.com