Trip planner: Everything you need to know before RVing or camping in Nanaimo, BC
Check out the RVing opportunities in Nanaimo, British Columbia
Check out Nanaimo for the best in RV campgrounds, events, attractions, dining and more.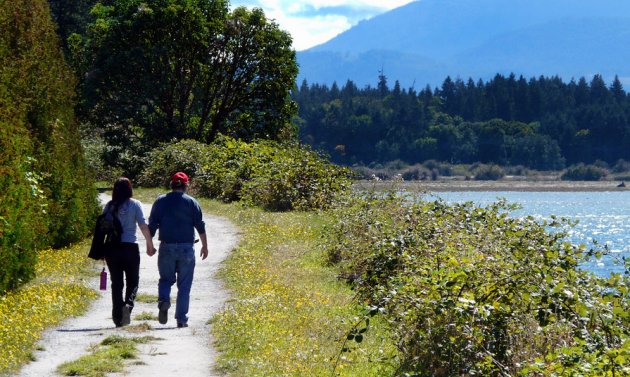 Nanaimo has all the attractions, entertainment and outdoor recreation that you could wish for. If you're RVing in Nanaimo this year, peruse our site and find all the best things to see and do while you're there.
Tourist information for Nanaimo, BC
Population: 87,464
This comprehensive website will give you all the details you need to learn about Nanaimo and all the things this vibrant city has to offer.
Year Round Visitor Centre:
2450 Northfield Road (located off Highway 19 at the Northfield Exit #21)
Open Monday - Saturday, 9 a.m. - 5 p.m. The office is closed Sundays.
Seasonal Visitor Centre location (May - September)
The HBC Bastion, located on Front Street.
Greater Nanaimo Chamber of Commerce
Find out all about Nanaimo's business community, and local events, at the chamber website.
The harbour city's official website is a great place to find out more about activities you can enjoy.
Weather in Nanaimo, BC
Best months to go RVing: June to October are the prime months for warm weather and ideal camping. However, Nanaimo has a mild climate and you can really enjoy RVing here any time of year.
Top things to see and do in Nanaimo, BC
So, you're ready to explore Nanaimo and area, but you don't know what to do first? When you're camping on Vancouver Island, you will find a wealth of things to see and do. Here are a few RVer-friendly attractions in Nanaimo's vicinity.
Morden Mine
Visit the most complete above-ground historic coal mine shaft on Vancouver Island. The knowledgeable Friends of Morden Mine offer tours of the area, which might include the Morden Colliery Regional Trail, a picturesque 1.2-kilometre walk from the mine to Nanaimo River.
Read more about the Morden Mine here.
Newcastle Island
Given the extensive walking trails, private beaches and rich First Nations history, you will not run out of things to do when visiting this popular site.
Read more about Newcastle Island here.
Horne Lake Caves
Discover the mystery and allure of the underground about 45 minutes north of Nanaimo at Horne Lake Caves Provincial Park. The naturally-occurring wonders feature magical twists and turns among delicate crystal formations that have evolved over thousands of years.
Read more about Horne Lake Caves here.
Gabriola Island
Hop on the ferry by car or by bicycle from downtown Nanaimo to Gabriola Island—a beautiful rural community of 4,000 that offers forested parks, quiet white sand beaches and world famous artisan tours.
Read more about Gabriola Island here.
Downtown Nanaimo
Regardless of what else you venture out to see, Nanaimo's downtown is a place you should spend some time. Enjoy waterfront views, shops, restaurants and an impressive farmers market, to name only a few.
Read more about downtown Nanaimo here.
Campgrounds and RV parks in Nanaimo, BC
Living Forest Oceanside Campground & RV Park
Phone: 250-755-1755

Westwood Lake RV Camping & Cabins
Phone: 250-753-3922

Brannen Lake Campsite
Phone: 1-866-756-0404 FREE

Jingle Pot Campsites and RV Park
Phone: 250-758-1614

Resort on the Lake
Phone: 250-754-1975

Westwood Lake RV Camping & Cabins
Phone: 250-753-3922

Mountainaire Campground & RV Park
Phone: 250-245-1169
Nanaimo Lakes Campsite
Phone: 250-714-9525
Public sanidumps in Nanaimo, BC
Husky Station
#10 - 5800 Turner Road
250-756-4427
Mid Island Co-op
6673 Mary Ellen Drive
250-729-8400
Major grocery stores in Nanaimo, BC
Quality Foods
101-5800 Turner Rd, Northridge
250-756-3929
Real Canadian Superstore
6435 Metral Dr.
250-390-5718
Walmart Nanaimo Supercentre
6801 North Island Highway
250-390-2344
Save-on Foods
6901 Island Highway North, Woodgrove
250-390-4517
Annual events in Nanaimo, BC
Come and cheer on more than 70 teams of dragon boat racers, enjoy a pancake breakfast, farmers market and other fun activities.
Every summer, Nanaimo has some of the top blues artists coming to light up the stage. Music lovers of all ages will be enthralled.
Come to the Island in fall and sample a variety of local dishes - you can even vote for your favourite culinary artist.
Have you been camping in Nanaimo? Send us a photo from your trip and tell us about your adventures!
RV-Friendly Businesses Near Nanaimo