Camping in Maui: Less polish, more fun
If machines have personalities, Volkswagen Westfalia Vans are quirky. Are you quirky enough to camp from a VW on Maui?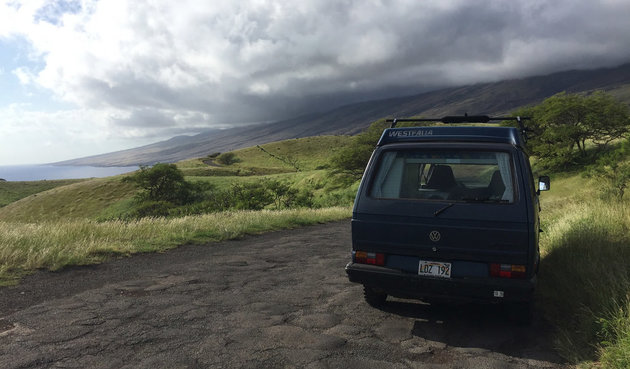 If you need more polish on your vacation, a 1980-era Volkswagen Westfalia camper van might not be your deal. But if you can work the kinks out, the less-than-perfectly-cold fridge, the occasionally growling transmission and intermittently squeaky brakes, you might just enjoy yourself.

Todd, owner of Westy Campers on Maui, Hawaii, was 16 years old when he and a Wisconsin neighbour dropped his first VW engine over a weekend. He was hooked on their simplicity. Soon he bought a Westy and enjoyed the vibe evident at music festivals, and everywhere VW Vans and their drivers congregated. He liked the convenience of his camper on wheels, the flexibility, the doors it opened to low-stress travel. Now he manages a fleet of VW Westy rentals for locals and visitors who want to experience a different Maui.
A less polished vacation
If you don't mind a bit of dirt under your fingernails, enjoy being pacific salted and sun drenched––this might be a perfect deal. Maybe you like the sound of water ebbing and flowing just beyond your camper bed, the sea breeze carrying the heat of the day away and up the mountain. The camper will position you for a better view of the specs of starlight in the velvet canopy of Maui night, to see the splash of silver moon on the navy-blue water, to hear the rustle of palm fronds as you drift to dream. The sound of mourning doves, bobwhite quail or the scratch of Maui roosters will wake you with the amber dawn. You'll camp closer to the water than you thought possible, meet locals and fellow travelers who share your appreciation for things less manicured, and experience more of what made Maui a spectacular destination in the first place––less polished and endlessly unpredictable.

Both Alohacampers.com and Westycampers.com provide fully equipped VW Westfalia van rentals on Maui.

"Aloha Campers has been around 17 years, but the brand (and the vans) will be phased out September 2017, and will become part of Aloha-outdoors global," Brandon of Aloha said. "We will replace the VW fleet with a combination of van conversions done in our own shop and some others by 5-Mars van conversions in Quebec." (http://www.5marsvr.com/home.html.)
Who rents these vans?
"Adventuresome, nostalgic, frugal, are the most common renters. All over 25 (years old.) Canadians and Germans are better drivers, and can drive stick," Todd said.

Experienced RVers have the most success camping on Maui. It takes a certain roll-with-it attitude. Parents with a new baby especially like the flexibility of the VW––naps are easy in the rolling van.

"Customers are largely Canadian, escaping from the snow and more forgiving than Americans and Europeans in dealing with hiccups," Brandon with Aloha Outdoors said.

Advice for the best experience: Do the little things. Make that pit stop because you don't have to rush back for a luau at sunset. Mornings in the van are awesome, a less crowded experience. You're already where you want to be when you wake up.
How to prepare for your Maui camping
Vans come equipped with cooking utensils, boogie boards and linens. Bring clothes and beachwear. Everything is included.

When asked if renters should make campground reservations: "Yes, if you are the kind of people to like it locked down, otherwise just let it happen––wing it. An average trip to Maui for van rentals is 7-10 days. There are eight or nine places you can camp and some of those you will want to repeat. Tail off the end of the trip at a hotel or condo. 75% of folks do that," Todd said.

He advised "Don't drive in the sand. Period."

Both van rental companies provide camping information and contacts. There are specific rules that apply to camping, best to check and confirm plans.

Camping in Maui is for the frugal and adventurous, and will provide a collection of experiences wildly different than a five-star resort. It's not for everyone, is it for you?