Snowbirds of a different feather
These RVers use their 1996 Ford Hurricane to find fresh snow for winter recreation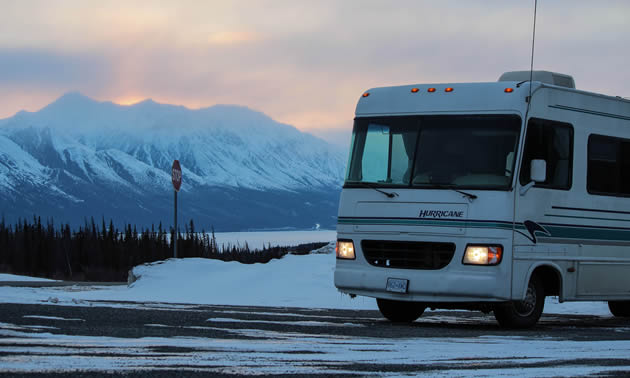 Vera Janssen, 30, and Kalle Johansson, 31, are a bit of an anomaly in the RVing world. Their idea of a great winter escape is not basking in the sun and sipping margaritas in Palm Springs, California; it is camping at the base of a snow-covered mountain in the Great White North of Alaska.
The reason for their craziness, you see, is their love of snow. Janssen is a professional snowboarder and Johansson, a professional snowmobiler. These two, who are originally from Europe, spend most of their winter in Pemberton, B.C. They get their fill of fresh powder there—she on her snowboard and he on his sled—and when the snow starts to melt in the spring, they load up their gear and head north to the Chugach Mountains of southern Alaska.
This year, they left Pemberton in April and drove the 3,300 kilometres to Valdez, Alaska, in their 1996 Ford Hurricane motorhome. From there, they chased the snow to Turnagain Pass near Anchorage. On this trip, the couple were accompanied by their 14-month-old daughter, Nika, and her nanny, Gabby.
Cold-weather camping
The weather in Alaska can be unpredictable, even in the springtime. Janssen said there were some nights that the temperature dropped down to -25 C, but she and her family stayed warm and cozy inside the motorhome.
"We wore lots of layers, even at night, (and) slept in down sleeping bags and often wore a hat in bed to save body heat," said Janssen. "We covered all of the back windows and roof vents with insulation and also had removable insulation for the front windows that we put up every evening."
Their little one, Nika, loved every minute of it.
"Nika did great," said Janssen. "She really loves the outdoors, so camping is the perfect stimulation for her. She got to be outside most of the day, and in the RV we were close together and she got lots of attention. She had her stroller, a little sled and warm, waterproof clothes. She was ready for anything—from snow to mud to puddles."
On any camping trip, warm weather or cold, Janssen said it is important for mothers with young children to bring lots of baby wipes, towels, water and trash bags, as well as extra clothes so that they don't have to do laundry every day.
Different strokes for different folks
Camping in the snow may not be your cup of tea, but Janssen and her family saw a side of Alaska that few people get to experience. Janssen painted a beautiful picture with her words when she was asked to describe Alaska in the springtime: "The mountains are still covered in snow but the days are already really long and you get long hours of the magical alpenglow," she said. "You can still get huge storms that drop several feet of snow, as we did on April 10, and that's exactly what we come for—fresh, deep powder!"
The family spent four weeks in Alaska and drove back to B.C. in May. By that time, they had clocked 10,000 miles on their motorhome. Since then, the family have returned to northern Sweden, where they will spend the summer; but when winter rolls around again, you can bet they will be back to load up the RV and chase down the snow—wherever it may be.
For a video of their trip to Alaska, see Vera's Shredventures on Vimeo.