Avery Struck is back in the game
Avery Struck is working her way back to the top of her game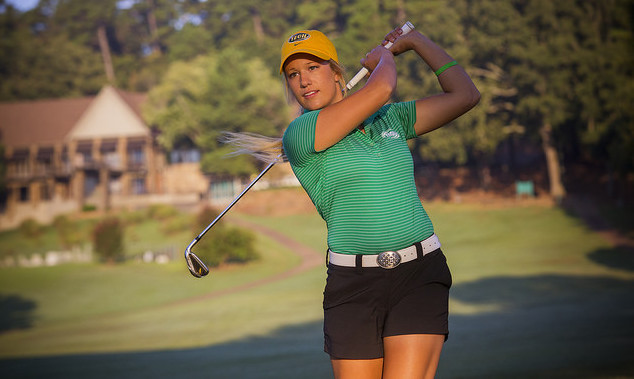 Passionate about golf, Sunshine Coast amateur golfer Avery Struck was already making her own mark on the game in 2013 when she scored rounds of 75 and 76 in the Canadian Tour at Vancouver's Langara Golf Course and 72 and 76 in that year's B.C. Junior Championships.
Today, despite the bad break she got from a good shot in September 2014, this gutsy 19-year-old continues to earn awards in the game itself and kudos for the way she responds to adversity.
Playing the ball where it lies is fundamental to the game of golf. Unfortunately for Struck, obeying the rule in a university contest at the Tascosa Golf Club in Amarillo, Texas, resulted in a serious arm injury that challenges her to this day.
It happened when Struck took a seemingly innocent shot out of the rough. In full swing, her club hit a hidden tree root and the rebound impact tore a ligament in her arm.
"The swelling detached the ulnar nerve that runs along the muscle and I lost all feeling in my left arm from my elbow right down to my fingers," she said.
Although doctors managed to re-attach the nerve, rehabilitation exercises have not yet restored feeling to the pinkie and ring fingers of that hand.
Almost as bad as the injury itself was Struck's sense of loss and anxiety about what the injury might mean for the long-term. Having climbed steadily up the amateur ladders during and beyond her high-school years—playing well enough to gain a full golfing scholarship to West Texas A&M University—would she even be eligible to continue her studies?
The answer was not long in coming; unless the injury recovered well enough to allow one of its star students to return to her former level of play, the university would need to discuss her options.
By that time, already sensing the chill, Struck began to approach other institutions.
Today, Struck feels fortunate to have been accepted by the Arkansas Tech University Golden Suns for her sophomore season, where she has already carded three Top 10 finishes.
"Amy Anderson is the women's head coach. She manages Tech's golf program at the Russellville Country Club and has been incredibly supportive," Struck said. "I'm playing as well now—if not better golf—than I did before, so I guess everything must happen for a reason."
That sounds on par with her results this spring when an Arkansas Tech University newsletter reported on March 27: "Sophomore Avery Struck shot a second round (two under par) 70, the lowest round score in the entire tournament, to lead the Arkansas Tech Golden Suns to a third-place finish at the Nebraska-Kearney invitational in Axtell, Nebraska."
Back in Halfmoon Bay, B.C., for the summer, Struck continues to play at the Sunshine Coast Golf & Country Club, readying herself to continue working her way back to the top of her game—wherever that top may be in both her game of golf and life.