The benefits of owning an RV lot
Determine your needs, and assess whether RV lot ownership is right for you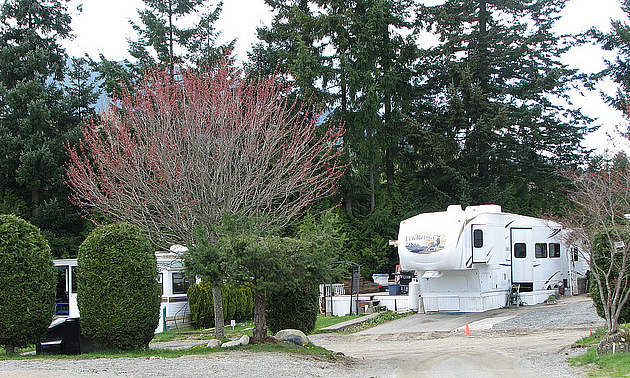 "Purchasing our lot has given us a home base" said Cathy R., a full-time RVer from the interior of British Columbia. "We now have a place to come home to each spring after spending the winter travelling down south, and it's ours to enjoy and share with our family and friends."
Cathy and her husband travel for most of the winter, not staying in one spot as many other RVers do.
"I don't have a high monthly rent," said John Forbes from Nanaimo, when discussing his purchase of a permanent RV lot—as opposed to renting. His monthly payments remain the same regardless of the season. Many RV parks and campgrounds raise their rates during the summer months, so when owning a lot the costs remain more stable.
Adelaide Johnson, a long-time RVer who has rented the same lot in Nanaimo for many years, says that if she could she would definitely buy a lot as a long-term place to live.
"There comes a time when age prevents people from going away," she said. "Having a permanent RV lot gives a person more security long term."
The benefits are significant for full-time RVers who need a home base for essential things like receiving mail and meeting the requirements for their medical and drivers licences. No less important are the benefits to RVers with young families who want a safe and reliable place where their children will have friends to play with and exciting things to do.
A number of RV resorts with privately owned lots have many of the same amenities that a regular RV resort may have, such as swimming pools, playgrounds, club houses, libraries and games rooms. It will depend on where they are located but many are next to accessible lakes for swimming, boating and just plain enjoying.
"Just because you own a lot doesn't mean you can't take your RV somewhere else at any time," said Johnson. "You can have the best of both worlds."
Initially it's a big investment, but depending on your long-term goals, you might determine that buying an RV lot versus renting is beneficial. An added benefit is that most private parks allow the owners to place their lots into a rental pool when they aren't using it.
Not only are there RV lots that can be purchased individually, it's also possible to purchase a long-term membership with similar benefits providing each member a specific spot for their own personal use for a set period of time (e.g. 25 or 50 years).
Shawn Bennett, the manager of Surfside RV Resort (a membership park) in Parksville, says a benefit of owning a lot or a membership is having the ability to pass on lots to your children, place them in a rental pool or use them as your main residence if the time comes when you no longer wish to travel. Many RVers place park models on their lots as a permanent home, a summer cottage or weekend retreat.
As many campgrounds close due to development or other concerns, it may become more difficult to be guaranteed a camping spot—by owning an RV lot there's the security of knowing you have a place to go to with your RV any time you wish. There seems to be many positive factors in purchasing an RV lot, and it is worth doing further research if considering it for yourself.