10 Popular Mexican destinations for RVers
These are some essential places to visit on your Mexican RV adventure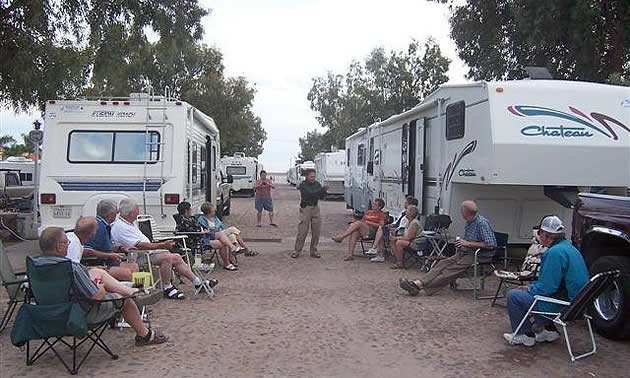 Millions of people travel to Mexico each year and many of those are avid RVers. With two million kilometres of diversified landscape filled with spectacular scenery to explore and almost that many amazing destinations to choose from, your next trip should prove to be unforgettable.
Baja California
Known for deep sea fishing, diving, kayaking and being an outdoor enthusiast's paradise, the Baja is brimming with rich local culture and its welcoming citizens.
Exploring the Baja is perfect for anyone who is new to Mexico and wishes to become comfortable with taking their RV to this enormously popular destination for the first time. Small rural villages, warm sandy beaches and opportunities for countless experiences of deep sea fishing, off-road exploring, kayaking, whale watching and clam-digging are just waiting for you to enjoy.
Travelling south from the border town of Tijuana, the main highway Mex 1 extends south 1,711 kilometres to Cabo San Lucas at the very tip of the Baja Peninsula. Along the way there are camping facilities that vary from rustic boondocking on beautiful secluded beaches to fully serviced RV resorts that will surprise you.
1. Ensenada
Only 109 kilometres from the border, this is an important port town and a great place to stock up on supplies before heading south. Fishing in this area is good but those who just want to buy a fish should visit the fish market Mercado Negro situated by the fishing piers.
This very busy town is home to the Baja 1000 off-road race held each November and celebrates some very important fiestas that include Carnival in February. There are plenty of campgrounds and when searching for restaurants head to Calle Primera.
2. Bahia Los Angeles
This coastal town on the Sea of Cortez is easily accessible but remote, although its desert shoreline and blue waters entice people each year. Its majestic scenery is worth the drive as well as the fishing, boating, diving and kayaking opportunities when you arrive. Its population is less than 1,000 and really quite small with limited amenities but there are campgrounds in town and also more informal places outside of town. Check out the turtle hatchery.
3. Loreto
Loreto is part of a development scheme similar to Ixtapa and Cancun. It really isn't very crowded but you will find a golf course and a tennis court to test your skills at. Fishing and boating are very popular and if you are an experienced kayaker you may join others at Isla Carmen for some great kayaking. There are campgrounds available with room for big rigs who stay in the area permanently but also space for those stopping over on their way further south.
4. La Paz
This is a favourite destination for many RVers and has a number of good campgrounds that are nothing fancy since this is not really a tourist town. Catching a ferry to the mainland is possible from La Paz (Pichilingue) but make reservations in advance to avoid disappointment. Visit the Museum of Anthropology for a very interesting experience.
5. Los Barriles
Los Barriles is gaining in popularity with RVers because it is less busy than Cabos to the south and the fishing is excellent because the deep water is just offshore. Boating enthusiasts as well and windsurfers love the area and there are a number of good restaurants, trailer parks and shops here. Campgrounds can be found along the beach as well as in little towns nearby or in the mountains for those who would like something a bit quieter.
6. Todos Santos
This was originally a mission and known for sugar cane but today is Baja's art colony. There are many foreigners here who were looking for a simpler life and it has galleries, restaurants and a good bookstore. If you go to San Pedrito RV Park you will find one of the best beaches in the area. You are now in the tropics! Todos Santos is just south of the Tropic of Cancer.
7. Puerto Penasco (Rocky Point)
This started out as a small fishing village but today its main industries include fishing and tourism. With over a million visitors each year it also is very popular with RVers and many retirees have moved to the area permanently.
Situated only 100 kilometres from the Arizona border, Puerto Penasco is located on a small strip of land that joins Baja California with the rest of Mexico and is part of the Altar Desert. It has been said that if you really want to enjoy Puerto Penasco you have to enjoy fishing, diving and other water sports—but don't forget to bring your golf clubs.
8. Los Mochis
Los Mochis is the place to be if you choose to travel on the Chihuahua al Pacifico Railroad along the Copper Canyon. Caravan groups arrange for their clients to travel on the railroad in their RV or you can book a seat for yourself for a trip up the canyon to Chihuahua. If you catch the ferry from La Paz on the Baja you will dock in this area. The sugar refinery (Ingenio Azucarero) is worth visiting if you want to learn all about the process.
9. Mazatlan
Mazatlan is very popular with RVers and there are hundreds of RV sites available. If interested in Fiestas then you will find the Carnival in February to be one of the most thrilling events you can ever attend. Be prepared to stay up late and enjoy the enthusiastic crowds who will entice you to join in the excitement.
10. Puerto Vallarta
Puerto Vallarta is another tourist destination for many RVers who drive here and those who arrive by air. If you enjoy the hustle and bustle of a busy city then you will want to spend time downtown where there are many bars, restaurants, shops and major hotels. However, there are many small towns in the area for those seeking a peaceful environment. As typical in most tourist destinations there is every type of activity you can want here including access to deep sea fishing and golf. The many tour operators will take you anywhere you want to go.
Whether you are looking for a beautiful beach, rustic little towns, big cities, ancient ruins or museums to explore it is all here in Mexico. Do take the time to meet the locals, practice a little Spanish and enjoy this unique country that is Mexico for an experience you will talk about for years to come.
Resources:
www.rv-clubs.us/mexico_rv_campgrounds.html