Top things to consider when buying an RV for full-time living
There are a number of factors you must take into account when choosing an RV for full-time use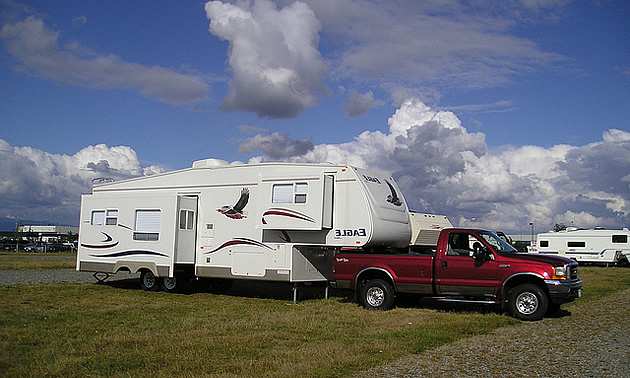 Full-timing is something many people work towards, and maybe by doing a little pre-planning it can come sooner than we think. Reality and dreams sometimes collide when we actually start reviewing realistically what our needs and budget are.
So much to be aware of
It's so easy to get carried away by some of the beautiful RVs on the market, especially with a snappy salesperson encouraging us to spend our money before we actually know what our needs are. Take your time and visit every RV dealer you can, check out every unit on their lot and picture yourself actually living in each one—really think about what you need and what you can live without.
How much room do you truly need?
Will you be spending most of your time in sunny warm climates and mostly be outdoors? If so, then your living space may not need to be as large as that required by someone who will be in poorer climates and indoors more often.
Is it really important to have a washer and dryer? Most RV parks have laundry facilities available for a few dollars. If boondocking and water conservation is important, then that washer you insisted on may be taking up valuable space and weight. Be realistic as you crawl in and out of compartments, checking out bathrooms, closets and sleeping arrangements.
Do you prefer to have the bed made up all the time or are you okay with turning the couch into a bed each night? Know what will work for you—most RVers will tell you to buy the largest one you can afford and don't scrimp if you don't have to. Remember, this is your home and what you thought you could do without may cause you enough aggravation later to ruin the experience.
How much travelling will you really be doing? Is a special licence needed for driving the motorhome you have decided you must have? Are you more comfortable driving a motorhome or pulling a fifth wheel? How are you at parking or backing up a trailer? Is it easier to set up the motorhome with its self-leveling jacks and no disconnections to be made except for the car you are towing behind? None of these are insurmountable obsbtacles and a few lessons can remove any of the barriers you encounter, but they must be thought of when buying.
Repairs
Are you mechanically inclined? Think about this when deciding whether to buy used or purchase a new unit with a full warranty.
If your motorhome is in for repairs you'll have to find other accommodations, and usually it's the vehicle with the motor that breaks down or needs servicing.
Budgets are important and not to be ignored
What can you afford to spend—taking into consideration your income, other living expenses such as food, clothing, medical, insurance, fuel and general living expenses? Just because you're an RVer doesn't mean those expenses go away.
Knowing your regular living expenses is the first step—figuring out the cost of the RV will come next. How much does it cost to drive or pull the unit? How much does it cost to fill up the gas tank and how many kilometres can you travel before you have to fill it up again? Will it be cheaper to pull a travel trailer or fifth wheel, park more often and use the tow vehicle to travel around the area and return to the campground each night?
Motorhomes tend to be more expensive, but don't be surprised by some of the high price tags on luxurious fifth wheels. Bear in mind, the cost of the truck needed to pull the fifth wheel may be more expensive than the RV itself!
There are so many factors to consider when purchasing an RV for full-time living, and it can sometimes be overwhelming. Don't let it be—think of why you want to RV full time, where you want to travel, how comfortable you want to be and how much you can afford. The rest will take care of itself when you take your new RV off the lot and start the journey of a lifetime.