Top motorhome manufacturers in the U.S.A.
We compiled a list of the top U.S. manufacturing companies specializing in motorhomes
When shopping for a new motorhome, you'll see familiar brand names pop up again and again. There are several RV manufacturers located in the U.S., and we wanted to highlight those specializing in self-powered motorhomes. It turns out there are a few highly-regarded companies in the United States creating these impressive units, and we've listed some of the most prominent ones: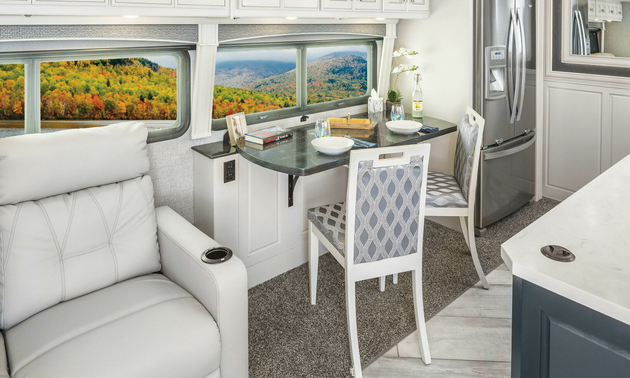 - Photo courtesy FleetwoodRV.com
Fleetwood RV
Fleetwood RVs are the picture of luxury, as you can see from the interior shown above. Based in Decatur, Indiana, this renowned company has a reputation for building beautiful Class A and Class B units that feel like home.
Fleetwood has been around for more than six decades, and you can find their motorhomes at a number of dealerships. They have a quality website, allowing potential buyers to take 3D tours of the floorplans and conduct other important pre-shopping research before investing. You can also get a quote through their website, or check out their latest incentives and offers to get an even better deal on your next RV.
- Photo courtesy AmericanCoach.com
American Coach
American Coach is another motorhome manufacturer in Decatur, Indiana. Putting out stunning Class A and Class B diesel units with cozy interiors, the company has definitely earned a following.
The American Coach website also allows customers to "build and price" - walking them through the exact customization they might want in their future motorhome and giving them a quote on the total cost.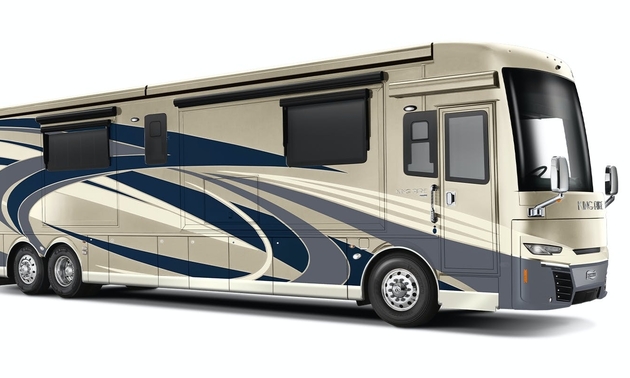 - Photo courtesy Newmar Corporation
Newmar Corporation
Newmar Corporation is a family-run business in Nappanee, Indiana, that has been building quality motorhomes for more than fifty years. They carry both gas- and diesel-powered Class A units designed with personal care and attention.
While the purchase of a Newmar coach can be a significant investment, the quality and longevity of these high-end RVs makes them worth the higher price tag. Try the online quiz to see which Newmar motorhome is best suited to you.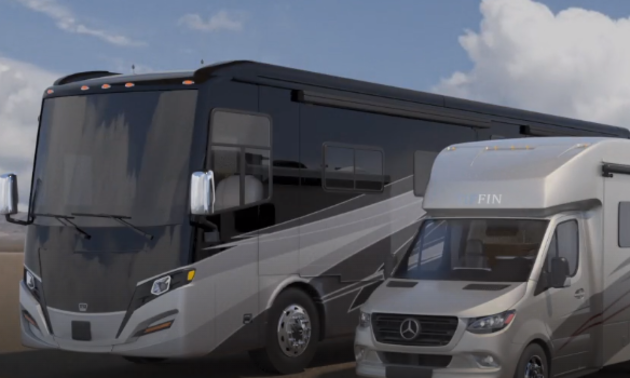 - Photo courtesy TiffinMotorhomes.com
Tiffin Motorhomes
Manufacturing Class A, B and C units, Tiffin Motorhomes is based in Red Bay, Alabama, with factories in Belmont, Mississippi, and Winfield, Alabama. They offer RVs powered by gas or diesel, and in a wide array of styles with spacious floorplans that will please the most discerning traveller.
Tiffin was founded in 1941, and it has been family-run ever since.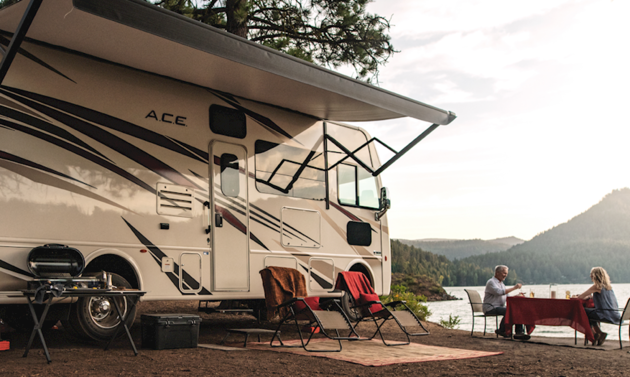 - Photo courtesy ThorMotorCoach.com
Thor Motor Coach
Based in Elkhart, Indiana, Thor Motor Coach is revered for its well-built Class A diesel pushers. What you might not know is that the company also manufactures Class C, Super Class C, Class B and Super Class B RVs, as well.
There is something for most budgets at Thor, and you can customize your dream unit online so you know exactly what you want when it comes time to buy. The online tool allows you to select your budget range, desired RV length and other essential features.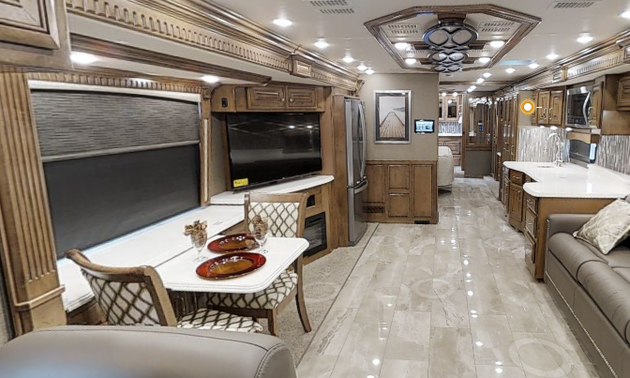 - Photo courtesy www.MonacoCoach.com
Monaco Coach
Another longstanding luxury RV manufacturer - Monaco Coach focuses solely on designing premium Class A motorhomes.
Customers love these deluxe units because of their homey feel and quaint details that make staying in them a delight. Any snowbird would be proud to call a Monaco coach their second home.
There is also a Monaco Coach Association Owners Club with 12 locations across the U.S. where you can gather with other owners and share a sense of community.