Class B motorhomes: Compact size, plenty of amenities
Class B motorhomes offer campers the comforts of home in a compact size with optimal flexibility.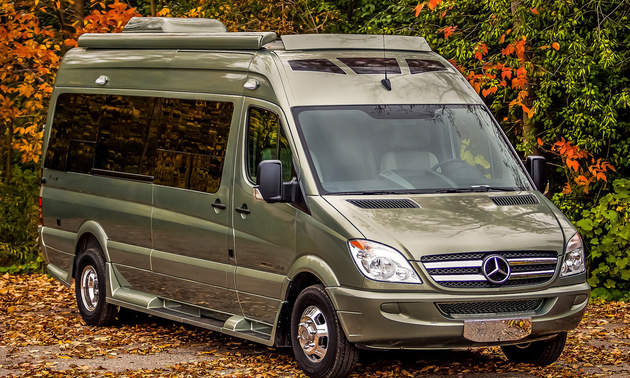 If you're looking for the comforts of home combined with the ease of the road, a Class B motorhome might be in your future.
Also known as campervans, or conversion vans, Class B motorhomes offer a different camping experience from their larger counterparts. They are big enough to sleep a couple (or up to four), but small enough to maneuver the windiest of mountain roads. They are highly customizable, especially now that Van Life is a trending hashtag among those hoping to RV full time. It's the epitome of tiny houses, but on wheels.
If you still aren't sure that this type of camper will fit your lifestyle, we've come up with a few pros and cons to help make your decision.
Pros of a Class B
1. They're compact
Campervans are compact versions of Class C homes on wheels. They are smaller, but they are mighty. Larger version come equipped with full showers and toilets, while others opt for more living space and a larger reliance on campground facilities. The design depends on the camping lifestyle you want to live.
Although Class B motorhomes are compact, they don't have to sacrifice the comforts of home. They are oversized vans with raised ceilings, and sometimes lowered floors. All have the basic cooking, sleeping, and storage necessities, but the flexibility in features, and ease of adventure sets conversion vans apart.
2. They offer flexibility
Not only are conversion vans flexible in terms of their accessories, but they are an easy choice if you plan to explore places that include tight camping spots and challenging roads. These vans really roll with the punches.
Plus, they typically fit in normal sized parking spots. That means they will fit in a standard sized driveway for storage, and rest stops along the road. Explore hassle free.
3. They're driveable
Reasonable length road trips are a breeze with a Class B motorhome. If their compact size alone doesn't sell you, think about the toys you can tow with the van-sized sleeping quarters, or attach to the roof rack most come equipped with. Bring along the boats, bikes, or extra storage without worrying about driving conditions typical to larger motorhomes.
Cons of a Class B
1. It's not quite glamping
While campervans promise the comforts of home, they don't offer the same style of glamping as larger options. There is space for the basics, and you can enjoy some of our favourite glamping destinations, but longer journeys might be more difficult without proper preparation.
2. Your home is also your vehicle
Class B motorhomes—or any motorhome—have the potential risk of trickier mechanical issues. If your vehicle breaks down, your entire home might be out of commission until the problem is fixed. For this reason alone, some RVers choose travel trailers instead.
A similar experience to old school tent camping
Essentially, the cons of a campervan aren't necessarily negatives points, but features that might not fit the lifestyle you hope to live while camping. If you love roughing it, a campervan is one step above—showers usually included.
Are you convinced by a campervan? Here's a few manufacturers in Canada and the United States that offer Class B motorhomes that we love.
Formerly Road Trek, Erwin Hymer Group has built simple, yet sturdy, Class B motorhomes since 1990. They offer a "Build Your Own" option to further customize these compact campervans.
Adventure via Airstream with one of their Class B touring coaches. Airstreams are reliable, highly customizable, and built for a life on the road.
A designation of Triple E RV, Leisure Travel Vans built their first Class B motorhome in 2008. The Serenity model built on the Mercedes Sprinter Cab Chassis still offers a compact life on the road almost ten years later—with yearly upgrades, of course.
Versatility and quality are Pleasure-Ways priorities when it comes to building Class B motorhomes. These luxury campervans are built to order versus on an assembly line, so expect to wait a little longer for your home on the road to arrive.
Class B's ranging from 18 to 22 feet, built in Canada. They focus on strength and drivability to provide robust comfort to their satisfied customers.
Their 50 plus years of experience makes Winnebago an obvious choice for any sort of RV or motorhome. Their Class B motorhomes are fuel efficient, and equipped for adventure.
The basics
Size: 16 to 22 feet
Cost: $10,000 to 180,000
Sleeps: up to 4