Fifth wheels versus travel trailers
Compare and contrast these styles of RVs to find the best one for your camping needs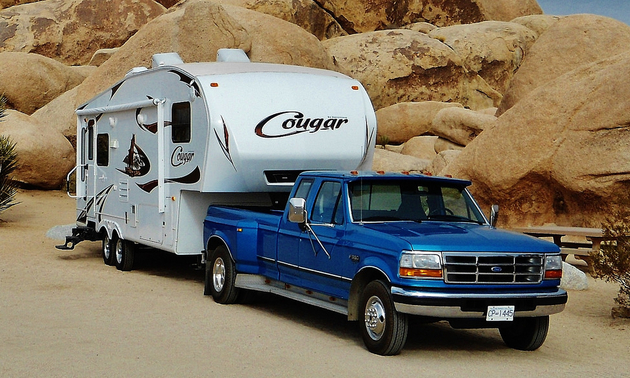 Travel trailers and fifth wheels are different from each other in a number of ways, and comparing these two types of RVs can prove useful when shopping for a new unit.
Key differences between travel trailers and fifth wheels
The hitch
Perhaps the most obvious difference between travel trailers and fifth wheels is the mechanism attaching them to tow vehicles.
Travel trailers utilize the traditional ball-and-coupler hitch system, attaching to the rear bumper of the tow vehicle. This allows them to be hitched to a wider range of vehicles, but does not offer the same stability as a fifth wheel.
Fifth wheels require a special kind of hitch that fastens to the bed of a pick-up truck. It has a pivot point located directly over the rear axle, providing added stability.
Due to the type and position of the hitch, fifth wheels must be towed using a pick-up, as opposed to an SUV or other vehicle. This leads me to the next key difference.
Type of tow vehicle
Being that travel trailers can be hitched to SUVs, you can accommodate more passengers in an SUV than in a pick-up, which is needed to haul a fifth wheel. This might be important to you if you have a large family or prefer to travel in groups.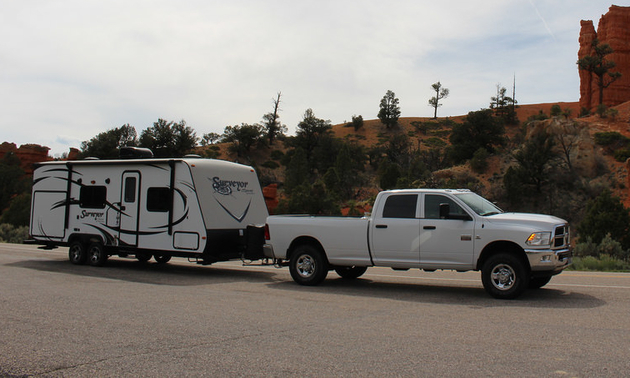 In addition, if you use a pick-up with a travel trailer, the truck bed is left free. This gives you more generous space for hauling, allowing you to bring along your ATV, motorcycle or other larger items that might not fit if you were travelling in a fifth wheel unit.
Floor levels
Due to the fact that fifth wheels attach over a truck bed, they offer a multi-level space and more square footage for living and storage than travel trailers. This can also contribute to them being more expensive.
On the other hand, travel trailers have only one level and tend to be lower to the ground, which means less overall living space. That being said, the lower positioning and lack of stairs can make these RVs ideal for people with limited mobility.
Size and weight
Travel trailers, for the most part, tend to be smaller and more lightweight than fifth wheels. You don't necessarily need a huge towing vehicle in order to pull one, and they incur less fuel cost. They also have lower roofs, granting more clearance space.
Fifth wheels are more likely to be larger and heavier, requiring a truck capable of pulling a significant weight. However, since they go on top of the truck bed, the length of the vehicle/unit combined is less, making many fifth wheels easier to control than travel trailers. The higher roof of a fifth wheel may present clearance challenges, but the inside of the unit tends to feel more spacious as a result. As an added bonus, fifth wheels are often manufactured with additional storage space underneath.
Other factors to consider
Something else to factor in is what type of camping you want to take part in.
Fifth wheels have extra battery space and bigger water and waste tanks. If you plan to go on longer adventures or RV in campgrounds without hook-ups, a fifth wheel might be the way to go.
Which one is better? Pros and cons in a nutshell
Travel trailers
Pros:
Can be hitched to a wide range of vehicles
Suitable for those camping with a group or large family (due to the ability to tow with SUVs)
If towing with a truck, you will have added hauling space in the pick-up bed
More affordable units with lower fuel costs
Lighter in weight with a lower roof
Single-level floorplan is helpful to those with reduced mobility
Cons:
Less stable hitching system
Smaller water and waste tanks, and less battery space
Not as well-suited to long trips or dry camping as a fifth wheel may be
Fifth wheels
Pros:
Larger water and waste tanks, and more battery space
Better for long excursions
Hitching system grants more stability
Most have additional storage space underneath
Multi-level floorplan means more square footage of living space without increasing the overall length of the unit
A higher roof makes the interior feel more roomy
Easier to manoeuvre
Cons:
Can only be hitched to a pick-up
The pick-up bed is mostly taken up by the RV and doesn't offer as much storage space for hauling bikes, ATVs, etc.
Weigh more and require a larger truck to tow them
Fuel costs, and the unit itself, may be more expensive
Higher roof can pose clearance challenges
Pick-up trucks don't accommodate as many travellers as does an SUV