Family reunion at Battleford, Saskatchewan
Family reunions are a time to reconnect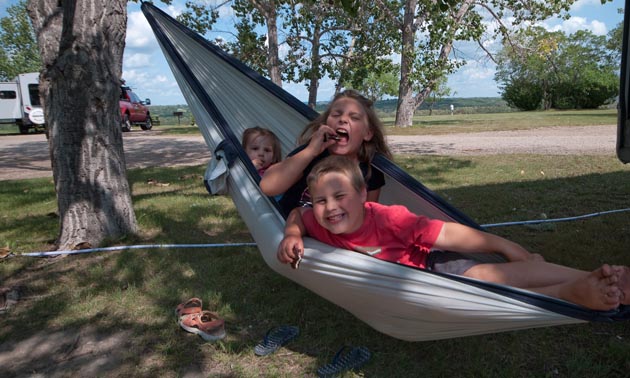 If family relationships are important, extended family enlarges this importance. Because families are often spread out across geography, it takes a real effort to bring everyone together. A family reunion is the perfect format to connect with aging aunties and meet your cousin's kids.
We chose Battleford, Saskatchewan, just across the river from North Battleford this past August long weekend for our family reunion. At least 85 of us gathered for weekend get-together of camping, good food and chin-wagging. Organizing and executing a family reunion is a lot of work. Here's what we did to plan the event and share the work. I can tell you making family connections is worth the effort.
Instigate a date and place
Every family has a rabble-rouser, the instigator-extrovert who is comfortable organizing people and generally keeps family relationships interesting. The most important thing to instigate is a date and plan to have your family reunion. It is the rabble-rouser's job to overcome family-reunion inertia and get folks moving toward a time and a place. Give your family a year's notice. Float some options for dates and location to your family, and when you hit 75 per cent "yeses," lock it in.
Our family rabble-rouser lives in North Battleford and she got the ball rolling. Members of this arm of our extended family reside in all the western provinces so nearly everyone would need to travel at least a few hours and some a few days. When 75 per cent of the family indicated they could attend at the proposed place at the proposed time, the date and place were locked in.
Location
When selecting a location, space, kitchen facilities and cost were the top three criteria. The Battleford Legion Hall accommodates 178 with tables and chairs set up, and has a fully functioning kitchen and a space at one end to set up a cash bar. The hall was bigger than our minimum requirements, but with so much space it allowed the kids to play indoors and allowed easy movement between conversation clusters.
Accommodation
Reunion organizers didn't get tangled up with accommodations. Each participant was responsible for their own accommodation. Most of the families travelling are campers. We booked campsites at Eiling Kramer, owned and operated by the Town of Battleford, with 74 campsites. (The view from the edge of the valley of the North Saskatchewan river valley from the campground is spectacular). Others stayed with extended family in North Battleford or booked into one of the local hotels.
Feeding the family
Providing food for 85 is daunting. Getting it done with hall rental for $50 per person is nothing short of miraculous. The rabble-rouser focused on keeping the food preparation simple and keeping the costs down. The focus of food came second to setting up the venue for conversation.
Friday night the local pizzeria delivered a stack of various popular pizzas. This was the first time we got together on the weekend, and pizza was easy and inexpensive.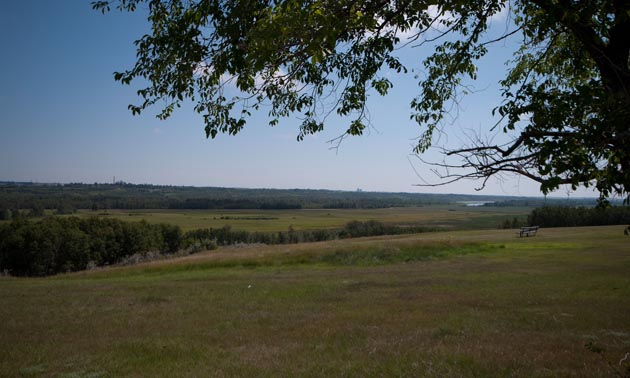 Two meals on Saturday were a pancake brunch—including sausages, bacon and syrup—and a dinner of roast ham, scalloped potatoes, steamed vegetables and a couple of salads made in advance, with cookies for dessert. Sunday brunch was an egg, potato and cheese bake with slices of watermelon.
All of these meals were made by family members who dedicated part of their reunion schedule to cooking. Two meals a day were provided; if participants needed more, they were responsible for their own families.
We set up a low-key cash bar at one end of the hall. (Check local regulations on licensing and service limitations.)
Activities
The main activity at our reunion was connecting with family. A group of golfers peeled off for a round of golf Saturday morning. Some bowed out for an afternoon nap. Others went to the local museum and the Fort Battleford National Historic Site adjacent to the campground. There was no pressure to opt in or out. Kids had some simple games and balloons. There was time to wander up the street to get ice cream.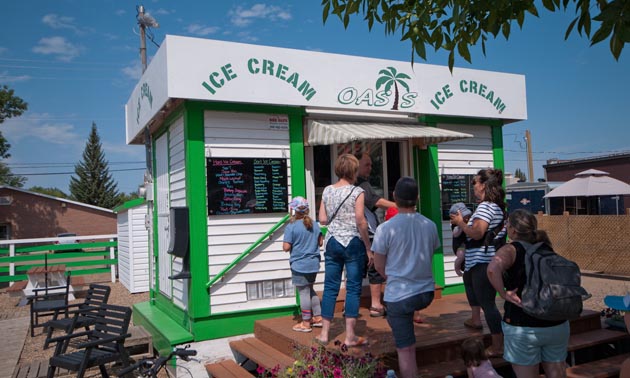 Family connections
Connecting with family was the whole point. We sang happy birthday to our auntie-matriarch as she celebrated her 89th birthday. I got to talk with some shirt-tail relatives I hadn't seen in more than 20 years. We made commitments to get together with cousins who live just over an hour from us. (They pointed out that the highway has been repaired, so now it goes both ways.) We had enough time to have some space to ourselves to enjoy our camping spot and the view of the North Saskatchewan river valley.
Mission accomplished.
In fact, we had so much fun, we planned another reunion for next July with a different arm of the family. It turns out I might be married to an instigator.