Pupus for happy hour
Pupus are a small hand-held appetizer of Hawaiian or Asian origin.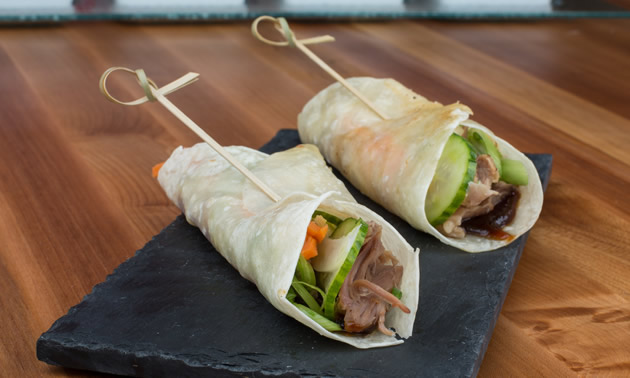 Make it easy on yourself and delish for your guests. Pre-planning and bit of prep can smooth happy hour.
Any hour camping is happy, but the hours of 3 to 5 in the afternoon are happiest––our unofficial happy hour. I propose we have a snack and a cool drink. Go ahead pull a tab, twist a cap, pop a cork or even dunk your canteen in a glacial stream and join me for Pupus at the picnic table.
According to Merriam-Webster's online dictionary, pupus are a small hand-held appetizer of Hawaiian or Asian origin. Pupus are just one way Hawaiians spread aloha. And we are going to do this the easy way. Make some quick pickles for the table a day or two before camping, and some laser-focused shopping will get you in the pupu zone.
I am normally the guy to make everything from scratch, but sometimes you need a day off. There is no shame in picking up a supermarket roast chicken and some sides for a week-night dinner. Why not buy a barbecued duck from the local Asian market or barbecue house? While you're at it, pick up some cooked ribs and this list of ingredients. Let's keep happy hour simple.
Your grocery list:
Half a barbecued duck, which is meat for 4 to 6 Duck Pupus
Barbecued pork ribs, one bone or more per serving (or make your own in advance)
Duck pancake wrappers (from the frozen Asian food section) or thin tortillas
Green onions, for slicing
Carrots, English cucumber and fresh fennel for pickles
Rice wine vinegar
Bib or green leaf lettuce (alternative wrappers for duck)
Frozen pot stickers (dumplings)
Sambal Oelek, Sriracha or other chili sauce
Soy sauce
Hoisin sauce
A day or two before you head out, start the fresh pickles. These are crazy-simple to make and are ready to eat after an overnight in the fridge. They make a great garnish and add crunch to the wraps, and colour and flavour to a pupu platter. If they do survive the camping trip uneaten, they are good in the fridge for a couple of weeks. When the pickles are gone, the brine can be used again for a fresh batch of veggie pickles.
Ingredients for Master (Fresh) Pickle Brine
2 cups boiling water
1 cup rice wine vinegar
2/3 cup white sugar
1 tablespoon plus 1 teaspoon of Kosher salt
Method for Pickle Brine
Pour boiling water over salt and sugar; stir until dissolved.
Add vinegar and cool the brine.
Wash and dry 1-pint (half-litre) containers for your vegetables.
Cut the vegetables and stuff in the containers to nearly the top.
Pour chilled brine over the vegetables.
Chill and store in the refrigerator.
Use brine as needed, replenishing to meet demand.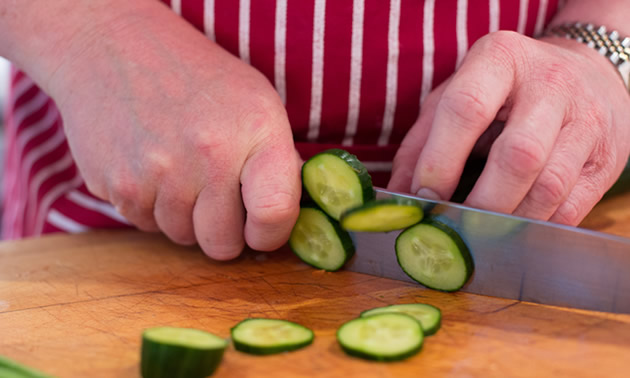 Select vegetables for pickling; here are some options to get you started:
Fresh fennel. Cut off the green stalks and reserve for another use. Cut the bulb lengthwise in half, and half again. Remove the solid core and slice on the bias, 3/4-inch thick (a Loonie thickness) or finer.
Carrots. Peel and slice into matchsticks or coins, as fine as you can.
English cucumbers. Wash and cut coins like the fennel.
Other options are: thumb-size florets of cauliflower; sliced cabbage; peeled and sliced turnip or radishes
These pickles are raw. Keep them in the fridge for a couple of weeks. They are ready to eat immediately but are best after two or three days.
Some will call this cheating—I call it taking a day off.
Duck Pupus (or pancakes or tortillas): Method
Cut the meat off the duck. (Reserve the bones to make soup if you like.) It's fine to substitute pulled pork if you are not a duck fan.
Warm pancakes or tortillas in a cast-iron frying pan over a medium flame.
Add a swipe of hoisin sauce with the back of a spoon to the centre of the pancake.
Add duck slices (or shredded pork), pickled cucumber, fennel and shredded carrot.
Wrap and serve.
To make pot stickers and onion cakes, follow the package instructions and serve with soy and chili sauces.
Arrange these on a platter or cutting board with an assortment of veggie pickles, and join your family and friends at the picnic table for pupus!