Vintage RV: Oasis Travel Trailers "Clean, Cute and Cozy"
Oasis Trailers were known for producing interiors that were very stylish with room for two adults and perhaps two children.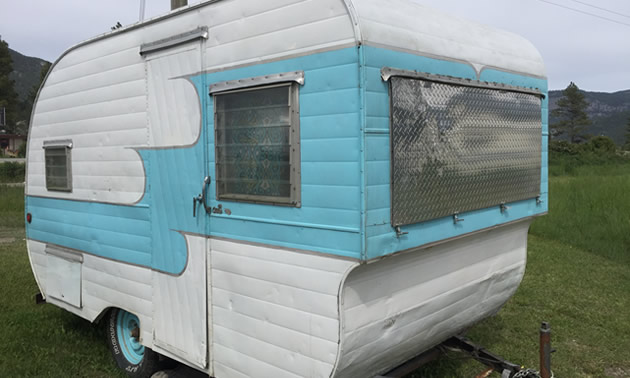 Have you ever been to Bellflower, California? No, me either but one has to wonder if there are any remnants of the Oasis Travel Trailers manufacturing plant still evident in the city today? Here's another vintage trailer I found at a little used trailer outlet in the Village of Canal Flats recently.
Bellflower is a city in Los Angeles County, California, in the Los Angeles metropolitan area. It was established in 1906 and incorporated on September 3, 1957. As of the 2010 census, the city had a total population of 76,616, up from 72,878 at the 2000 census.
Bellflower was also home to the manufacturing facilities for the Oasis Travel Trailer company back in the late 1950s and 1960s—the golden era of classic and stylish camping trailers.
In 1957, Oasis Sales Inc. or Donhal began producing these attractive little vacation trailers. Their plant expanded in 1958. The company was headed up by President Donald Herfter and Vice President Dwight Avery.
Oasis Trailers were known for producing interiors that were very stylish with room for two adults and perhaps two children. The floor plan layout was well planned out and the little trailer was easy to pull and very comfortable to camp in. There was a large front window in the front that made it very enjoyable to sit and savour a good meal while looking at the beautiful view. (depending on where you decided to camp for the night)
One of the unique features of the Oasis was its beautiful ash wood interior. Each corner of the wood panel was rounded to give it a nice designer look.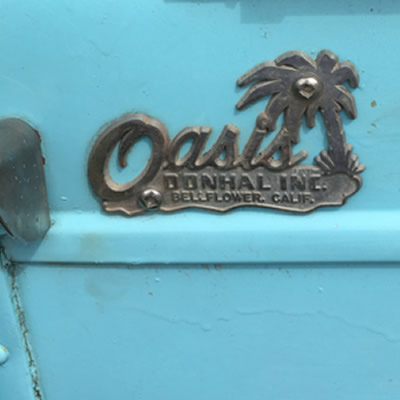 As mentioned, one of the largest front windows found on any travel trailer from this era came standard on the Oasis. Its exterior proved distinctive with its trademark "flame" two-tone paint job with polished aluminum accents.
As one vintage site observed, "The Oasis sported a rounded silhouette as typical for this vintage of trailer, but distinguished by the "ogee" profile of the front section below the dinette window. Later models (from about 1962 on) added a spoiler-esque feature to the rear profile, picking up on the curves seen in the paint job and front profile."
Typical pricing in 1958 of an Oasis model was as follows: 8' wide, 15' 1 bdrm., $1,129; 17.5' 1 bdrm., $1,995; 21' twin beds $2,720; 25' 1 bdrm., $3,325; 27' 1 bdrm., $3,525.
Allyson Gross, an Oasis Trailer enthusiast calls her 1964 Oasis trailer—"camping-ready, clean, cute and cozy!"
So if you ever get to Bellflower, California, keep an eye for the roots of the Oasis Travel Trailer company.
Share your classic RV restorations, or tell us your favourite story about a cool vintage unit you've encountered by filling out our Classic Vintage RV form.
Source: Tin Can Tourist Wiki