Vintage RV — Iconic 1970's Golden Falcon travel trailer
The Golden Falcon Trailer is to Canada what the Shasta is in the USA.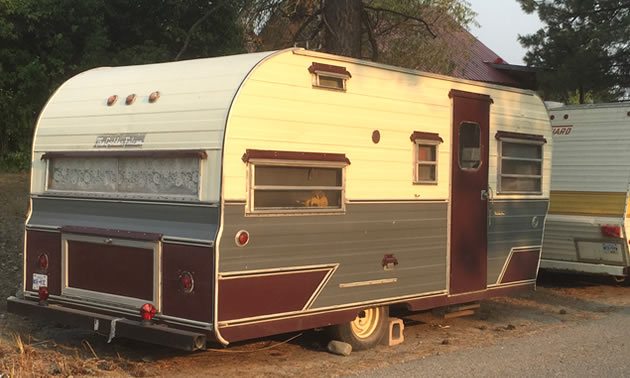 In what was once called Canada's highest city, I recently discovered a vintage Golden Falcon travel trailer, perched on a side street. As I have found out the iconic Golden Falcon, like so many other vintage RV's, has a rich legacy of history and many passionate followers.
According to one vintage enthusiast, who calls herself Lady Wendolyn, here is some insight into the Golden Falcon travel trailer: "I have found out that a Golden Falcon Trailer is to Canada what the Shasta is in the USA. It was an iconic, Canadian trailer. The luxury model in the tin can ranks. Not an airstream, but not a standard camper either. They were proudly "made in Canada" and there are very few intact and unchanged vintage models left. I have learned all of this while trying to establish what antique or art dealers call the "providence" or history of my trailer. It started out with me having a mystery refrigerator brand that none of the other Glendale owners had in their trailer, and which no one else had seen in a travel trailer. It's called an LEC Regis Bognor. After some research, I realized why no other North American trailers had this fridge — it was from England. Then, after more research, I found out that the family who started the Glendale Trailer company were from England. My assumption is that when they started the Golden Falcon line, (in 1961) at first they ordered the refrigerators from England from a company they were familiar with, and then once they took off, within a year or so all the Golden Falcons have Dometic refrigerators."
Here is some more info on Glendale trailers, some of which we have published before. From an interview with Lou Hammill, the founder of Glendale, October 1986 in Strathroy, Ontario comes this information as posted on the vintage trailer enthusiast site Tin Can Tourist:
"Glendale was founded in 1950 by Reginald Lever Thorn, a trailer builder from England who arrived in Canada around 1948. Reg, with his wife Joan and their first child (son Jeremy) and friend Vic Gray, travelled to various areas of Canada including BC and the East Coast. After much deliberation they settled for an area in Southwestern Ontario. The first plant was located on the Glendale Curve in London, Ont. Today the area would be known as Wharncliffe Road and Southdale. This first plant which was a barn which burnt down in 1956. From here Reg relocated Glendale to its present day location of 145 Queen St. in Strathroy. Reg, with the help of many dedicated employees like Wally Callaghan, grew Glendale to be a national manufacturer of both RV's and mobile homes right across Canada:
1959 — Glendale Mobile Homes Ltd opened a division in Wetaskiwin, Alberta producing both homes and travel trailers.
1961 — Glendale Atlantic Ltd. was opened in Sussex, New Brunswick by John De Winter and Reg Thorn.
1961 — Glendale acquires the McGuiness Homes name and begins building the Golden Falcon line of trailers.
1965 — Glendale Quebec Limited opened a plant in St. Joseph De Beauce producing homes and travel trailers.
1966 — Strathroy plant destroyed by fire and rebuilt to what is today the current facility @ 145 Queen St.
1968 — Glendale expanded once again out west with a plant in Morris, Manitoba and started its Terrapin Commercial Building Plant across the road from the Strathroy Plant on Queen St.
1969 — Glendale acquires property in Australia and began Glendale Homes Pty. Ltd which is still in operation today but not affiliated with Glendale in Canada.
1971 — Glendale acquires Pre-Built Ltd of Lethbridge, Alberta and with this the Scamper line of recreational vehicles.
1973 — Glendale Mobile Homes Ltd. becomes The Glendale Corporation with manufacturing locations across Canada for both manufactured housing and recreational vehicles of various sizes and shapes.
1975 — Reg Thorn sells Glendale to Morgan Firestone of Oakville, Ontario.
Between 1975 and 1978 Morgan re-engineers Glendale into a streamlined company focusing only on the RV business and only from the Strathroy Complex. All other business units were sold off and or closed due to discontinuing of less profitable operations."
Also from the Tin Can Tourist site comes this info: "Glendale has produced the following brands over the years since its inception back in 1950. The following are the branded names used: Glendale, Glendette, Glenelle, Golden Falcon, Flyte, Orbit, Falcon, Falcon Flyte, Glendette Deluxe, Golden Falcon Deluxe, Cottager, Standard, Limited Edition, Tour Edition, Presidential Series, Fireside, Scamper, Lightweight, Royal Classic, Sterling Series, Travelaire, Holidaire, Rustler, Park Avenue, Titanium, Easy Rider by Golden Falcon."
A timeline of when Glendale manufactured various recreational vehicles:
1950-1975 — units were built by Reg Thorn's Glendale Mobile Homes Ltd. In 1973, Glendale underwent some major changes of growth and expansion and was re-named Glendale Corporation as they had evolved to much more than just producing mobile homes.
In 1975, Glendale was sold to Morgan Firestone of Oakville, Ontario. Firan Corp. of Oakville amalgamated with Glendale in 1978 creating a new company called the Firan-Glendale Corporation. Between 1978 to earlier 2000's Glendale's parent company changed its name a number of times. Today, Glendale RV is owned by Glendale International Limited and is still based in Oakville, Ontario.
In 2003, Morgan Firestone sold his controlling interest of Glendale to his senior management team. Operations of Glendale International Ltd. continued until the voluntary bankruptcy in January 2010.
January 2010 — Glendale Trailers files for bankruptcy.
As vintage trailer blogger and master renovator Lady Wendolyn says about the pride she feels in her Golden Falcon reno project, she writes she is, "…honoring the original model and the history of the company. I feel like I am preserving a piece of Canadian history."
Do you have more info on the Glendale Golden Falcon? Have you ever owned or do you own a Golden Falcon? Share your experiences, photos and projects: [email protected]