Classic RV: 1996 (?) Winnebago/VW Rialta
The Rialta's decade of production has left a rich legacy and many passionate fans who continue to own and operate the popular Class B units.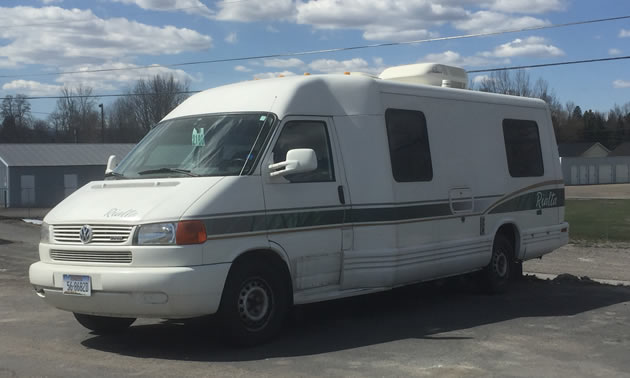 This hardly qualifies as a vintage RV, but it definitely is one of the industry's more unique vehicles – so we are going to call it a classic RV. The Rialta was produced by Winnebago from 1995-2005, and it came with four different floor plans.
A Class B motorhome built on a Volkwagen chassis and powertrain, it sported a VW 140 HP gas engine (1997-2001) and a VW 301 HP gas engine (2002-2005).
Here is what Winnebago says about the Rialta: "With beauty, brains, power, and a whole lot more, there's a certain pleasure in owning something that is superbly designed. Even from the outside, it differs markedly from other motor homes. The Rialta is incredibly fuel efficient and measures in at a very maneuverable 21 feet. Its sleek, aerodynamic lines and softly rounded contours please the eye, reduce drag and help quiet the interior. But don't let Rialta's size fool you. Inside, you'll find it has plenty of room for comfortable living. And, as a full-featured Class C motor home, it's loaded with the same kind of creature comforts and conveniences found in vehicles nearly twice its size: microwave, shower, toilet, generator, sink, stove, refrigerator, and more! And here is what we say at Rialta Heaven...Thank you Winnebago...The ageless sculpted exterior...the flowing and spacious interior... the... the... OK... OK! Forget the good looks and the incredible versatility, let's consider the current prices and gas mileage of anything of similar size and power! You will find it will cost you two or three times the price of our like new Rialtas. The late model Rialtas were originally sold for about $70k US Dollars. Now for about half the price, or less, you can hit the open road in endless style aboard one of these incredible machines. And remember, the only thing better than buying a green RV, is buying a used green RV... They're not electric, but they are as about as green as an RV gets! The Rialta has always been a favorite of savvy travelers because of its size, maneuverability, engine performance and incredible gas mileage (18-22mpg). It's not big and cumbersome like other RVs, and has all the amenities that you could ask for...shower, toilet, bed, furnace, A/C, generator, stove, sink, microwave, 110v power, etc. They generally will fit into your driveway and some carports and garages as well! It's a step up in style and class from the smaller cramped Campers like the Roadtrek or small Sprinters, and a wonderful step down into cozy comfort from the big gas guzzling RVs. We hope that we can help you into one of these great Campers, and onto the road of adventure!"
As posted on Wikipedia: "The company (Winnebago) developed a line of smaller units slightly larger than a passenger van, built using various bodies and powerplants from two European automobile and truck manufacturers. The LeSharo was based on the Renault Traffic van with a 2.2 L 4-cylinder motor, (some 21,000 were sold in the US) and the "Rialta" had a Volkswagen Transporter (T4) (a.k.a. "EuroVan") cab, the 2.5-liter 5-cylinder motor, 2.8-liter VR6 with 140 BHP or 2.8 V6 engine with 201 BHP.
Distinct from the "Rialta", Volkswagen contracted to have the camper conversions of the T4 be done by Winnebago Industries, a radical departure from using the Germany-based Westfalia company that had become famous for building the VW Type 2 campmobile models from the 1950s through 1991. This tradition continues today with Winnebago's use of the Mercedes-Benz Sprinter and Fiat Ducato chassis."
It was nimble according to Motorhome magazine, "The Rialta is 21 feet 8 inches long but only 8 feet 10 inches tall and 7 feet 4 inches wide, meaning that it can be parked in most standard spaces, leaving its owners free to explore without having to bring along a dinghy vehicle. The size also gives the Rialta a tighter turning radius than most motorhomes, making it drive more like a car than an RV."
It was economical too, the magazine added, "The Rialta's low-profile body also resulted in a near-zero drag in wind-tunnel tests during the design phase. With its 140-horsepower Volkswagen V-6 engine and aerodynamic design, Rule also points out that the Rialta gets a solid 21 mpg, equal to many family-sized cars, making it economical."
So why did Winnebago stop making the Rialta motorhome? It actually appears because Volkswagen stopped importing the Eurovan (powertrain and chassis for the Rialta) to the USA in 2003 and the supply of '03 chassis' that Winnebago had stockpiled ran out in 2005.
Like all short-lived recreational vehicle projects, the Rialta's decade of production has left a rich legacy and many passionate fans who continue to own and operate the popular Class B units.
Share your classic RV restorations, or tell us your favourite story about a cool vintage unit you've encountered by filling out our Classic Vintage RV form.