Vintage RV: 1990's Micro-Mini Winnebago Warrior
The Micro-Mini Winnebago Warrior came in three floor plans and was advertised as an entry-level unit.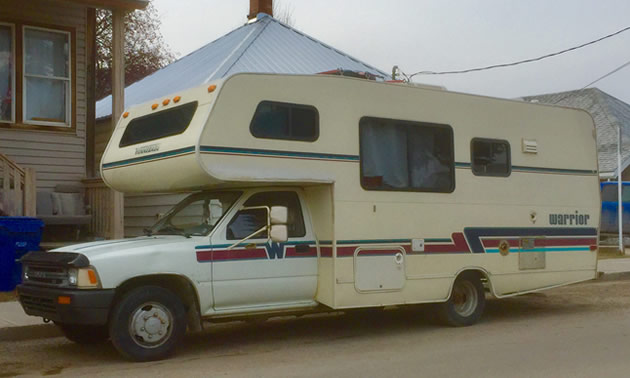 The Micro-Mini Winnebago Warrior has a bit of cult-like following, so when I recently spied a model in the alpine skiing town of Fernie, B.C. I had to stop and snap a picture. Looks like it could be serving as "ski bum chalet" in the winter and an adventure traveller in the summer.
By the array of travel decals on the back I would say this Micro-Mini Winnebago Warrior has lived up to its name – a true road warrior. This model is also known as the Mini-Winnie-Warrior, as well.
Interestingly, Winnebago saw the Micro-Mini Winnebago Warrior motorhomes as an entry level unit for first time RVers. They reasoned that if young customers loved the Micro-Mini they may just upgrade to a full-size Winnebago model the next time they purchased a RV.
Here is some of what Winnebago had to say about the Toyota based Micro-Mini Warrior back in the early 1990's:
"When it comes to high quality features and a variety of choice options, the 1991 Micro-Mini is a great place to start. And lots of first-time motor home buyers are getting their start in a Micro-Mini Warrior. That's because they're finding this fully-equipped Winnebago is priced even less than some cars. It's powered by a Toyota V-6 engine – known for both its reliability and fuel efficiency. Step inside the comfortable living area, and you'll find everything you need to begin the first of many wonderful travel adventures. A quick test drive and you'll be convinced, this new Warrior's the best all-around micro-mini at the most affordable price."
Here are some other features the Micro-Mini Winnebago Warrior touted: "Micro Warrior has smooth, not ribbed, sidewalls and big, tinted windows. An up-close inspection of the automotive-style fit and finish will show you why it's a great looking motor home, as only Winnebago could build."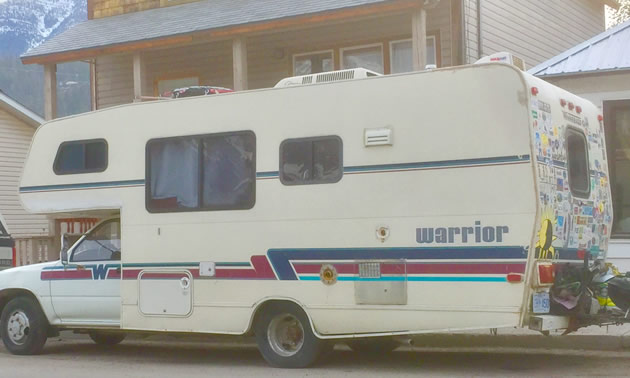 "The new 321RB has large picture windows on both sides, for a great view of the scenery. Note the integrated tail and running lights, rear bumper with dump hose storage, rear mud flaps and large storage compartments behind the driver's door – all standard.
"Micro-Mini Warrior's interior is efficiently laid out for a roomy, open feel. Compare it to the competition. The couch converts for sleeping and there's lots of cabinet storage space. Attractive upholstery, carpet, window and wall coverings provide an especially comfortable environment."
"The marine toilet, vanity with large rectangular sink, stand-up shower, and mirrored medicine cabinet and handy wardrobe closet are standard."
The Micro-Mini Winnebago Warrior came in three floor plans, noted by their unique model numbers: 321RL, 321RB and 320 RB.
Share your classic RV restorations, or tell us your favourite story about a cool vintage unit you've encountered by filling out our Classic Vintage RV form.