Best of Vintage RV 2019: #4 - Classic 1973 "Flying W" Winnebago Indian Motorhome
The Winnebago remains one of the most recognized and popular vintage motorhomes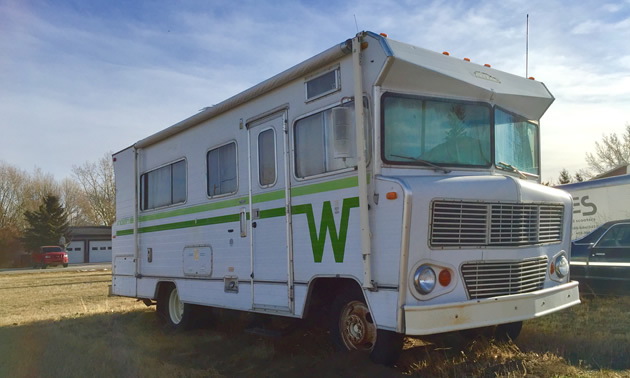 Over the next 10 weeks we will feature the Top 10 Vintage RV articles we have ran on the RVwest website over the last year. We have ranked them according to the number of "likes" each posting received on the RVwest Facebook page.
So enjoy our list of the Top 10 most popular Vintage RV postings from the last 12 months — in our annual feature called 2019 Best of Old Vintage RV.
The classic and iconic Winnebago motorhome takes the Number 4 spot this week with 193 likes:
It's not every day that you come across a sweet looking "flying W" Winnebago classic motorhome. However, last week during a sojourn through southern Alberta, I spotted this Winnebago Indian motorhome stored away on a out-of-the-way lot. I believe this model is a 1973.
Here is some copy from a 1975 Winnebago Indian brochure: "When you buy an Indian….or any Winnebago…tradition is part of the deal. A tradition of more motorhomes built than any other manufacturer. A tradition of well over a billion miles logged by Winnebago owners. A tradition based on a sold philosophy to build the best recreational vehicle we can and to sell it for an honest price. And that philosophy follows every Indian, every Winnebago, from the drawing board to the dealership. The dealership to your driveway….Built for the road and for strength and durability that lasts."
The brochure for the Winnebago Indian models continues, "America's history becomes adventure in a traditionally fine motorhome, the Indian. And adventure becomes history as you enjoy your Indian, trip after trip. Year after year. For 1975, Winnebago offers your great new Indians, from 19 to 25 feet. Each built for years of dependable motorhoming fun. Each offering a spacious, wide-open floor plant arrangement and a price to suit your fancy. Plus three eye-catching new interior colour schemes to array your Indian beautifully. More for your money is a good reason why we're the name that means the most in motorhomes."
According to a Wikipedia reference: "In 1966, the first motor home rolled off the Winnebago Industries assembly lines. These motor homes were sold at a price approximately half of what was being charged for competitors' models, which led to its ubiquity and popularity in the RV community. The brand name (Winnebago) has become synonymous with "motor home" and is commonly used as a trade mark for such vehicles, whether they were produced by the company or not.
"Through the 1970s and into the 1980s, model names were influenced by the Native American tribe of the same name and included the Brave, the Indian, the Chieftain, and the Warrior. Older Winnebago RVs are often recognizable by the painted "w" (also called the "flying W") on the side of the vehicle, with a stripe that connects the front and back of the camper."
Do you have Winnebago motorhome memories? Share your vintage RV stories and photos with us. Just email us at [email protected]