Vintage RV: 1975 (?) Vanguard Travel Trailer
Thank you to Thomas Carver for sharing pictures of his vintage Vanguard trailer with us.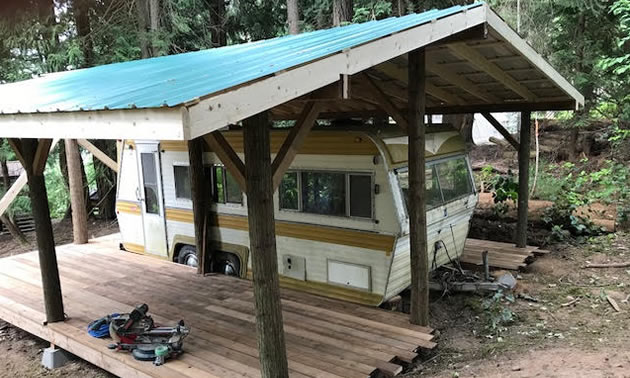 Thomas Carver is about to set out on a renovation and restoration project of his 1975 Vanguard trailer. As you can see from the photos, Thomas' trailer is enclosed with a permanent deck and covered with a roof. The trailer is located on beautiful Pender Island.
"It is on Pender Island right now," said Thomas. "The restoration of the camper has not started yet. I just wanted to protect it and start using it. I have had it under a tarp for five years."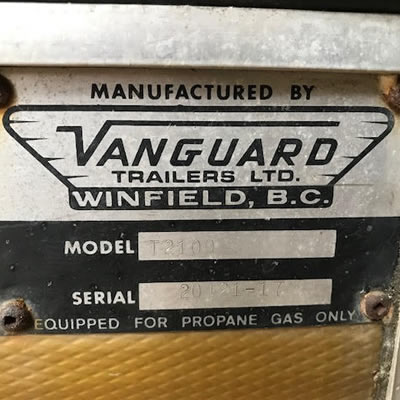 He adds, "I have restored other RVs. This one should be fun, but really hard to find stock stuff. I believe it is a 1975 - not even sure. The deck is going to have a nice outdoor shower in the back corner and easy chairs out front!"
Thomas is looking for more information about Vanguard trailers and where to obtain parts, etc. If you can help him, let us know.
Here is some previously published information we have posted on the Vanguard:
According to one historical source, "Vanguard Trailer Limited started production in 1970 with 200 employees—a number that has fluctuated to a high of approximately 600 employees in 1978; production decreased and only 200 people are presently employed with more lay-offs threatened because of the prevailing economic situation."
Neonex had multiple manufacturing locations in western Canada at one point in time, though Winfield (just north of Kelowna) seemed to be the primary manufacturing operation of Neonex Shelter Industries back in the 1970's. The Winfield manufacturing plant also produced trailers and campers, as well as the so-called "Winfield Bolers"—the popular little egg-shaped fibreglass units.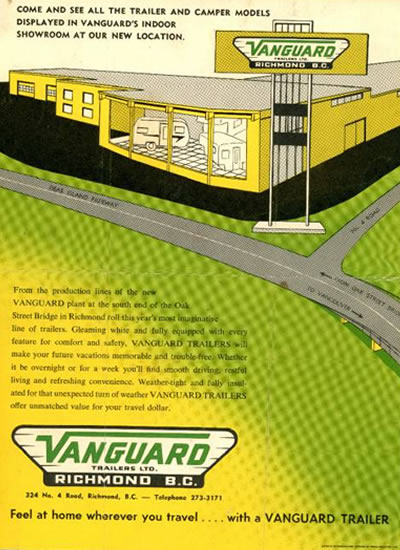 However, according to the attached page from a Vanguard brochure, it would appear that Vanguard Trailers were also built in Richmond, B.C. Here's what it says — "Feel at home wherever you travel…..with a Vanguard Trailer. From the production lines of the new Vanguard plant at the south end of the Oak Street Bridge in Richmond roll this year's most imaginative line of trailers. Gleaming white and fully equipped with every feature for comfort and safety. VANGUARD TRAILERS will make your future vacations memorable and trouble-free. Whether it be overnight or for a week you'll find smooth driving, restful living and refreshing convenience. Weather-tight and fully insulated for that unexpected turn of weather. VANGUARD TRAILERS offer unmatched value for your travel dollar. VANGUARD TRAILERS LTD — 324 No. 4 Road, Richmond, B.C."
Thank you to Thomas Carver for sharing his vintage Vanguard trailer with us. And we wish him well on his reno project.
Share your classic RV restorations, or tell us your favourite story about a cool vintage unit you've encountered by filling out our Classic Vintage RV form.