Vintage RV: 1960's Avion C-10 all-aluminium truck camper
Inspired by the sleek, smooth look of popular aircraft of the day, Avion campers and trailers feature a distinctive silver aluminum skin.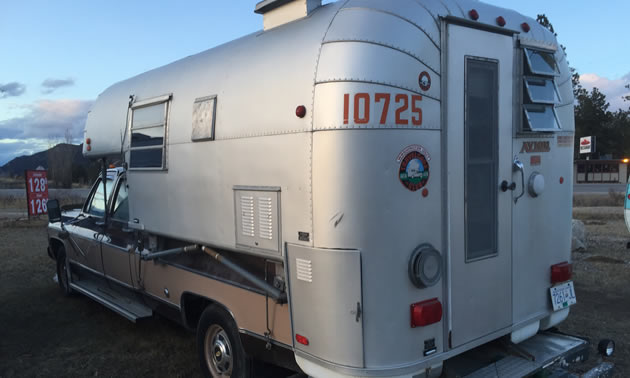 So what do you think of truck campers? I recently spotted this classic Avion truck camper sitting on the roadside in a tiny community along Highway 93/95 near Fairmont Hot Springs, B.C.
Here's what one enthusiast stated, "The truck campers are the perfect RV vehicles and I think it is the best solution for travelers for long drives and they are stylish from both inside and outside and provide you a comfortable drive."
Inspired by the sleek, smooth look of popular aircraft of the day, Avion campers and trailers feature a distinctive silver aluminum skin. The campers have large curving smooth corners. This helps with the aerodynamics reducing wind resistance going down the road (and helping fuel efficiency, no doubt). One blogger stated, "The origin of the word Avion is either French or Spanish and it means airplane - the root Latin is "avus" meaning 'bird.'"
With inspiration from the all-aluminum design of aircraft, Avion founders Howard, Loren and Robert Cayo built the distinctive aluminum trailers from 1956 (and campers later) and were manufactured through the 1990 model year. Avion had manufacturing facilities in both Benton Harbour, Michigan and San Jacinto, California.
In a blog called "The Road Taken" the author touts the merits of the Avion camper, talks a little bit about the history of the C10 model and takes us through a tour of his C-10 model: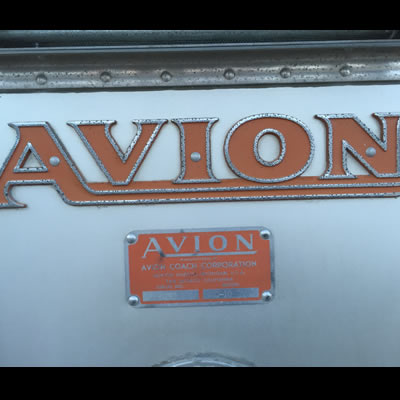 "All the time people ask to see the interior of the Avion camper. Maybe you'd like a peek inside too. Up there above the passenger door is the bed, positioned over the truck cab. And just below is the comfy booth-like eating space with table. That table drops down to the level of the cushions to make another bed, the cushions rearranged to provide the mattress. Not that we use this space for anything other than eating, computer work, and reading.
The opposite side, with 3-burner range, sink, and a generous food prep area. Plus a lot of storage above and below. Behind me is a closet, a fridge, and a bathroom. We don't use the bathroom on this 45-year-old camper, though we could. Note the crank windows, which let air flow freely in all directions (the rear door has windows too)...one of the things I love best about this tiny living space. The truck is a 1975 Ford F250 camper special, meaning it's set up for a slide-in camper like this one, a 1965 Avion C10, made in Michigan (by the way, most people think it's an Airstream that's been cut down).
The designers were hunters working for Avion who talked their employer into letting them design this truck camper. In a nice symmetry, the grandson of one of those original designers, Chuck Cayo, still works on Avions at his shop in Watervliet, Michigan.
The water tank holds 20 gallons and the small but serviceable fridge runs on propane, AC, or DC. We travel with a cooler too, and 5 gallons of extra water. There's also a furnace, though we rarely need it. Most of all, having our home on our back permits us to get into areas that are off-limits for trailers--towing can be a challenge on rough back roads. This little rig is extraordinarily comfortable."
Can you add to this Vintage RV story? Have you ever owned an Avion trailer or camper? Share your classic RV restorations, or tell us your favourite story about a cool vintage unit you've encountered by filling out our Classic Vintage RV form.