Vintage RV—1967 Airstream Safari: The story behind the restoration project
The restoration took just over a year and was first shown in 2016 at the annual Fibreglass and Vintage Trailer show in St Malo, Manitoba.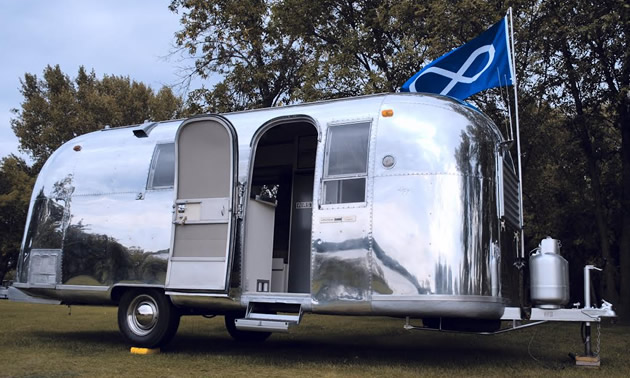 Last week we introduced RVwest readers to a vintage RV collector team extraordinaire. Howard, and his wife Lori, live in Manitoba and have accumulated an impressive line-up of some 11 vintage trailers they have restored, renovated and put back on the road again.
One of their showpiece units which Howard and Lori are especially proud of is one of their most recent projects—a 1967 Airstream Safari.
Here's what Howard has to say about this project: "The most current restoration is a 1967 Airstream Safari. This 22 foot unit was purchased and fully restored from the frame up, again keeping as much visually period intact as possible. The restoration took just over a year and was first shown in 2016 at the annual Fibreglass and Vintage Trailer show in St Malo, Manitoba."
Howard adds, "It came right down to the wire. I had already hooked up, the truck was running and I was busy putting the last coat of paint on the rear bumper. This year we've booked two sites for the trailer show in mid-August and we'll have the Scotty (another of Howard's restoration projects) and Safari there for the open house tours."
He also adds this comment about restoring vintage trailers: "To date, three of the eleven trailers have gone through a complete frame up restoration with a fourth in progress. There are still quite a few parts available and even some being reproduced. Be prepared to pay for some of the more hard-to-find parts like door handles which often go for $500.00 US or more. We've had a number of people ask if we want to sell some or if we rent them out. I've been offered some very serious money for the Scotty but so far we're still rescuing and restoring and not really interested in flipping or the resale side of the vintage trailer scene."
Another pride and joy is Howard and Lori's 1954 Airstream restoration project which is, to some degree, a work-in-progress. Here's the story on how they found it: "Howard was driving around Neche, ND waiting for the post office to open after lunch when he noticed a for sale sign tucked into some evergreens down an alley lane. This sign happened to be attached to a 1954 Airstream Cruiser, California model. He did what any car enthusiast does and knocked on the door. A deal was struck in minutes and Howard and Lori waited six months for a title to come from Oregon before taking the unit home. What makes this unit special—and somewhat rare—is the fact that it was built at Airstream's California plant. From 1954 to 1957 as a cost saving measure, they produced a 7 panel rear cone instead of the standard 13 panel. The added bonus of this deal is that we've become good friends with the previous owner and they're quite excited knowing their trailer will eventually be restored to its former glory."
Thanks again to Howard and Lori for sharing their Vintage RV passion and adventures with us. Watch for more of Howard and Lori's stories next week.
Share your classic RV restorations, or tell us your favourite story about a cool vintage unit you've encountered by filling out our Classic Vintage RV form.