Vintage RV: 1973 Winnebago Brave
Winnebago has proven itself to be a survivor in the often challenging recreational motorhome market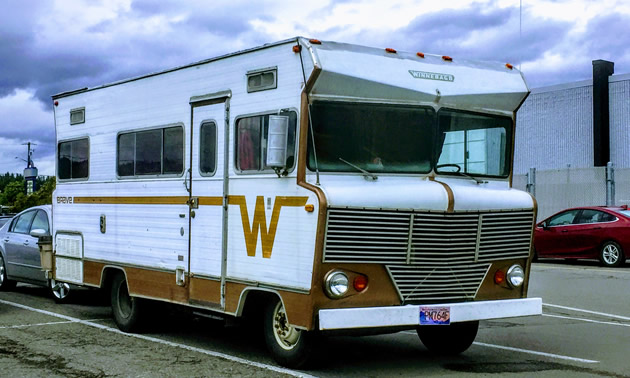 It's always great to see a vintage motorhome still being used for the owner's vacationing pleasure. It would appear that this 1973 Winnebago Brave is doing exactly that. We found this one parked outside the local Canadian Tire repair shop, all licensed and ready for another summer of camping adventures — its 46th season. Back in the day, the 1973 Winnebago Brave was positioned as an entry level RV model — designed to appeal to young families or retired couples newly attracted to the RV lifestyle.
In fact, Winnebago's brochure in 1973 stated, "For the young at heart from 16 to 60, the '73 Brave is a good buy for your money. Always a favourite with recreational vehicle buyers, this economical member of the Winnebago tribe has deservedly earned an enviable reputation as a sturdy, compact traveler."
It continues, "It's a fun machine for driver and passengers alike. The Brave will take you wherever you want to go…do whatever you ask. It's a ski lodge on wheels, a cottage by the sea, a cabin at the lake. If you're two for the road or the small family looking for a first buy, the sprightly Brave will take you into the heart of the great outdoors without leaving those home-like comforts behind…you can choose from three Brave models." (The Brave D-18; D-20 and D-20T)
The copy also states, "This year go 'The Winnebago Route'…in a '73 Brave!"
Maybe anticipating the economic downtown and looming energy crisis of the mid-1970's, Winnebago wrapped its 1973 brochure for the Brave model with this note, "Winnebago Is a publicly owned company and in 1970 began trading its stock on the New York Stock Exchange, Pacific and Midwest Stock Exchanges. All products are backed by a financially strong and well-respected company that continues in its role as the industry leader."
Despite the economic ups and downs over the last 46 years, since this little Brave hit the road, Winnebago has proven itself to be a survivor in the often challenging recreational motorhome market. The company has become one of notable leaders in the industry.
Share your classic RV restorations, or tell us your favourite story about a cool vintage unit you've encountered by filling out our Classic Vintage RV form.