Part 3: Vintage RV 1960 "Canned Ham" Serro Scotty
"Gutting a 50 year old trailer is not for the faint of heart and shouldn't be taken lightly," says Howard.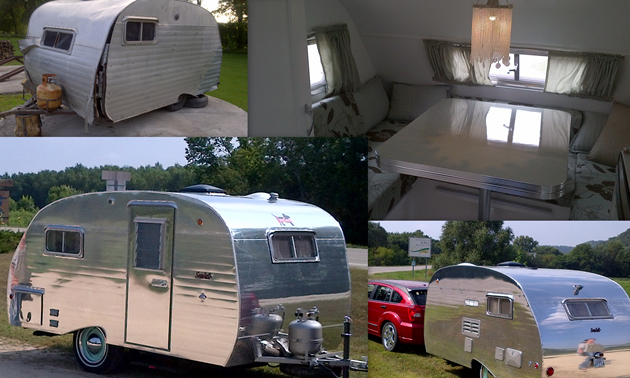 The Howard and Lori vintage RV story continues this week with an account of one their favourite and early RV restoration projects—an incredibly rare and distinctive 1960 Serro Scotty trailer. This week's account comes with a serious warning from Howard: "Gutting a 50 year old trailer is not for the faint of heart and shouldn't be taken lightly."
Howard says, "What started as an idea to own our own teardrop trailer has resulted in a collection of vintage campers spanning four decades. After deciding to build a teardrop camper and gathering together many of the needed parts, I came across a rather sad looking "canned ham" (called canned ham because of its distinctive side profile) on my commute home from work. Not knowing much about the vintage trailer scene at the time, I did however know that this trailer was worth saving. I stopped in the next day to see if the unit was for sale. Seeing as it was just going to be salvaged for the aluminum, a quick deal was struck. We were now the proud owners of a 1960 Serro Scotty, the first of our many orphaned trailers."
"Rebuilding started in the fall of 2012 and it was quickly decided to tear the unit right down to the frame. What could be reused was set aside and the tear down began. Gutting a 50 year old trailer is not for the faint of heart and shouldn't be taken lightly. You will no doubt come across mouse nests, feces, wasp nests, rodent carcasses and the occasional stashed liquor bottle," Howard continues. "We've had a number of people ask if we want to sell some or if we rent them out. I've been offered some very serious money for the Scotty but so far we're still rescuing and restoring and not really interested in the flipping or the resale side of the vintage trailer scene."
In fact, in the past two years Howard and Lori have taken the Serro Scotty on as many trips. The first started at the mouth of the Mississippi. From there the couple followed the Great River Road down to the outskirts of St. Louis before crossing and heading back up the West side. Before they got home, a detour along the scenic North Shore drive of Lake Superior was also included. Last fall they headed West to the Rockies taking in six National Parks along the way, crossing over into Montana and spending some time in Glacier National Park. To date they've towed the little Scotty trailer over 12,000 kms.
"If you like meeting people and making new friends, pull a vintage trailer into a small town or campground, there's never a shortage of people wanting to talk old trailers," he says in conclusion.
Thanks again to Howard and Lori of southern Manitoba for sharing their passion for vintage RVs and their many restorations projects.
Check out Howard and Lori other vintage restorations:
Vintage RV: 1975 Trillium Trailer—The one that got away!
Vintage RV—1967 Airstream Safari: The story behind the restoration project