Vintage RV: 1975 Trillium Trailer—The one that got away!
RVwest is pleased to feature Howard and Lori's collection of vintage RV trailers over the next few weeks.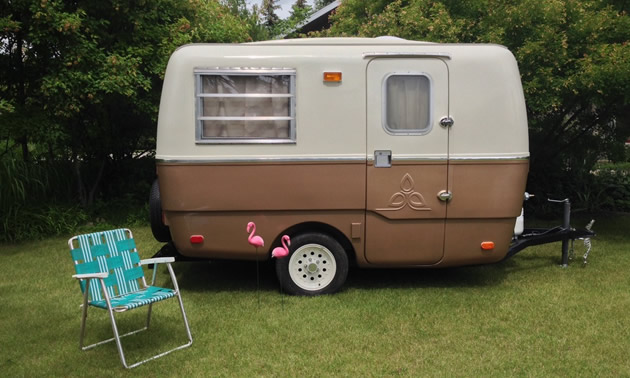 Manitobans Howard and Lori love vintage trailers and they have a large collection to prove it. Among their collection are several Airstreams, a Nomad, a classic Serro Scotty and a Trillium trailer (the Trillium that got away)
Here's how RVwest reader Howard and his wife, Lori describe it: "This 1975 Trillium was tired and neglected when we found it. The entire unit was pulled from the frame and refurbished inside and out over the course of 8 months. We decided to take it along to an RV show along with the Serro Scotty (another vintage trailer). On the day of the open house we had a couple stop by and ask about the show. After explaining about the open house they looked inside the Trillium. After a few minutes they asked if it was for sale and the standard answer was no, I restore and collect. The next question was if you were to sell it how much would I want. I threw out a price which was more than a new unit, a nod was given and the deal was made. We never even got to sleep in that trailer and it's the only one we've sold."
Where do they find these exquisite classics? "We find them by driving around Sunday afternoons. Always on the lookout. We have developed a reputation for caring about these units so much that other people are sending us leads. All the work is done by myself and my wife. I do the dirty work and mechanical/body work. She does the floor lay out and decorating," explains Howard.
He adds, "They are all challenging (to restore). With each one I try to make as many amenity upgrades as I can without it being too visible. I want them to still look period correct. The challenge I like the most is utilizing as much space as I can during the rebuild."
What started as an idea to own their own teardrop trailer has resulted in a collection of vintage campers spanning four decades for Howard and Lori. RVwest is pleased to feature Howard and Lori's collection of vintage RV trailers over the next few weeks.
"It's a hobby, we are trying to save as many campers as we can. I have more than I can rebuild so I'm helping others find their dreams as well. I just want them saved from the shredder," Howard and Lori tell us.
Watch for more vintage RV's from Howard and Lori's great collection and thank you for sharing your story with RVwest readers.
Share your classic RV restorations, or tell us your favourite story about a cool vintage unit you've encountered by filling out our Classic Vintage RV form.