Vintage RV: 1979 (?) Bendix Corsair GMC Motorhome
By the 1960s, the Bendix Corporation was venturing into the automobile, space, missile and energy control sectors—not to mention a brief foray into motorhomes.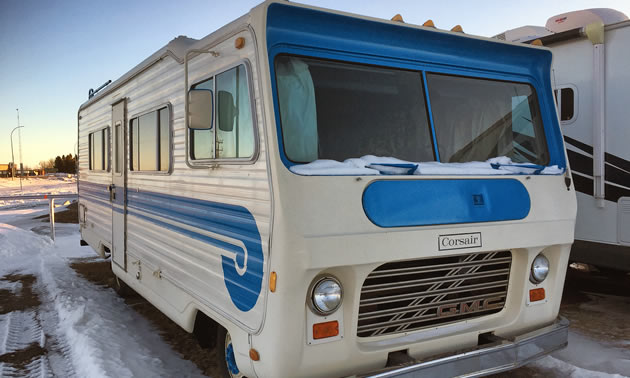 Every once in a while my wife, Linda, who likes to doze off as we drive, wakes up with a start to find us driving into a storage lot or parked along a farmer's field, while I jump out to snap a photo of a vintage RV. Which is exactly what happened last week as we drove along a snowy stretch of highway near Longview, Alberta – famous for its beef jerky and, I believe, is the home of Ian Tyson.
I spotted a vintage RV with a posted For Sale sign in the window, sitting in a roadside storage lot and I just had to check it out. Turns out it was a nicely maintained or possibly restored Corsair GMC Motorhome built by the Bendix Corporation—probably late 1970's or early 1980's model. So what's the story behind this vintage RV?
As I've written before, Bendix Corporation, based in Atlanta, Georgia, now partly Bosch Corporation and Honeywell Aviation, began with Vincent Bendix from Moline, Illinois. He invented an automotive electric starting motor drive, called the "Bendix Drive" in 1914 and became a millionaire. The Bendix Drive and the 4-wheel brake system he invented were the basis for the formation of a new company in 1924. The name became Bendix Aviation in 1929 when production began to include aviation products. In 1960, Bendix Aviation changed its name to Bendix Corporation to include its other activities, such as automobiles, space, missiles, and energy controls – not to forget a brief foray into motorhomes.
Bendix evidently built a number of models of RVs under the names Corsair, Citation, Centurion, Aristocrat and Lifetime.
Here is one web forum comment: "Well like many of them (Corsairs) I've seen, mine has a vinyl covered refrigerator door, thick shag carpet and woven wood blinds—very 1970's but very classy. My 1980 has a rear bathroom and the so-called salon layout! For all of you who have these particular motorhomes I'm sure all of them came with small brass reading lights mounted underneath the cabinets—these were also used in airplanes, because Bendix Corp also made parts for airplanes."
Here's another commenter: "I just purchased a 1978 29 foot Corsair GMC motorhome and it didn't have one (owner's manual) kicking around in the coach. How annoying!! This thing, despite the age has almost everything that a modern RV has minus the spot for an HD flat screen. If anyone out there can be of assistance it would greatly be appreciated. I've done extensive research on these units but like many of you I found very little. I do know they were made in Ontario Canada, there is the Citation, Corsair and Centurion and very rare one to find the Aristocrat. All made by Bendix Corp and later changed to General Coach Industries."
The General Coach Industries comment/connection is unconfirmed.
Another excited owner posted the following: "(Just purchased) 1976 GMC Bendix Centurion 30 foot Motorhome – what a beauty! It was last used by an older couple who also renovated the interior and kept everything running great. Engine runs but has a blown piston so needs a bit of work to get running smoothly again. Everything is in excellent shape, so this is a great value retro RV for anyone looking for a project with good bones and a little work under the hood. 100,000 KM Furnace, generator, plumbing, electrical and all appliances in good working order. Brand new tires, new battery, floor redone (tile). All service records and owner's manuals available. All original upholstery in great shape. Sleeps 6 - a third bed pulls down over the front seats."
Another added: "The Bendix Company, founded in the 1920s and was absorbed by a competitor in the early 1980s, was a well-known producer of automotive parts, avionics equipment and the like. At one time they also manufactured retail electronics, TVs, radios and so on. Interestingly, during the recreational vehicle boom of the 1970s (and into the 1980s), they manufactured motorhomes and even camping trailers. This particular model is a Corsair. Little information can be found on the model or even the make, but this one appears to be a late 70s example. We found a few photos online showing ones from that time, looking identical to it. As was common at the time, the body is mounted on top of a stripped down commercial truck chassis. Underneath it's a GMC."
Can you shed any more light on the Bendix Corporation and its lineup of motorhomes? Do you have a Vintage RV story or photos? Email us at [email protected]