Best of Vintage RV 2019: #2 - 1981 Toyota Sunrader Fifth Wheel Combo
Thanks to John Douglas Polk for sharing his vintage RV find with us at RVwest.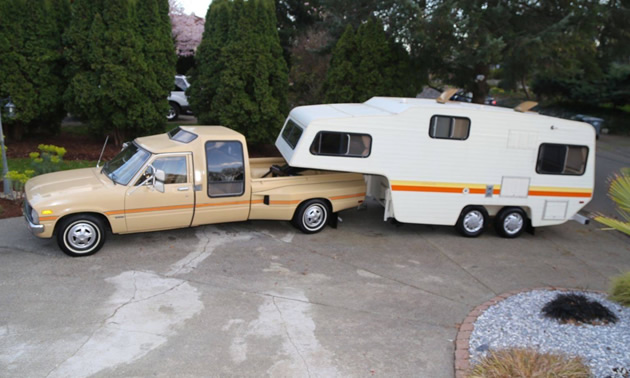 Over the next 10 weeks we will feature the Top 10 Vintage RV articles we have ran on the RVwest website over the last year. We have ranked them according to the number of "likes" each posting received on the RVwest Facebook page.
So enjoy our list of the Top 10 most popular Vintage RV postings from the last 12 months — in our annual feature called 2019 Best of Old Vintage RV.
At Number 2 this week, with 245 likes, is the story of the very rare 1981 Toyota Sunrader and Fifth wheel combo.
Our Vintage RV column attracts a great deal of interest, comments and posts from all over. We recently heard from John Douglas Polk of Houston, Texas. He is the recent proud owner of a vintage 1981 Toyota Sunrader Fifth wheel unit — truly one of the most pristine looking vintage units we've seen in a while. And it came with specific instructions from Grandma and Grandpa: "Sell as unit only - price negotiable but not going to give it away." Yes, Grandma we hear you!
John found the Sunrader combo as described, "A one-of-a-kind find. Extremely rare 1981 Toyota Dually pickup truck, with matching fifth wheel Sunrader trailer. There are very few of these combo units produced and this could be one of the only original matching pairs left in existence."
Continuing on, "The Toyota had 21,668 original miles, looks, run great. The fifth wheel is in its original great condition….both originally purchased together as a package."
The seller also stated, "These fifth wheel, all-in-one Sunrader rigs were plenty popular, though there can't have been many of units made. This is the first we've seen and probably the last, regardless of the condition."
In fact, here is a bit more from the original ad for the unit that caught John's eye, "Looking for a special buyer for a special setup. Grandma and Grandpa bought these new in 1981. They have nearly all their lives in a garage. Selling both only as a set per grandma's instructions. It would be hard to find another like it and almost impossible to find them still together with this (low) mileage. Coach maker is Sunrader. This is the first year of the 22r engine (Toyota), not a bolt on the engine has been touched (less oil drain plug). Price is negotiable but not going to give it away."
This description prompted John to take a closer look at the unit and eventually purchased the little 1981 Toyota Sunrader and fifth wheel and as they say, the rest is RV travel history.
Thanks to John Douglas Polk for sharing his vintage RV find with us at RVwest. This has to rank among the "sweetest" little RV combo units we've seen in a long time. Happy travels and enjoy the combo Sunrader unit — it's sure to be turning heads at RV resorts wherever it goes.
Do you have a vintage Sunrader unit, story or photos that you would like to share? Share your story with us!
Here's a couple of links to previous vintage RV stories we've done on the Toyota Sunrader and Toyota Horizon Class B mini-motorhomes:
Share your classic RV restorations, or tell us your favourite story about a cool vintage unit you've encountered by filling out our Classic Vintage RV form.