Vintage RV: Short lived 1985 New Horizon Class B Toyota Mini-Motorhome
First built in 1985, New Horizon Class C motorhomes were constructed on a Toyota truck chassis.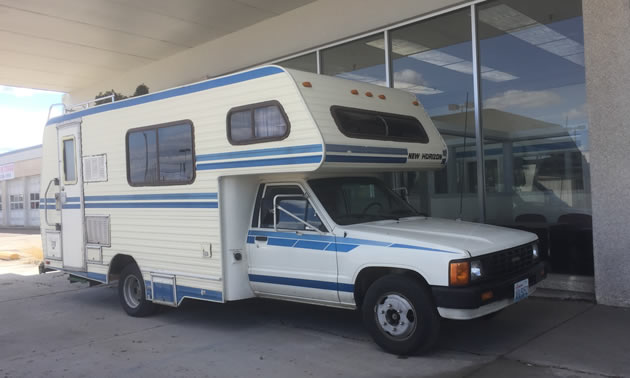 It was a short run for New Horizon motorhomes, but there are still quite a few out there in the camping world. The unit that caught our eye this week is the Toyota-based New Horizon Class C mini-motorhome.
According to NADA guides, "First built in 1985, New Horizon Class C motorhomes were constructed on a Toyota truck chassis. Designed for easily drivability and good fuel consumption, New Horizon products were 21 feet long. New Horizon production ended after the 1989 model year."
As we have written before, when the 1970's and 80's RV boom hit North America with it came the creation of motorhomes and camping trailers of every size and shape.
Many RVers are familiar with the massive motorhome-style Winnebagos and the more standard pickup truck-mounted camper attachments – those units that could slide in and out of a standard full-size pickup truck bed.
However, it seems fewer people remember that third-party manufacturers like Toyota got into the camping game with their own unique mini RV models.
These little Toyota-based units decided to keep things small and compact. In doing so, they almost cornered the market on affordable and practical camping – with their line of mini-motorhomes. (explaining their enduring popularity?)
This era saw a proliferation of mini-motorhome manufacturers like Belair, Blue Marlin, Chinook, Coachman, Conquest, Dolphin, Durango, Encore, Escaper, Granville, Gulf Stream, Heritage, Huntsman, Itasca, Keystone, Mirage, MRV, New Horizon, Odyssey, Seabreeze, Sunland, Sunrader, Travelmaster, TRT, Vader, and Winnebago.
Do you have more info on the New Horizon mini-motorhomes? Do you or have you ever owned a New Horizon unit? Share your classic RV restorations, or tell us your favourite story about a cool vintage unit you've encountered by filling out our Classic Vintage RV form.