Lithium vs lead acid—which batteries are best for your RV?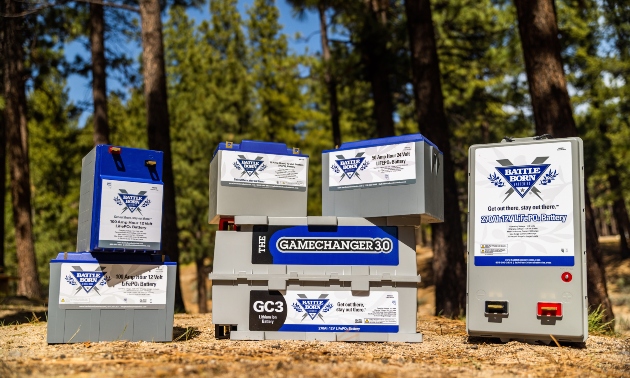 RVers everywhere are discovering a way to get more out of their electrical power systems. Upgrading your camping experience can be as easy as switching from lead acid batteries to lithium—but you'll want the assistance of an expert.
Everything you need to know about upgrading to the latest in battery technology for your RV
Enter the team at Dragonfly Energy, the manufacturers behind Battle Born lithium batteries. From the company's base in Reno, Nevada, Dragonfly Energy staff members provide expert advice on getting the most out of their products. They can guide you every step of the way to make sure you choose exactly the right battery or kit to meet your needs. If you have questions at any time, you can speak with qualified professionals on the phone to find the answers.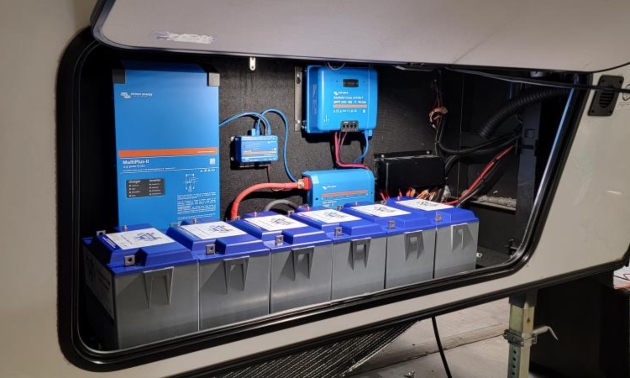 What customers are saying about Battle Born Batteries:
"I recently purchased a travel trailer, and for a variety of reasons, I went straight for a Battle Born battery—one of the greatest purchases I made for my camper. The protective electronics inside make it possible to run the battery nearly all the way down so you can maximize your time boondocking. Easy to maintain, and it can tolerate a wide range of temperatures without performance degradation. Customer service is fantastic—their techs really want to help you optimize use of their product. I can't say enough about Matthew Adams' support—he asked me easy-to-understand questions based on what performance I wanted out of the electrical system for my camper, and gave me completely sound advice. I've been using the set-up he recommended for about three months, and he was SPOT ON. I called a few times with follow-up questions after my purchase, and he kindly and patiently answered all of them to continue to optimize my fun camping experience. The financial investment in my Battle Born battery was a great decision, given the high quality of the product and continuous outstanding customer service."
~ Stephanie, Google reviewer
"Just completed a lithium battery and converter upgrade to my 2021 Class C motorhome. RV came with one lead acid, maintenance-required, super heavy battery that would only run basic systems for about 6 hours. Purchased and installed 2 Battle Born Batteries, BMV shunt and smart monitor, BIM, converter (for lithiums), portable solar panel suitcase and SmartSolar controller, all from Battle Born. The products are top-of-the-line, state-of-the-art technology. Battle Born service and tech support is best in class before, during and after purchase and installation. Specifically, I worked with Brandon from beginning to end. He answered emails at all hours of the day and night and almost always within 12 hours, which was way beyond my expectations. He took my calls when information exchange required discussion and was very patient, calm, understanding, and non-judgemental."
~ Thomas, Google reviewer
"Hands down the best company I've ever dealt with! I'm on six months with my batteries. Not only do they work amazingly well but the service I've received from purchase/sales to calling in for tech support has been top notch. I wish they were publicly traded because I would invest as much as I could into this company! Go with the best. I'm glad I did."
~ Robert, Google reviewer
This is just a sampling. Check out the rest of Battle Born Batteries' stellar Google reviews.
Q&A with the team at Dragonfly Energy/Battle Born Batteries
How can you assist customers who are considering a change to lithium batteries?
Making the move from your current lead acid AGM to lithium opens up a whole slew of possibilities. This upgrade is available and not as daunting as you might think. We're here, and we're an old–school business. We are one of the few companies where you can call us on the phone and we will walk you through exactly what you need. We have a team here and that is what they do all day—just take time with our customers to get them what they need. We don't just sell something and say goodbye.
There is no one-size-fits-all with electrical systems. That's where it becomes vital to have a resource like us to lean on and make sure you can do it confidently, because it is an investment at the end of the day.
Why are lithium batteries superior to lead acid batteries?
Lead acid batteries use a technology that's been around way too long without an upgrade. They're messy, toxic, dangerous, easily drained and they're heavy—there are a lot of pain points. They also don't do well in extreme temperatures.
Lithium improves on every single one of these points. It's way lighter. It charges faster. It gives you two to three times the amount of power in the same physical space. You get 10 to 15 years out of it instead of two to three and we back that up with a 10-year warranty because we believe in that. It has a battery management system built-in and designed specifically for our batteries. This incorporates low voltage protection, temperature protection and other key benefits.
To learn more about the difference between lithium and lead acid batteries, check out this article.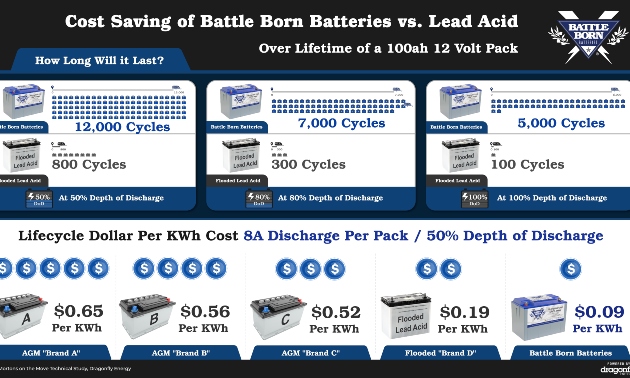 Is it cost-effective to make the change from lead acid batteries to lithium ones?
We've done all the studies to prove that even though you're paying more upfront for the move to lithium, you'll actually end up saving money in the long run. This is something that will last you past the life of your RV typically. You'll get 10 to 15 years out of our products.
You sell energy kits as well as single batteries: Which option is a good starting point for someone new to this?
That really depends on their RV, the equipment and components that they have. The reason we offer those kits is that we are a full-system integrator—a lot of people think we're just a battery company, but we have the inverter chargers, solar panels, converters, all the things you might need.
If you want to jump straight into it, those kits are a good way to give you a full system right then and there. Some people want to start a little bit slower, and the single battery would be their option.
One thing you have to do is make sure their charging system is going to reach what our batteries need for internal cell balancing. So that would be our biggest thing, making sure that the charging system will fully charge our batteries and then battery monitoring capabilities, but other than that you can just drop them in.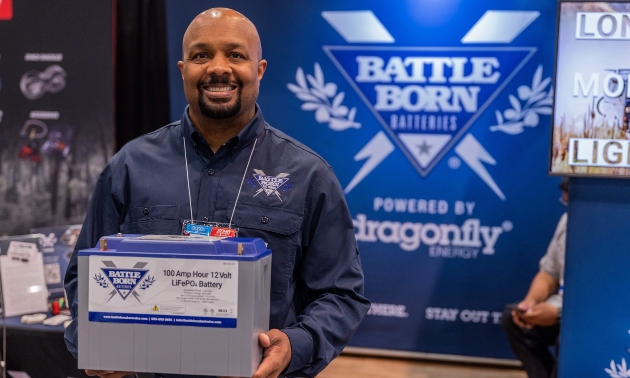 Do newer units have lithium charging capabilities?
Some newer RVs have the lithium charging capability. If not, the solar charge controllers are programmable to our batteries. So if your main source doesn't charge it, the solar will top it off.
Lithium batteries 101: Is it really the same battery I have in my phone?
No, it's not!
When people hear the word "lithium" they think all lithium batteries are the same, and get worried because they hear about phones catching fire in peoples' pockets, or Teslas on fire at the side of the road. There are different types of lithium chemistry out there, and we use lithium iron phosphate (LiFePO4). The reason we use that is because it's so well-catered to our needs and our customers' needs. We need to provide a product that's reliable, long lasting and most importantly, safe. People put these products literally under their beds because they are so safe. That lithium iron phosphate chemistry is really a great fit for these applications.
This type of battery provides power to your household items, such as your air conditioner, fridge, laptop, etc, so it doesn't have that high initial surge demand that comes with electric vehicle applications or motorized scooters. It's also modular to your needs. That's why having us walk you through it all can be really beneficial in ensuring you're not buying too little or too much. You can always add a couple more batteries in!
Why is solar power such a fantastic option for charging your batteries?
Batteries are just one part of the equation. Solar is one of the best ways to charge your power system because once you've made that investment, it's free. If the sun is shining it doesn't cost you anything to capture that, and it's a really efficient way to refill those batteries, as long as you've built your solar panel array appropriately.
If you're in a sunny area, you might not even dip into your batteries during the day, you might be using pure solar power. Then at night you'll have enough stored battery power to run the fridge, coffee pot and other features.
What other products do you offer in addition to batteries?
We try to offer everything you would need in your electrical power system, including solar panels, inverter chargers and solar charge controllers. We have DC to DC converters and alternator regulators in case you're charging from the alternator itself.
We like to use the term full-system integrator, and we like to make sure everything is compatible. We manufacture the batteries and then sell components that work with our products—then we can speak intelligently about how to make them work best together. A lot of people set up these power systems on their own, and they aren't running efficiently. All it might take is a couple small programming settings to get better use out of them. That's where our team comes in.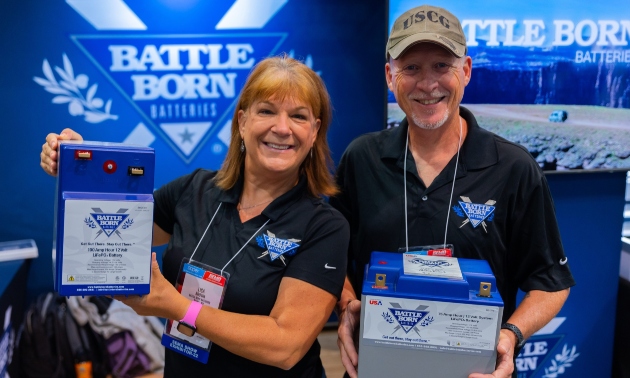 What happens to your batteries in cold weather?
We were one of the first companies to offer lithium batteries to the RV industry, so we have seen a shift in mentality. One of the misconceptions early on was that you couldn't use lithium in cold temperatures. You can absolutely discharge your batteries in cold weather and use power from them: all the way down to minus four degrees fahrenheit and all the way up to 135 degrees fahrenheit. You can use them in those extreme temperatures. Where lithium doesn't play nice is when it comes to charging in cold temperatures. So if it's below 25 degrees fahrenheit, our battery management system will protect the battery and not allow you to charge it below that temperature, so you don't risk damaging it.
We also offer a heated version of our batteries, with an internal heater built-in. Once you get down to 35 degrees fahrenheit, that heater will kick in so you can continue to charge.
Can the staff install batteries for me?
We don't do installations, but we can recommend installers. If customers want to make the switch and don't want to do it themselves, they can call us up and we can recommend someone in their area to do the installation.
Check out this video and see a real-life example of how our products are changing the game for RVers:
Where can I purchase Battle Born Lithium Batteries?
There are some dealerships in Canada that carry Battle Born batteries—and for those visiting the U.S.—they ship free within the lower 48 states.
Everything the company sells is backed with a 10-year warranty, (eight years full replacement and two years pro-rated) and the customer service staff goes above and beyond.
Get a free consultation and learn more about switching to lithium batteries in your RV
Still have questions about lithium batteries for your RV?
The professionals at Dragonfly Energy/Battle Born Batteries are ready and willing to answer any questions you may have. They will take the time to listen to your power requirements and will provide an honest assessment of what batteries will work for your specific Recreational Vehicle. Here are three ways of getting hold of a battery professional:
Lithium vs lead acid—which batteries are best for your RV? Information