Meet me at the oasis
The warmth of this desert region brings people happily together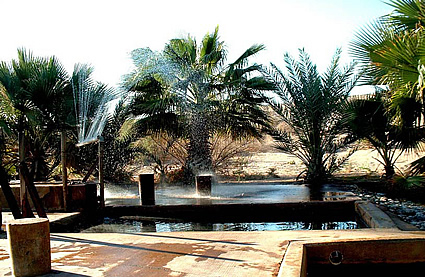 Just off the highway between Yuma, Arizona, and El Centro, California, is an area they call the Dunes—an area consisting of mile after mile of hills of fine, silty sand.
Beyond the Dunes is a long-term Bureau of Land Management (BLM) visitor area called the Oasis Desert Hot Springs. The collection of core Canadian snowbird residents is outstanding. Most are from Alberta and B.C., but some make an annual trek from Ontario or even the Maritimes to spend the winter here. Like any gathering of people, they have formed various groups, and you see rings of RVs around big firepits where they meet for nightly get-togethers.
The main attraction here is the mineral hot springs, which are accessible to all. The temperature is about 48° C (120° F) and people claim the water has healing properties—all I know is that it feels great. The people from nearby Holtville and the BLM residents have worked together to build and maintain the hot springs area to keep it clean and free of charge for everyone.
A pond within the palms
There are showers you can stand under—no soaps allowed. There is a pond in the palm trees that isn't as hot, for swimming, and there is also a hot tub and a not-so-hot tub.
The water was so hot that visitors would make practical use of it. People would go down, fill up containers and bring them back to do their dishes and laundry.
The nearest town is Holtville, which is about 10 miles from the hot springs. It is considered the Carrot Capital of the World and every year the townsfolk celebrate this distinction with a parade and festival.