The vast desert marketplace of Quartzsite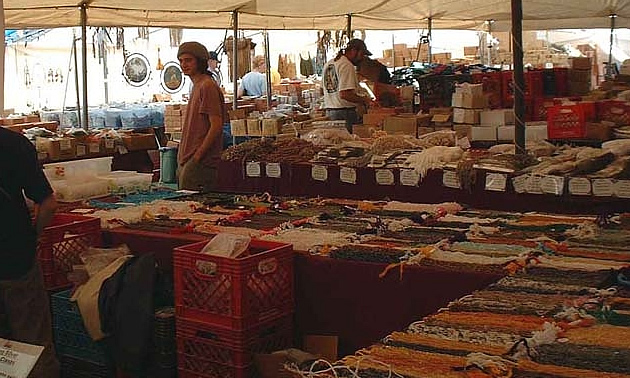 Starting out as a stagecoach watering station, the town of Quartzsite almost died when the railroad was built through Yuma. Later the town experienced a small mining boom when the Ingersoll mill began extracting gold from the white quartz that gives the town its name. In the late 1800s Quartzsite grew enough to support three stores, two saloons and a post office and was incorporated in 1896.
When temperatures reach over 100 degrees F during the late spring and summer, Quartzsite resembles a town in the throes of taking its last breath and disappearing. But the population grows to around 4,000 in the fall and even more during snowbird season.
It sits at the junction of the Interstate 10 and Highway 95 and there are more than two dozen RV parks nearby. These include at least four 14-day free Bureau of Land Management (BLM) camping sites and four BLM long term visitor centers that cost $180 for up to seven months or $40 for two weeks. The advantages of the long term centres are that you don't have to move after 14 days and that you have free access to fresh water and dumping facilities. RVs big and small are scattered throughout a desert where it seems to me nothing should live.
Swap meets and the annual shows
The major draw to Quartzsite is the huge swap meets and the annual big tent shows.
There are about a half dozen swap meet areas that host hundreds of vendors—selling everything from huge barrels of magnificent geodes and rocks, some from as far away as Australia—to small sparkling beads that are used by crafters to give their latest jewellery project just the right bling.
Some large RV dealers have taken over tracts of land and claim their greatest sale time is during the RV show at the big tent.
Come show time, the population in Quartzsite explodes. People come for a lot of different reasons. Some come to shop, shop, shop. Others come to see what's new and still others are just plain curious. Estimates say that one and a half to two million people visit Quartzsite during the winter.
The Reader's Oasis book store
Up until just a few years ago, most of the retail sites in Quartzsite were in tents. Now many of them are moving into permanent buildings.
That's true of the Reader's Oasis Book Store. It is run by Paul, a small, skinny fellow who wears an old straw hat and a G-string. He has an unrivalled selection of new and used books and scurries around the store like a little mouse looking for a place to nest. Every year Paul hosts an author's fair where writers have book signings. A lot of people come to have their pictures taken with Paul, and they stay to talk with the writers.
Celia's Rainbow Gardens
Paul and his wife lost their daughter in 1995. She was born eight years before at just over a pound in weight and over the years captured the hearts of all who met her. In her memory, Celia's Rainbow Garden is set on eight acres of desert donated by the BLM.
It seems the whole community has become involved. They sell plots and people create garden sites and memorials in whatever way they choose. They encourage people to donate something live so there are a lot of unusual cacti, trees and shrubs that don't ordinarily grow there. All the work is voluntary and people design, construct and care for their own sites.