Trailer sway: Hitching your star to a guaranteed controller
What is trailer sway and how can it be prevented?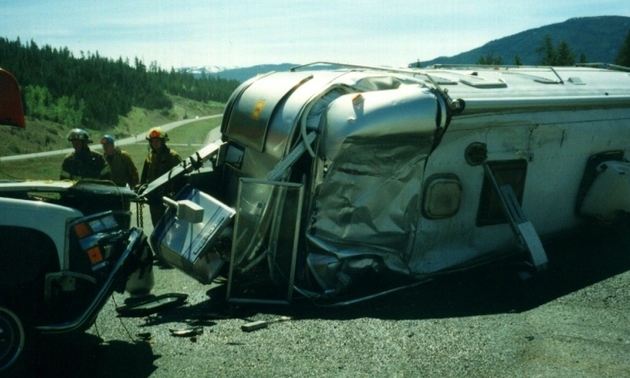 The sway of a hula skirt may be calming in the gentle breezes of Hawaii but sudden broadside slams of wind against the side of your vehicles in stormy weather, or the aerodynamic drag that sucks your RV into the entrails of a 50-foot truck as it flies by can be terrifying, especially for novice RVers.
Sway can happen no matter the size and type of your tow vehicle or RV. Furthermore, although you might think a fifth-wheel might be more stable, when put under crosswind or braking stress the result is little better than when towing a smaller trailer.
Whatever your combination, maintaining highway speeds in bad weather or heavy traffic can put you and your RV in the ditch in the blink of an eye. So if sway has been a regular problem, best do some research before your next trip and seek professional advice about the type of hitch/sway-control connection you have between your vehicle and RV.
When I went online to see if I could glean some advice from the experts, I lucked out. The one person who replied to my enquiries – Ron Estrada, marketing manager of Hensley Manufacturing in Michigan – just happens to be a passionate and generous source of information on the topic.
The first thing Ron did was clarify my terminology. I had always thought sway bars were the V- shaped bars that, along with cables, chains and ball, acted as stabilizers between tow-vehicles and RVs. Wrong!
"A sway bar isn't a sway control hitch; it's actually part of a vehicle, whereas a sway control hitch attempts to dampen trailer sway or fish-tailing," Ron explained.
Although I was unable to find Canadian or U.S. statistics as to the number of accidents attributable to trailer sway, Ron said that, based on Hensley's experience and his many conversations with customers, trailer sway is likely the #1 cause of trailer accidents.
So if trailer sway still happens even after RVers have been meticulous about weight distribution, minding their braking manners and, most important of all, checking the soundness of their tow- hitch assembly, can anything be done to prevent it? Ron says there's a better way than continuing to use the traditional but inadequate ball-hitch design. No surprise; it happens to be the Hensley Arrow® sway controller.
In brief, Ron said that where other sway control devices use friction in one form or another to dampen sway, the Hensley Arrow® uses its patented 'converging linkage' trapezoidal design that, literally and mechanically locks sway out. "Guaranteed." At one point, I asked Ron what he thought was the most far-reaching road-safety issue for RVers.
"Trailer sway. The average trailer owner will spend a minimum of US$65,000 for a truck-trailer combination complete with all modern safety improvements…but then insist that the 70-year old ball-hitch design is adequate," Ron replied.
Hensley asks that trailer owners give at least as much thought to the hitch that is keeping them on the road, as they give to the colour of the RV's interior fabrics.
"If I sound passionate about this, it's because I've gotten too many second calls from customers who didn't buy the Hensley and then had a terrible accident," he explained.
A full description and diagrams of the Hensley design can be found on the company website.
Resources for more information: