Insurance must be a priority for full-time RVers
What type of insurance does a full-timer need?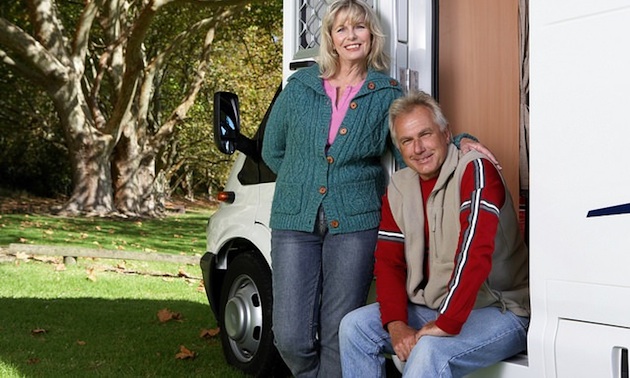 When I first became a full-time RVer, buying a home insurance policy was high on my lists of things to do. I'm not sure why I made that such a priority, unless it was that propane had now become an important part of my life. When I was a youngster our home had a gas stove that never caused us a whit of trouble, so the reason for my anxiety around gas is a mystery.
Whatever my own foibles, the growing number of people turning to full-time RV-living as a convenient and affordable alternative to high housing prices would be wise to have a budget-friendly home insurance policy. Two events some years ago brought that lesson home with a vengeance—the first of which was too close for comfort.
I was in my own RV when, toward early evening, I heard an urgent-sounding kerfuffle outside. When I opened my door people were shouting that a motorhome parked about four sites away had caught fire. Since the fire department was already en route and everyone was safely out of the burning rig, all I could do was turn off my propane tank and get the heck away from the area, which I did. It was hard to believe that a fire that was said to have begun in a ceiling-mounted heater burned that motorhome to a shell in less than half an hour.
The other story is an unfortunate example for the TV ads that end with "Have a word with yourself."
After neighbours in a Fraser Valley RV park had mentioned several times that they could smell gas, one of them still lit the stove to cook a meal. The resulting BOOM! not only levelled that trailer, but damaged the RVs on either side. Media reports suggested everyone was okay, but certainly without a roof over their heads for a while—and most likely they had no insurance.
In 1990, before the dawn of the Internet age as we now know it, comparative information about policy options was hard to come by. So I was lucky to find what may have been the only option available at the time. Even though I thought there'd be more to choose from today, I've been covered by that company ever since. Imagine my surprise when, researching for this article, I discovered that although choice abounds for travel insurance, the same still cannot be said for home, contents and liability insurance for full-time RVers.
When first written, premiums for my AVIVA Canada Inc. insurance policy began at around $40/month and I've just renewed at $48.93/month. On a replacement cost basis and with a $500 deductible, coverage allows me $96,000 for the RV, $9,600 for a detached private structure (which I don't have), and $96,000 for personal property (furniture, computer equipment, cameras, clothing and other personal stuff). The policy also allows $19,200 for additional living expenses for the time I'd have no home, $2 million liability coverage and $1,500 for "voluntary medical and property damage."
This year I decided it was time to review the coverage and yet again make sure that the company's description "Crossroads, 32-feet mobile home" terminology truly did mean that my 32-foot Crossroads fifth wheel RV was covered as described. Although I still don't have it in writing, I was assured by the agent that, for the purposes of the policy, the descriptions are synonymous.
Although the policy is deemed to be terminated in the event an "emergency is declared by a Canadian public authority," it seems to be the best—and perhaps only—option available. If you know of others, we'd sure appreciate hearing about them.