Two local writers share the best of Fort St. John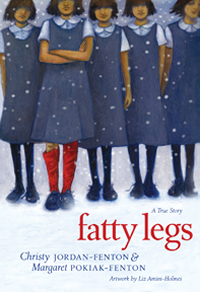 Christy Jordan-Fenton
Although Christy Jordan-Fenton's books are not written about Fort St. John, they do tell the story of one of its residents: Margaret Fenton, Christy's mother-in-law.
In her first book, Fatty Legs, Jordan-Fenton has written a moving memoir of an Inuit girl who emerges from a residential school with her spirit intact. The story is based on the true story of eight-year-old Margaret, who wanted to learn to read and convinces her father to allow her to make the five-day journey from her village in the high Arctic to attend school. He finally agrees, but warns her of the terrors of the residential schools.
He was not wrong. Faced with cruelty at the school and tormented by a nun she calls Raven, who wears a black cloak and has skinny fingers that resemble claws, Margaret becomes the laughing stock of the whole school.
This is a heartbreaking story of a little girl with more dignity and courage than most adults ever achieve.
Stranger at Home is a sequel to Fatty Legs, and tells the true story of Margaret returning to her village at the age of 10, not knowing how to speak her own language nor able to eat her mother's native cooking. She is barely recognized by her own mother and soon realizes she is marked as an outsider. See the Annick Press site for more details.
Kelsey Kainer
By taking inspiration from her four children and the beautiful countryside around her, Kelsey Kainer has written a children's book called The Autumn Adventure, describing a child's journey into the outdoors while discovering the wonders of nature. Her books can be purchased at the local toy store Playtime Toys; visit playtimetoys.ca.