Wintering in your RV
Don't let the cold weather stop you from enjoying the RV lifestyle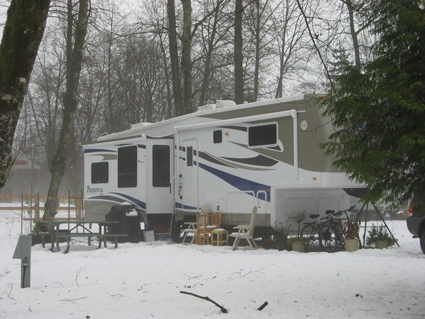 Many RVers think that it's only possible for the hardy types to spend a winter in an RV, but with just a little bit of preparation there is no reason why anyone who chooses to won't be warm and comfortable during the cold weather.
Once again, I need to stress that I am not an expert on this subject, but definitely have had experience in living in an RV during a few winters.
Preparing your RV skirting
You must have some sort of barrier to keep the wind and cold from underneath your unit. Whether you skirt it with vinyl or an insulated wood frame you must have something to help keep the plumbing and floors from freezing. Have a trouble light or some type of open light bulb burning.
Heat tapes/insulate foam tubes
Ensure any exposed plumbing is covered and insulated except your sewer hose. Interior plumbing should be wrapped with insulation.
Gray and black tanks
Keep these valves closed and only drain when they are full—a difficult lesson I learned many years ago. Remove the plastic sewer hose and replace with PVC pipe at an angle so it will drain well.
Tip: Learn different ways to thaw out pipes since it's almost impossible to avoid completely.
Tires
Put planks or blocks under the tires so they don't sink into the ground when it thaws.
Condensation
This can definitely be an issue. Dehumidifiers are recommended and open a vent to circulate the air—the vent in the bathroom would be a good for this. Consider having another form of heating. Ceramic heaters have been suggested but be aware of your campgrounds rules because you may end up paying more in electricity.
Propane
You will soon become aware that your propane bottles will be empty in a couple of days; you might consider purchasing a large propane tank that won't be needed to be filled as often. This works if propane is delivered to your site.
Catalytic heater
These may be illegal in your area so check with a reputable RV dealer before installing in your unit.
Note: The RV must be vented for safety.
Storm windows
Either have double-paned windows, storm windows or at the very least close you curtains or blinds to keep the heat inside.
Broom and snow shovel
I know since you are living in your RV you thought you would never need these again but both will be needed to remove snow from your roof and your walkway.
Choosing a location to park your RV this winter
With proper preparation, it is possible to live in your RV in most areas, although some places are more comfortable than others. You may choose the location depending upon typical climate conditions of an area or by necessity.
Many retirees choose southern British Columbia because of the milder weather. Vancouver Island is very popular with year round RV parks that have all of the amenities needed to accommodate most people's needs. The Sunshine Coast has many possibilities, as well as the Lower Mainland and the Okanagan. Many of the choices will depend upon the interests or needs of the RVers.
Not only are many golf courses open year-round in parts of Vancouver Island and the Lower Mainland, but ski hills are also easily accessible, so you can golf in the morning and ski in the afternoon. Water sports like kayaking can be done year round with the proper equipment and safety gear. Of course most locations have the popular activities of curling, bowling or educational programs, card clubs and craft projects, etc. There will never be a lack of things to do. By following a few little recommendations and using common sense it is entirely possible to live in your RV in the cold winter months quite comfortably. Give it a try. We survived; you will too.