Returning to Canada
It's your duty to know what to claim at the border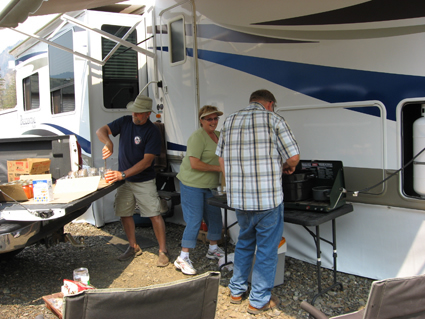 While crossing the border between Canada and the U.S.A., we declared the purchases we made during our day trip to Omak, Washington. No problem—we declare everything and are willing to pay any duty or taxes that are applicable. What interested me was that when we told the border guard we had purchased clothing, he said to take our receipts and anything made in Canada, the United States or Mexico to show the staff inside. We went through every label on each piece and found to our humour that everything was made in China, India or Haiti—meaning we would have to pay duty and taxes on each item we purchased.
This made me think about the hundreds of snowbirds who are currently in places like Arizona and California who will be returning to Canada in the coming months. What can they bring back without having to pay excess taxes? What products can they safely bring into Canada?
We also received a phone call from friends currently visiting in Arizona who had a major mechanical problem with their motorhome and are now staying in a hotel while their unit is being repaired. They were upset about the incident but glad they hadn't caused any accidents or further damage to their towed vehicle—which could have been possible due to the type of breakdown. Do they have to pay taxes or duty on the parts or work done on their motorhome?
Anyone travelling for months at a time would inevitably make purchases of goods that will be brought back into Canada. How do they keep track of these and are they aware of what they can bring back and how much?
These are just some of the questions I was asking myself and I knew the best place to find this information was the Canada Border Services Agency (CBSA) website; after a bit of digging, all my questions were answered.
Upon reviewing the information available, the one piece of advice I can honestly give is for anyone leaving the country to know what may apply to them when they return.
Consider these points
Modifying an item outside Canada: This may apply to your RV, jewellery or car and you should know whether it enhances the value or not, causing you to pay taxes or duty on not only the cost but the new value of the item.
Emergency repairs: If you need to do emergency repairs to your RV so you can safely travel home, you still need to declare the repairs. There may or may not be duty owed but they still must be reported.
Personal exemptions: You may qualify for a personal exemption on bringing in goods up to a certain value. Know this information before you leave and possibly take that under consideration when making purchases. However, the CBSA does state that "Except for restricted items, you can bring back any amount of goods as long as you are willing to pay the duty and taxes . . ."
Restricted items: There are specific rules and laws regarding firearms and weapons, explosives, fireworks and ammunition as well as certain food, plants, animals and related products. Know what the prohibited goods are before you attempt to come back into the country and you'll save yourself a lot of problems that you really don't need.
Prohibited goods: There are items that cannot be brought into Canada.
Health products: This applies to prescription drugs as well as over-the-counter medication. There may be different regulations in Canada regarding these and you should be aware of the regulations before attempting to import such items into Canada.
Tobacco and alcohol products: There are limits as to how much you can bring into Canada within your personal exemption and anything over that amount will probably cost you duty and taxes.
Trusted travel programs
There are programs available for registered trusted travellers that make crossing the border much easier. You must undergo a security check and meet certain criteria, but having a Nexus card makes border crossing much smoother. However, don't neglect to declare everything and compromise your Nexus eligibility, because once this card is taken away you can never get it back.
It's not always easy to think of everything before heading south on your latest adventure, but with just a little bit of preplanning and research, your return to Canada should be stress free. If you don't know something when returning, then ask the border guards—they should know the answer. If not, they can direct you to someone who does have the information. Declaring everything and knowing what to expect will save you from having major problems at the end of your vacation and allow you to keep all your travel memories good ones.
Resources
For goods subject to import controls
Explosives, fireworks and ammunition