Longing for a new RV but can't afford it?
See our checklist for pre-owned RVs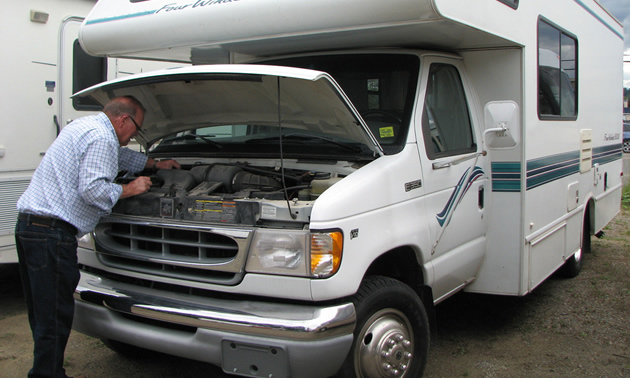 Searching for a new RV does not have to mean buying new. It could mean buying something that is pre-owned, but new to you. Tramping through RV dealership lots admiring the newest and fanciest models can make you drool in envy, but if you can't afford a new unit there is no reason to be discouraged. Many of us are in the same position and by using common sense and a bit of elbow grease there is no reason why we wouldn't be happy with a used RV in good condition.
Sometimes when looking at second-hand RVs it can be upsetting because of the condition some of them are in. The shininess is gone, the upholstery is frayed, the floor is worn and the window coverings shout "old." These are all cosmetic and can easily be fixed.
By purchasing a used RV at a lower price and fixing it up yourself, you are probably saving a great deal of money. The secret is to first find a good, solid RV that has been taken care of but just needs some TLC. Imagine the feeling of satisfaction, knowing you were the one to make this used RV into something shiny and new again.
What to look for mechanically in a used motorized RV
First and foremost, have it checked over by a reputable mechanic who is familiar with RVs. If the current owner won't allow it, then walk away. There's always another one down the road.
Ask to see the service records and follow up with the person or business that did the work. These records are a good indication of how well the unit has been cared for.
When was the last tune-up and oil change done?
The running gear needs to be solid. This means the motor, transmission and rear end need to be in good running order. No leaks unless you know where they originate.
The odometer reading: It's better to have a unit with a low kilometre reading, but remember it may not be accurate.
Have the exhaust system and brakes checked and a compression test done.
Ensure the structure of the RV is solid, with no water damage.
Check over the appliances or have them checked by a certified RV technician. Look for leaks in the water lines or gas lines as well as frayed electrical wires.
Are the furnace, refrigerator, stove, hot water tank and any other appliances or fixtures working?
If you're purchasing from a dealer, the gas lines have to be certified. But when buying privately you are purchasing "as is."
Upholstery covers, cushions, window coverings and flooring can all be changed, so don't be overly critical of cosmetic issues. Don't be afraid to ask questions.
Obviously a used RV is not going to be perfect. But by doing a bit of homework and due diligence you will know what it will cost to bring it up to a suitable and safe standard. It will be almost impossible to purchase a second-hand RV without spending some money to make it better. Budget for it and be prepared so you won't be hit with any nasty surprises. By renewing a good used RV you can add many years of use to it for your own enjoyment.