Hanging up the keys
Options for the future of RVers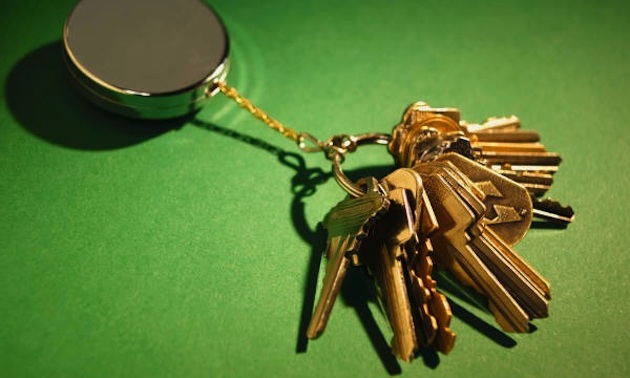 There comes a time when RVing may not be the lifestyle of choice or a viable option and, sadly, it may be time to hang up the keys. Some full-timers are ready to settle down after many years on the road, while others are forced into quitting before they are ready. They may have lost their travel partner due to death and are not comfortable continuing with their travels alone. Others for health reasons cannot be on the road any longer. At these times it may be more practical to live closer to family or health care facilities. There are many options that should be considered and investigated.
Sell the RV and buy a traditional stick house or condo. Having the stability of owning a house or apartment can be exciting. It's another adventure and there can be many benefits, especially if family or friends live nearby and you can reconnect or benefit from their support.
Plant the RV permanently in a park. A number of years ago I was not able to travel much and parked my travel trailer in a park close to where I needed to be. I was still part of the community of RVers and enjoyed still living in the RV. It also motivated me to quickly do what I needed to do and get back on the road, keeping my dream alive.
Purchase a park model and live among the RVers, still part of the community. In many parts of Canada park models are becoming quite popular among the RVers. A park model provides a permanent residence address for medical insurance, driver's licences, etc. It also gives you a place to comfortably live when RVing is not an option anymore.
Many RVers I know have purchased park models in the southern United States where they spend the winters and come home in the spring. They don't wish to travel much other than between the two locations and either keep the RV for that purpose or they sell and either fly down or drive a car. Another option is to have a permanent lot both in the south and closer to home for their unit to be parked seasonally.
Downsize into a smaller and more manageable unit. In many cases after the death of a spouse the survivor may decide to continue travelling, but in a different rig. There are both men and women in that situation and it's becoming more common to see them continue the lifestyle either in their current RV or by changing the type of RV they travel in to make it more manageable.
Planning for the future
Whether we like to think about it or not, there will always be a time when RVing is not an option and by planning for it right at the beginning of your travels you make the transition easier when it's time to hang up the keys. It may involve putting a bit of money aside each month or creating some investments. I have recently heard of a couple who purchased a condo and found some excellent tenants before heading back on the road. Knowing where they will live when the time comes has taken a great deal of worry off their shoulders. It's better to be prepared so you won't be forced into something you don't want during the next phase of your lives