Lynx Levelers are tried and true
Ensure your RV is level and stable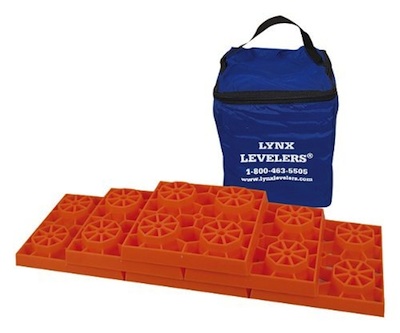 It's important to understand why an RV needs to be level and not just stable: because of the refrigerator. For an RV refrigerator to operate properly it must be level, and since it probably is already level within the RV, the next step is to ensure the RV itself is level.
Many RVers place a combination of different sizes of boards and blocks under the wheels the ground they are parking on determines what they will use each time. It's quite often a matter of trial and error.
One of the best products on the market is Lynx Levelers, leveling blocks that are safe and easy to use. Because of their modular nature, they will contour to the slope or even a curve of the pad.
"Our product has been around for almost 20 years and people have come to know and trust it," said Lance Bubalo, assistant general manager at Tri-Lynx Corporation.
Since they are lightweight and effortless to use it's easy to understand why. The interlocking features are awesome, simple to put together and quick to dismantle. Extremely lightweight, the levelers are easy to carry when placed in the durable nylon storage bag that comes with them.
Lynx Levelers are the answer for replacing some of those dangerous homemade leveling systems we have all seen in many campgrounds. The Tri-Lynx Corporation has given RVers a winner with the Lynx Levelers for leveling their RVs and by adding to it the Lynx's Stop N' Chock, the interlocking RV wheel chock and the Lynx Cap you will have everything you need to ensure your RV is level and stable.