The manufacturers behind your favourite Canadian RV brands
Find out which of these top Canadian RV manufacturers are building the RV models you love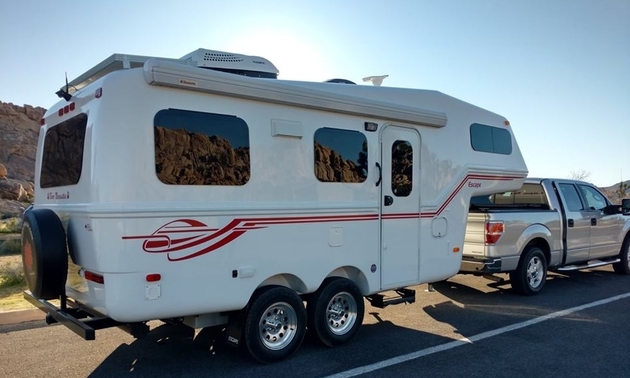 Every RVer has their own preference when it comes to RV models. The styles and features available in these units are as diverse as the people who buy them. With so many quality RVs on the market, we thought you might want to know which manufacturers are behind the most popular motorhomes, fifth wheels and travel trailers built in Canada.
Escape trailers are lightweight, molded fibreglass units designed for mid-sized towing vehicles.
RV models:
The 17-foot Escape: This small yet space-efficient unit can sleep up to four people and has a comfortable galley with ample storage.
The 19-foot Escape: This model will sleep up to five people, and offers the same natural oak cabinetry and linoleum floors as the other models.
The 21-foot Escape: This unit is even more deluxe, and packed with amenities. Its aerodynamic design makes it easy to tow.
The Escape 5.0TA: The Escape 5.0TA is a 21-foot tandem axle fifth wheel that weighs approximately 3,885 lbs - perfect for towing with a mid-sized truck.
Northern Lite - Kelowna, British Columbia
Northern Lite has been building lightweight campers for two and a half decades, and has a reputation for quality.
RV models:
Lite series truck campers: These are non-basement, slide-in campers, each with a toilet, sink and shower. They fit on almost any full-size pick-up.
Sportsman series truck campers: These units come in short-box and long-box versions, and they all boast three-burner cooktops. They are lightweight and can be hauled by 3/4-tonne trucks with no problems.
Classic series truck campers: The classic series has the lowest-profile heated basement campers offered by Northern Lite. There are models for long- and short-box trucks, and they come with large beds and spacious storage. They are designed for winter camping, as well.
Ten 2000 EX series truck campers: These are the largest campers built by Northern Lite, measuring 10 feet and 2 inches long. They have large heated basements, allowing for bigger tanks and more storage. They also have queen size beds and offer the most headroom of any truck camper on the market.
Special Edition Series truck campers: These campers come in three different models and sizes (two long-box and one short-box model). They come standard with a number of features that are usually considered optional, so they have everything you need for four-season camping adventures.
Combining European design, German engineering and North American technology, Roadtrek and Hymer have come together to become one exceptional Class B RV manufacturer.
RV models:
Aktiv: The Aktiv is an ergonomic, premium recreational van that sleeps four people. The interior has a touch of luxury, with soft-close drawers, molded side cushions and other comforts.
Aktiv 2.0: The Aktiv 2.0 has additional length (the exterior measures 20 feet, 10 inches), which allows for a platform, king-sized bed. With an upgraded floorplan and power sofa, you will feel right at home.
Sonne: The Sonne is the company's newest model, and the most petite, at 17 feet, 9 inches long. It offers exceptional comfort and maneuverability.
Triple E and Leisure Travel Vans specialize in building Class B and Class C motorhomes.
RV models:
Serenity: The Serenity has a curved fibreglass body that gives it strength and durability. It is built on a Mercedes Sprinter cab chassis, and its aerodynamic exterior lines grant it excellent fuel economy.
Unity: The Unity series offers five different floorplans to choose from, so you can have a walk-around island bed, twin beds, a corner bed or even a Unity murphy bed. These innovative Class C motorhomes are truly flexible.
Libero: The Libero features two separate living spaces, front swiveling captain's chairs, an L-shaped sectional sofa and a three-piece dry bathroom.
Pleasure-Way doesn't use assembly lines - every motorhome is created with individual care and attention, with more than 400 man hours going into each one.
RV models:
Ascent: The Ascent model has a wealth of new features, such as rear and side entry door roll-up screen options, a 2,000-watt pure sine wave inverter, multiplex wire with a touch pad display and more.
Lexor TS: The Lexor TS is constructed on a Ram ProMaster chassis, featuring a 3.6-litre V6 Pentastar gas engine. It measures 20 feet, 11 inches and has rear and side entry door roll-up screens, as well as an option for ultraleather sofa covers.
Plateau FL: This space-efficient model has a front lounge with two swiveling captain's chairs, which can turn to form a second dining or work space. Each of these units comes with a Corian-topped workstation, 24-inch flat-screen TV, reclining chairs and an optional front table location.
Plateau TS: The Plateau TS has a twin sofa floorplan, allowing for a large bathroom with a vanity, six-cubic-foot fridge and full-size wardrobe.
Plateau XLMB: The Plateau XLMB has a mid-coach, walk-around murphy bed, which folds into the wall when not required. When the bed is folded up, you can make use of the ultraleather sofa/daybed for lounging and dining. There is also a full separate Corian-lined shower for added luxury.
Plateau XLTD: This new addition to the Pleasure-Way widebody line-up offers a spacious floorplan and two twin beds.
Plateau XLTS: This widebody unit offers a rear power sofa/bed combination, two front cab workstations and a full-sized dry bathroom. There are three large windows in the rear living area, giving you a great view and plenty of natural lighting.
Trillium responded to popular demand by creating a trailer based on the beloved Boler of the 1970s. They call it the Outback.
Features of the Outback:
It is simple to repair and maintain.
It is fuel efficient.
Its lightweight, two-piece fibreglass shell is exceptionally aerodynamic. It weighs 1,450 lbs dry, so it's easy to tow anywhere.
This compact unit will fit nicely in your garage when you're not using it.
While the Outback has a vintage feel, it offers all the modern technology and amenities that RVers have come to enjoy.