RV Care introduces the new Northern Spirit Ultra-Lite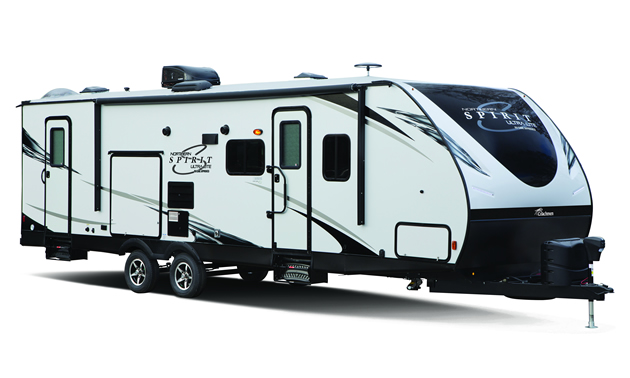 Gone are the days of keeping your pet inside the trailer or trying (but failing) to keep them safely tied up outside. Gone are the days when you dread your next RV trip because extra campers of the family-member variety are coming, wanting to use the occasion as a "family-bonding" session. Gone are the days of stressful packing and crossed fingers, hoping everything will fit into your RV's small crevices (and stay that way in transit).
The Northern Spirit Ultra-Lite 2963 BH is RV Care's most popular model, and for good reason. This model excels at making the RV experience fun—with features every member of the family will enjoy.
"What sets the Northern Spirit Ultra-Lite apart is the availability of our 'Camping Simplified' feature package," said Derek Paterson, business development manager of RV Care Network Inc. RV Care is Canada largest RV dealer network, with 73 dealers coast-to-coast. Through its U.S. partner alliance Priority RV Network, RV Care is able to provide services at over 195 North American RV dealer locations.
Paterson believes that RVer's shouldn't be confused by product features, but be able to use them to their advantage and to the full extent.
How do the Northern Spirit Ultra-Lite's particular features simplify the camping experience? Here are a couple of examples that show how the Ultra-Lite shines:

Floor motion-activated lighting: If you wake up in the night and have to use the bathroom, there's no need to turn on the lights and wake everyone up or fumble around in the dark. Once your feet hit the floor, the motion-activated light turns on in the master bedroom, offering enough light to get to to the bathroom without disturbing the other campers who might need that little extra dose of beauty sleep. The secondary light in the Northern Spirit is activated the moment you step into the bathroom.
Pet friendly features: Taking a pet camping is all part of the family fun. The RV's exterior harness clip feature (for dogs or cats!) puts an end to tying your pet to a tree or picnic table. Struggling to find a spot or bowl for (hopefully) the messiest eater in the family is solved by the RV's integrated pet bowl feeding system. Integrated into every Northern Spirit are two feeding bowls, Velcro-secured, that fold up into a ground-level cabinet. When feeding time comes around (cue the puppy-dog eyes staring at you), open the cabinets and fold either bowl down. Fold the bowl up and out of the way when your pet has finished eating. Washing the bowls is also convenient, as the Velcro allows for easy bowl removal and replacement.
USB charging ports: Keep your electronic devices fully charged and ready to use with USB ports in every bunk, on both sides of the master bed and in the main living area. This feature is perfect for the family member who just can't get away from work entirely or the member who loves their gaming system a little too much.
The fishing pole compartment: This specialized exterior compartment makes it easy to store a fish's worst nightmare. The Northern Spirit Ultra-Lite has a fishing pole compartment, integrated into the main storage compartment. Up and out of the way, fishing poles remain intact and ready to serve you on your next boating crusade.
Additional features of the Northern Spirit Ultra-Lite like a laundry hamper, storage compartment for the sink cover and vertical hanger closet will make a breeze out of the storm of dirty clothes, wet toothbrushes and mounds of outdoor gear that seem to overwhelm a more confined RV interior.
Caring for RVs one client at a time
RV Care knows about customer support. The company looks after every need presented by their customers who, in return, deem the company as both professional and friendly. Buying an RV or purchasing any of RV Care's many services will get you a spot in the RV Care family for life.
"Our founding objective at RV Care is to always service the travelling customer," said Paterson. "This means any customer who buys their new or used RV at any of our locations can take their family on an RV vacation and feel secure, knowing that a friendly face will be available for them should they run into a service issue with their RV.
"Four years ago we introduced to the Canadian marketplace our private label brand of RV parts and accessories called RV Traveler's Choice. Carried at all 73 locations, RV Traveler's Choice is fast becoming Canada's No. 1 recognized brand of RV parts and accessories, backed by our network of dealers."
The company's Canadian branding strategy continued in 2018 as it introduced its exclusive line of ultra-lite travel trailers called Northern Spirit. Thirty-seven "authorized" RV Care dealers carry the newly released line, and it has been a huge success.
If you're considering a new or used RV, stop by an RV Care dealer. The shops are the perfect place to ask some questions or pick up some parts and accessories if you already enjoy the RV lifestyle. An easy way to find an RV Care dealer is via the RV Care App.
"The app gives users step-by-step directions to the nearest RV Care dealer," Paterson said. "While you're on the road, our app will help you locate your nearest RV Care dealer in Canada or Priority RV Network dealer in the U.S. If you allow notifications, you'll hear about our national sales, contests and other great events."
To learn more about RV Care Network Inc. or the Northern Spirit Ultra-Lite, check out these websites.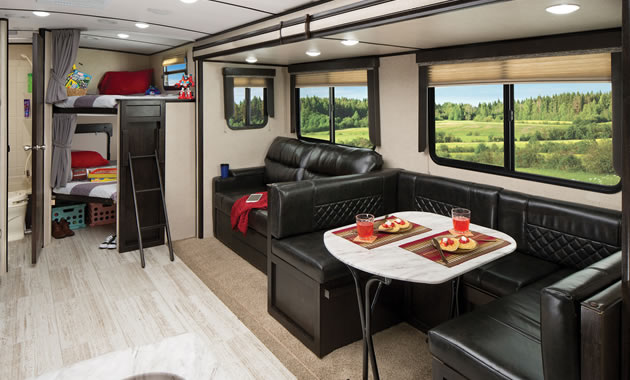 RV Care introduces the new Northern Spirit Ultra-Lite Information