What is a pie iron? Beyond pie filling and Wonder Bread
It's time to explore the potential of your pie iron.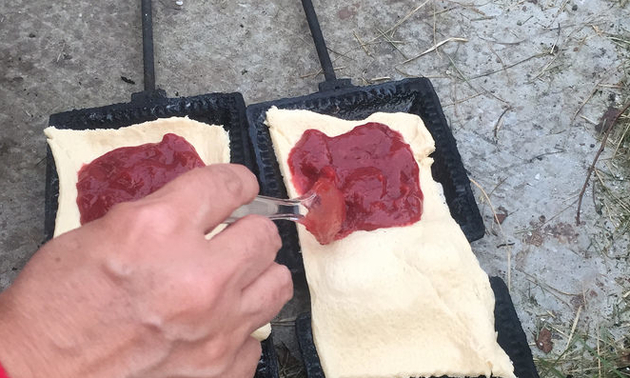 Wonder bread and tinned blueberry pie filling seems the easiest of fillings for pie irons––dessert around the fire. Many of us familiar with pie irons were introduced to the magical and flexible cooker with plain white bread and canned pie filling. Is it time to explore the potential of your pie iron?\
What is a pie iron?
A pie iron is a simple clamshell, usually cast iron but sometimes cast aluminum, attached to a strong metal wire with a pair of wooden handles. The clamshell opens for filling and locks closed to keep ingredients inside when held over the fire.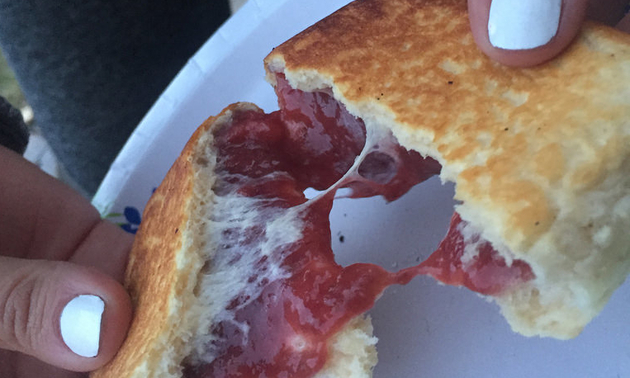 How does a pie ironwork?
Think two hinged skinny frying pans that close on each other, to be held over the fire. Fill it with a variety of delicious things, heat over a low fire, and cook what is inside. The possibilities are limitless. The results delectable.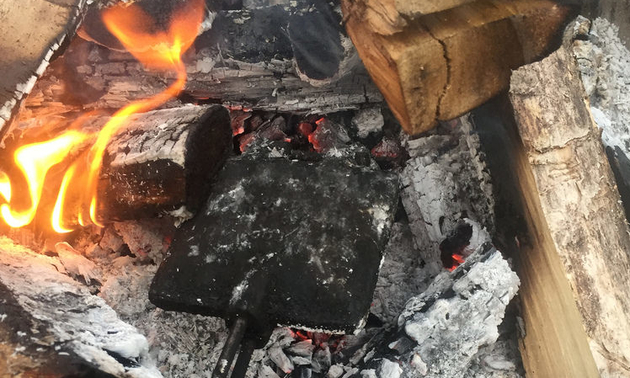 Why not try something new with my pie iron?
Like anything, we sometimes get in a rut. Recently our family shook the pie irons up a bit and stirred the pot with some unusual ingredients. The results were impressive.

If you want to go all in here is a menu for a day full of pudgy pies:
Breakfast: Luxurious French toast
Lunch: Spanakopita in Phyllo
Dinner: Pastrami, Sauerkraut, and Swiss cheese
Dessert: Caramelized Pineapple Steak
Equipment needed:
• A single or double pie iron
• A wood fire— preferably underway
• Non-stick spray (Pam)
• Cutting Board
• Tongs and a fork
Cooking advice: go slow over a low fire. Rotate the iron every minute or so. Check doneness often by peeking.
Granny Smith's Orange and Camembert French toast
Egg mixture for four
• Four large eggs cracked
• 1/2 cup (120 ml) of fresh orange juice
• 1 tablespoon fine grated fresh orange peel
• 2 tablespoons (30 ml) of Grand Marnier
• 8 Slices of white bread

Filling
• Finely sliced, cored, halved, Granny Smith apple––skin on
• Sliced Camembert cheese

Mix the egg dip. Spray iron with non-stick spray or brush with melted butter. Dunk bread in egg mixture, making sure both sides are well covered. Place one slice each side of the iron. Top one side with a layer of cheese, sliced apples, and another of cheese, close the iron and cook. You won't need syrup, but you might like some.
Spanakopita Filling
• Frozen Phyllo Pastry Dough
(Or skip the pastry and use sliced white bread if the Phyllo is intimidating or unavailable)
• 300 g (10 ounces) of cooked frozen spinach, thawed, water squeezed out
• 120 g (4 ounces) Feta cheese, finely grated
• 1 egg
• Ground white pepper to taste
• Melted butter for Phyllo, (Soft Butter, if you use bread)
• 1/2 white onion, finely chopped, sautéed in a bit of butter until transparent. (About 60 grams or 1/4 c)

I make this filling the night before, and cool the onions before mixing. It will keep in the fridge 3 days.

Cut the roll of Phyllo dough pie-iron wide. Separate one paper-thin ribbon of dough. Place a tablespoon or more of filling on one end of the dough and fold the short edge on a 45-degree angle across the filling to align with the bottom dough edge. Fold the triangle over, and carry on rolling and folding 45-degree angles to make a multilayered triangle. Brush both sides of the completed triangle with melted butter. Nestle four triangles in one side of the iron. Close and cook over a gentle fire.
Pastrami and Swiss Toasted Sandwiches
• 2 Slices of buttered bread per person
• Thinly sliced pastrami 60 grams (2 ounces) per person
• Thinly sliced Swiss cheese 30-60 grams (1-2 ounces) per sandwich
• Sauerkraut 30 grams (1 ounce) per sandwich—more if you like.

Place bread butter-side down on each half of the pie iron. Top with cheese, pastrami, and sauerkraut, and another thin cheese slice. Close the iron and heat over the fire until the colour indicates the doneness you prefer.
Grilled Pineapple Steak
• Whole fresh Pineapple, skin one, sliced an inch thick crosswise, and cut again in a semicircle
• Demerara brown sugar

Spray the inside of the iron with non-stick spray. Spoon brown sugar on one side of the iron. Place pineapple over the sugar and top with more sugar. Close and cook over a gentle fire until the sugar melts to a thick caramel sauce. This one will burn quickly so watch carefully.

Have some fun with this, we did.